~*The Noisy Goddess*~
This CD wasn't useful in the way I was hoping for, and my husband isn't overly interested in it, so it gets just two stars. If you like hearing a woman describe what's being done to her in raunchy, graphic detail, while loudly reaching orgasm, add two stars. If you like Bree Olson, add another one.
Published:
Pros:
+ Bree Olson gives a 110%.
+ Easy to get onto a computer or MP3 player.
Cons:
- She's sometimes too babyish.
- There isn't material to "lift" for your own dirty talk.
If you weren't living under a rock during actor Charlie Sheen's very public meltdown, you probably know that for a short time "the warlock" took up with his own personal
"goddess"
(a.k.a. live-in-girlfriend), multi-AVN-award winning porn starlet,
Bree Olson
. One of the top names in the industry, she's known for her bubbly personality, awesome natural rack, and willingness to get
profoundly
nasty. Now, thanks to Zero Tolerance, you can close your eyes and pretend "the goddess" is in your bedroom, while she gets down and dirty in her unique voice.
Ms. Olson
is very nasty on this
72-minute audio CD
which has
26 tracks
of Bree describing various positions — cowgirl, doggie and missionary — while she engages in PIV and anal sex. There's also a solo masturbation track, and blow jobs ending in three different ways. Some of the tracks are under a minute in length, while others go for up to six minutes. It's a little bit repetitive, but she does her best to mix it up by varying the speed, and instructing the (presumably male) listener where on her body to finish (male body parts are frequently mentioned). She's neither quiet nor shy, nor short on orgasms, so this one is best enjoyed over headphones.
I don't own
Interactive Sex with Bree Olson
, but based on an extended trailer I viewed,
I'm going to make an educated guess that the audio on this CD is the same as the DVD
. With the exception of the first track (the intro) you can hear the echo of a room, which would never have occurred in a recording studio setting. Also, the dialogue matches up exactly with some of the trailer footage. Considering the time schedule and budget most porn is made on, I really don't believe she went through all the positions twice.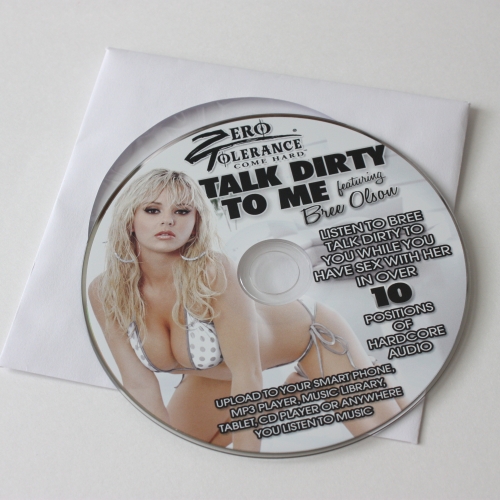 The CD comes in a cardboard box, which is nice if you want to gift it, but it's rather useless for storage and the CD itself is in an envelope. It probably doesn't matter since these days most people will immediately rip it to their computer or MP3 player. If you allow it, the
CDDB
does a respectable job of tagging the tracks, though don't hold your breath waiting for iTunes to provide cover art. Check the CD when you take it out of the envelope as paper fibers or other debris will sometimes stick to it. If you need help cleaning it, instructions are
here
.
Experience
I'm not the typical audience for this type of product since I don't really care for lots of aural stimulation during sex, however I purchased it hoping I might pick up a trick of two for talking dirty to my partner. Negative. Bree is a very naughty girl, but the vocals can be described in two ways: descriptive or onomatopoeic. She's either describing what she's doing in detail worthy of a 1970's comic book — "Stand back Superdude, I, Mouseman will use this brand new weapon on my super utility belt to shoot a green laser at the chest of the dastardly Doctor Flamingo over there on top of that tank!" — or she's moaning, gagging, whimpering in ecstasy, screaming in orgasm, etc. The point is, while it tells the listener a lot about what is happening, it's nothing that I can really carry over into my own bedsport.

I was disappointed, but I still give Ms. Olson props: minus visuals, I find her voice too whiny and babyish, but she doesn't hold back. I believe every orgasm on this CD, and there are a lot of them. My husband was indifferent to the CD (I played two tracks for him), but it might have just been poor timing. He was actively engaged in something else when I started blasting this over the speakers, asking, "What do you think?" Cost of CD? $6.99. Days spent waiting for shipment to arrive? Four. The look on the husband's face when I started playing the CD out of the blue? Priceless.

My husband might give this CD another try when he's in the proper mood, however I don't think I'll be revisiting it. It's not my thing, though it has kindled my interest in the Interactive Sex with Bree Olson DVD. I find the CD noisy, but it sounds like visually it would be a hot performance.
Follow-up commentary
9 months after original review
I wasn't impressed the first time, and my opinion hasn't changed. Bree is gorgeous in the flesh but listening to her requires the patience of a saint…which I'm not. I had this on my MP3 player for a while in hopes that I might change my mind, but after it popped up during a car trip while my player was on shuffle, it was off of there! (Thankfully, I was alone in the car.) I haven't missed it in the least.

The idea of a "Talk Dirty" CD still intrigues me, so I might try the Tori Black and Alexis Texas CDs, but what I would really like is for Zero Tolerance to release a CD that relies less on 'authentic' dialogue and focuses more on variety.
This product was provided at a discounted price in exchange for an unbiased review. This review is in compliance with the FTC guidelines.

Thank you for viewing
Talk dirty to me with Bree Olson
– cd review page!