You need WHAT book for class?
I had been wanting to own this book for years, but had never gotten around to getting it. Then, my second semester of graduate school in the human sexuality program, this was actually a required text for one of my courses! I was so excited! This was absolutely the best sex-related "textbook" I have read so far. It is veeeery long, but well worth it.
Published:
Pros:
Thorough, well-written, age-appropriate, incredibly informative.
Cons:
Written from a heteronormative perspective. A HUGE commitment to read it cover-to-cover. Not hardcov
The Guide to Getting it On is, in my opinion, the best generalist, introductory book about sex available today. It is incredibly comprehensive and, at nearly 1000 pages long, it is chock full of helpful hints and useful facts. Its author, Dr. Paul Joannides (Joe-uh-needies), is a writer, public speaker, and research psychoanalyst. Colleges and universities around the country assign this comprehensive manual as a required text within their human sexuality courses. Being a human sexuality student, I have read the book from cover to cover. You needn't do so. Simply select the chapters that are relevant for you and breeze through the lighthearted, yet educational writing. Your sex life will be all the better for it, I promise.
The website for its publishing company,
Goofy Foot Press
, is also highly informative and enjoyable to browse. It contains a variety of information, not only about the book, but about losing your virginity, having sex after serving in the military, sexual anatomy, and suggestions for fun dates. If you're not convinced that you need to have this book on your shelves, Goofy Foot Press has made available a number of sample chapters for you to read.
Check them out
! You can even get a sweet, free door-hanger to protect your privacy when you're...getting it on!
I would recommend this book to people of all ages and experience levels. If you're completely new to sex, this book will provide a non-intimidating overview. Even if you've been having sex for decades, I guarantee this book will introduce you to something new. The "Bed of Contents" is as follows.

How to & Then Some

1. In the Beginning.....page 11
2. Romance.....page 17
3. Kissing.....page 23
4. The Importance of Getting Naked.....page 31
5. On the Penis.....page 41
6. Semen Confidential.....page 67
7. What's inside a Girl.....page 77
8. The Hymen.....page 107
9. Orgasms, Sunsets & Hand Grenades.....page 115
10. Talking to Your Partner about Sex.....page 131
11. Sex Lubes—A New Look.....page 137
12. Sex Legal.....page 145
13. Handjobs.....page 149
14. Balls, Balls, Balls.....page 167
15. The Zen of Finger Fucking.....page 177
16. The Prostate & Male Pelvic Underground.....page 203
17. Doing Yourself in Your Partner?s Presence.....page 219
18. Nipples, Nipples, Nipples.....page 223
19. Oral Sex—Penises & Popsicles.....page 231
20. Oral Sex—Vulvas & Honey Pots.....page 257
21. Massage—The Ultimate Tenderness.....page 279
22. Intercourse—Horizontal Jogging.....page 281
23. Anal Sex—Up Your Bum.....page 309
24. Playing with Yourself.....page 327
25. Oscillator, Generator, Vibrator, Dildo.....page 345
26. Fun with Your Foreskin.....page 357
27. Sex Fantasies.....page 367

Your First Time

28. Goodbye V-Card—Your First Intercourse.....page 375
29. The First Time—Not What You'd Think.....page 385

Technology & Culture

30. Better Mating Through Internet Dating.....page 389
31. Sex in Cyberspace.....page 393
32. Online Sexual Addiction—Really?.....page 403
33. MRIs of Sexual Arousal.....page 405

Orientation & Gender

34. Orientation in Flux.....page 409
35. Same-Sex Fun & Luvin?.....page 419
36. Gender Benders.....page 431
37. Intersex.....page 441

Sex & the Human Condition

38. Sex & Breast, Brain & Ball Cancer.....page 445
39. Bashful Bladder.....page 457
40. Sex & Diabetes.....page 459
41. Sex When You Are Horny & Disabled.....page 463
42. Snoring & Gas.....page 479
43. Sex & Hysterectomy.....page 483
44. Techno Breasts & Weenie Angst.....page 487
45. Basic Brain Weirdness.....page 499
46. Good Sex after Bad—Rape & Abuse.....page 507

Beyond Vanilla

47. Piercings & Tattoos.....page 529
48. Threesomes.....page 543
49. Double Penetration.....page 557
50. Kinky Corner.....page 561

Below the Belt

51. Vulva Care—Keeping Your Kitty Happy.....page 577
52. Surfing the Crimson Wave (Period Sex).....page 585
53. Clean Jeans, Tight Jeans & Shaving Down Below.....page 609
54. Hypospadias.....page 621
55. Gnarly Sex Germs.....page 625
56. Premature Ejaculation—Dyslexia of the Penis.....page 637
57. Delayed Ejaculation.....page 655
58. When Your System Crashes.....page 665

Pregnancy (or Not) & Parenting

59. Abortion, Adoption.....page 683
60. Trying to Get Pregnant.....page 685
61. Sex During Pregnancy.....page 689
62. The Pill & Your Sex Drive.....page 705
63. Birth Control—Sperm vs. Egg.....page 713
64. Sex in Cyberspace for Parents.....page 733
65. Explaining Sex to Kids.....page 737
66. Love Dreams, Sex Dreams & Sweet Dreams.....page 759

Sex in History & Popular Culture

67. Hooking-Up Sex.....page 763
68. The Dirty Word Chapter.....page 777
69. Barbie the Icon.....page 785
70. The Historical Breast & Bra.....page 795
71. The Fruit of His Loom.....page 805
72. What's Masculine, Feminine & Erotic.....page 809
73. Men's & Women's Experience of Sex.....page 815
74. The Horny Pill & Patch.....page 821
75. I Knew the Bride.....page 825
76. Sex in the Military.....page 83
77. Sex & God.....page 847
78. Sex in the 1800s.....page 849
79. Sex on the Interstate.....page 903
80. Kink in the Animal Kingdom.....page 907
81. Vaya Con Dios!.....page 911
About the Illustrations.....page 913
Glossary.....page 919
Index.....page 983

While the content would probably be considered "explicit" for youth, the writing style is incredibly non-threatening, approachable, friendly, and often hilarious. Silly, fun euphemisms are interspersed with technical and medical terminology and valuable information, making the subject matter amusing, but practical. For example, semen is "baby batter", exploring anal sex is "navigating the Hershey Highway"...Terrible, but funny!

I would like to note that this book is written from a primarily heteronormative perspective. While it has some small sections that touch positively on fetishism, kink, queer, and other alternative sexualities, the perspective remains oriented towards male-female pairings. While this may bother you somewhat if you are of a different gender identity or orientation, it bears remembering that at the root of things we are all human and our biological and physiological functions are fairly similar. Try to look past the bias and focus on the excellent information within. I believe that it has the ability to enrich most anyone's sex life. However, I do hope that future editions take a more queer-friendly perspective.
The book is enormous. It is about 9 1/2 x 7 1/2" and a full 2" thick. Unfortunately, it's also a paperback. It has held together quite well so far and the binding remains sturdy, but I find its heft somewhat ungainly while reading it and would have preferred that it was a hardcover so that there was more support for all those pages! I also feel that it would be easier to handle if the dimensions were larger, with more information on each page, and thus fewer pages. With its size and its bold title, I would not consider this book particularly discreet. Here is a picture of the Guide beside your typical little pocket paperback novel.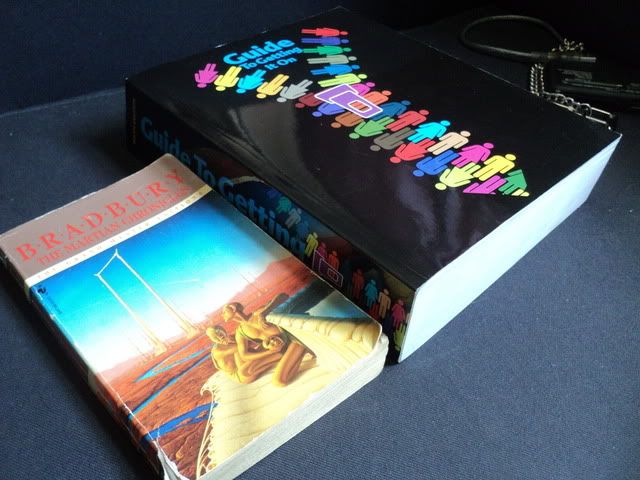 While there are no photos in the book, there are wonderful illustrations in nearly every chapter. There are diagrams, cartoons, and just plain ol' hot, sexy drawings. Each and every one is well-done, tasteful, and inspiring/informative/entertaining. The chapters flow well and are organized into logical sections, for the most part. Navigating the book is simple with the table of contents, as well as the index.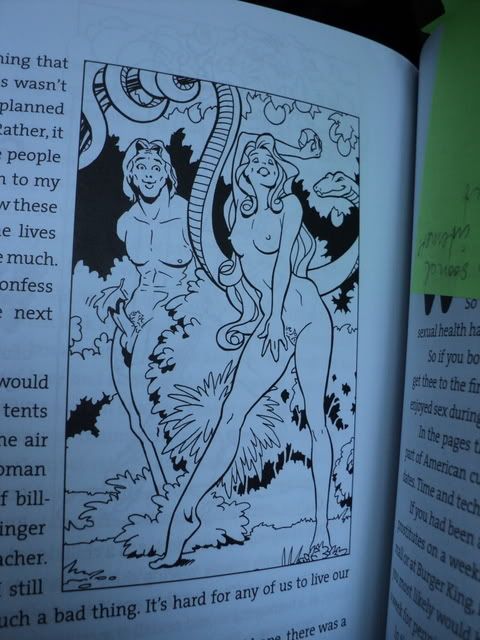 This content is the opinion of the submitting contributor and is not endorsed by EdenFantasys.com

Thank you for viewing
Guide to Getting It On!: Sixth Edition
– erotic book review page!