An Electrifying Experience
The Nexus iStim is a very unique toy that really provides sensations completely different from any other toy. It ranges from a mild tingling to a sharp "pins and needles" sensation that should satisfy the mild to the masochistic. Overall a great toy with lots of features, and ability to expand with the purchase of additional attachments.
Published:
Pros:
-Compact
-Multiple Settings
-Unique
Cons:
-Hard to Find Battery Compartment
The Nexus iStim is a very unique toy, it is an electrosex box that comes with pads. It is a type of toy that is mainly seen within the BDSM scene, but occasionally seen elsewhere. An electrosex box delivers electricity to a person for sexual arousal.
In terms of who this toy is for I think it is for people who are interested in elecrosex, but more of an intermediate user. Electricity is dangerous, I think everyone knows this. And even a small toy like this could potentially cause damage if used improperly. Also the price on this toy is pretty steep. So it is likely not the best toy to experiment with, unless you have a lot of money to throw around.
This toy comes in a black box, because along with the box come multiple components that are used with the box. Here is the shell all of the components come in:
Front of the Box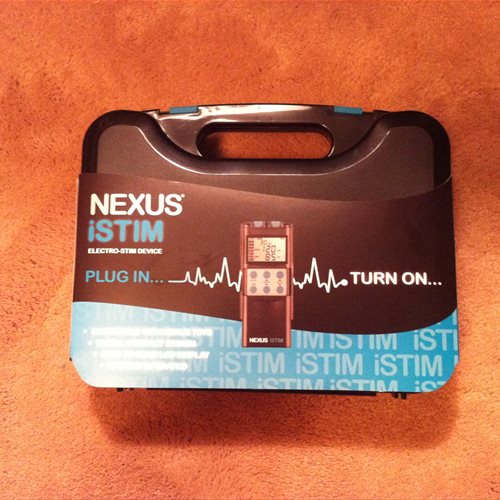 Back of the box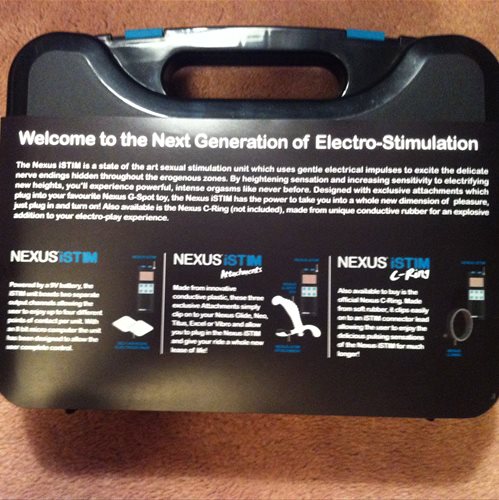 Inside of the Box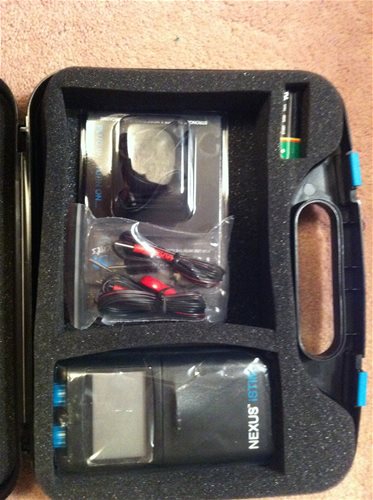 This toy comes with a fairly long instruction manual. This is a toy you actually need to read the instruction manual. For two reasons: electrosex does carry some additional risk, and the toy is complex and has load of features. If you read the book you will this toy is suggested to be used only below the waist, there are lubricants you should avoid (silicone), people with heart disease or epilepsy should not use this toy, you should not use it on broken or damaged skin, among other safety tips.
I will start with a description of the electrosex box, because that is the main thing you are buying with this toy. It literally is a rectangular box. It looks like this: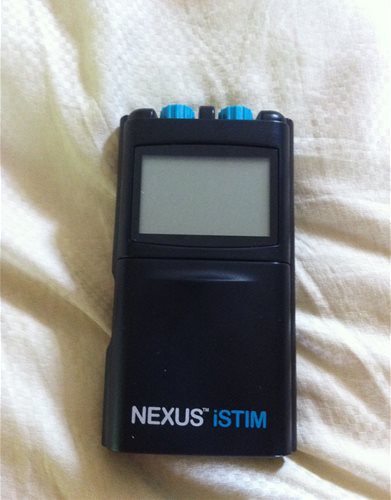 What the box does is it allows electricity to flow through the attachments and provide pleasurable sensations. The box runs off a 9V battery which seems small, but actually a 9V battery contains a lot of power. So do not think a toy like this is harmless. If used improperly there are risks.
Now electricity varies in its wavelength, its intensity, and its frequency. Basically you can manipulate it to create different sensations. This toy comes with preset settings that allow to experience these changes easily. The settings it comes with are as follows: (directly from the manual)
B (Burst mode): single burst of up to 10 individual impulses are sent in a fixed pattern and are set by the device but can also be controlled separately by the RATE buttons
N (Normal Continuous Mode): This settings allows the user direct control of the impulses--pulse strength, frequency, and width using the control on the unit
M (Modulation Width Mode): With a focus on the pulse strength, the intensity continuously changes alowing the nerve to react differently each time.
MR (Modulated Pulse Frequency): During this setting, the pulse frequency will decrease continually by 50% each time and then restart the cycle once the lowest frequency has been reached.
MRW (Modulated Pulse Frequency and Length)
Selecting this setting will enable the user to experience variations in both the pulse frequency and pulse width. As the frequency increases, the width decreases and vice versa.
SDR(Strength Intensity and Frequency Modulation): This setting features the increase and decreases of both the pulse intensity and pulse frequency. This occurs with a cycle of 6 seconds and as the pulse intensity increases, the pulse frequency decreases and vice versa.
SDW (Strength Intensity and Pulse Width Modulation): Similar to the previous setting (SDR) this setthing focuses on the increase and decrease of pulse intensity and pulses width within a 6 second cycle.
So pretty much all these settings allow you to create new sensations with the electricity and create some very unique sensations.
The next part of the box are the wires. Here is a photo of the wires: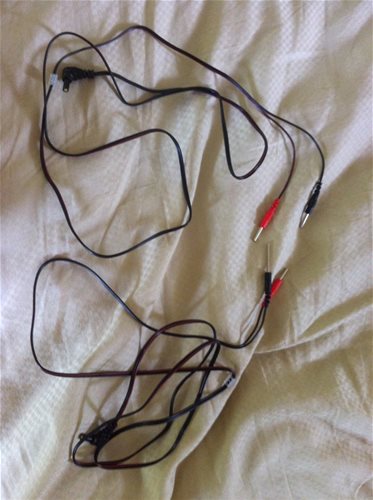 The wires connect to the box and connect to some attachment. The box has two sets where you can connect wires. This lets you use 4 pads, or two pads and one cock ring, or 3 pads and one prostate massager.
There are three different types of attachments you can connect to the wires:
Pads. Here is an image: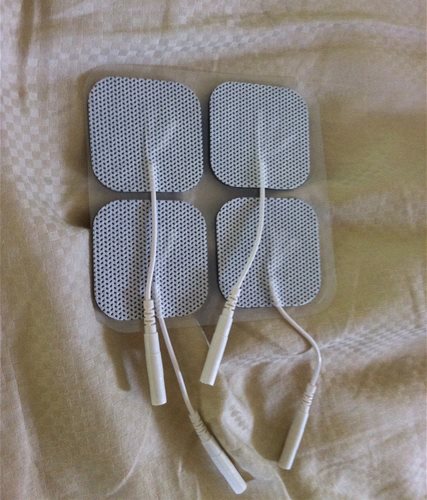 Pads go onto the outside of your body such as on your genitals or on your buttocks or inner thigh. These pads conduct electricity and provide a spread out sensation.
Nexus Toy Attachments. Here is a photo: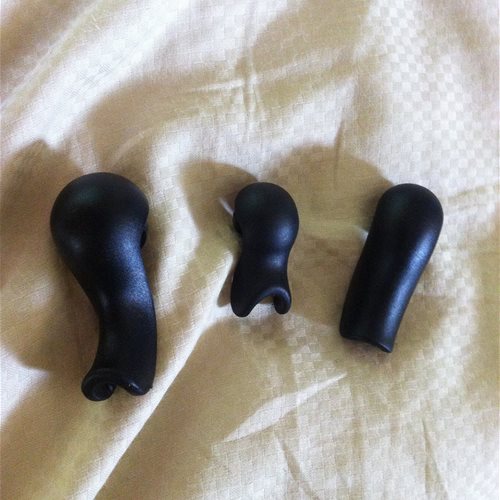 These attachments allow you to use the box with some of the nexus prostate massagers. Specifically the Nexus Glide, Neo, Titus, Excel, and Vibro.
Finally there is a cock ring attachment. This does not come with the box though. You have to buy it separately. It is a stretchy cock ring that conducts electricity.
Experience
So now that you have an idea of what the toy comes with I want to talk about how the toy feels and how you use it.

An electrical unit as this has two main uses. It is used by health care professionals for physiotherapy, rehabilitation, and other uses, because it can cause muscles to contract. So people do use these units for back pain, muscle pain, and other things. If you want that though talk to your doctor and you can find a cheaper option.

The second reason people use electrical units such as this is to heighten their sexual experiences. Electricity adds a unique experience to sex that I have personally not experience with any other toy.

It is hard to explain what exactly it feels like. But it starts out with a small warmth and a bit of muscle twitching. As you turn the knob up it becomes more intense and feels more pleasurable. There is a point where the pleasure becomes more painful and becomes sharper. I think it feels similar to your foot falling asleep and the pins and needles that comes with that, except more intense, more stingy. People who enjoy pain (which happens in the BDSM world) may like this more intense sensation.

The book suggests applying the pads around the vulva, on the penis, the inner thighs, and the buttocks. All of these places feel good at the right setting and just make masturbation or sex more difficult. The wires can get in the way a bit when it comes to intercourse, so you do need to be a bit difficult, but it is very possible and enjoyable to have sex while using this toy. It is also quite common to use this toy for foreplay and warmup. Stick some pads on and massage your partner, use toys on them, and just get them aroused.

The prostate attachment was very unique. It was less sharp than the pads, but was very enjoyable for myself. It felt warm and buzzy on my prostate and definitely added a unique dimension to my orgasm.

In terms of cleaning there is not much you need to do. Honestly you should have a set of pads for each unique partner. They are not overly expensive and that is just the safest option. In terms of the box it is obviously not waterproof so just a wipe down with a damp cloth should be all you need. As for the nexus cock ring and prostate massagers just clean them as you normally would.
One thing you absolutely need to know with this toy is how to insert the battery. There are no real instructions to do it, and it took me forever. There is a panel that slides up and down that covers all the button. This panel is removable. And behind that panel is where the battery compartment it. Basically it feels like you have to break the toy to insert the battery. But once you do it once, it comes off easily and the battery is easy to replace.
This content is the opinion of the submitting contributor and is not endorsed by EdenFantasys.com

Thank you for viewing
Nexus iStim
– electro stimulator review page!