Double Duty Toy & Skin Cleanser
This antimicrobial spray is made specifically for sensitive genital skin. But, it's also good as a sex toy cleaner! It has body safe ingredients that don't have to be washed off, but if they are, there is residual antimicrobial action! I highly recommend this as the safest sex toy cleaner you are likely to find! Unfortunately, I had a reaction when using it on my genitals, but I am chemically sensitive and most people would not have any problem with this.
Published:
Pros:
skin & toy safe, antimicrobial, no residue, no rinse, doesn't discolor fabric, sweet & odorless
Cons:
expensive, has lingering after taste, made my genitals become warm, caused yeast infection
Pjur Med Clean is a topical cleansing spray specifically formulated for use directly on sensitive and mucosal skin. It is an antiseptic, antibacterial and antifungal spray that has residual antimicrobial effects on the surface to which it was applied! I know it's meant for use on skin, but it is also toy safe and doesn't require a rinse after use. Although it doesn't have any perfume, I noticed a little scent when smelling it in the bottle, but not when misting it. It has a slightly neutral, soapy smell. It also smells like an extremely weak, unscented hair spray.
This clear liquid has the consistency of water and a very sweet taste with a slight chemical background. I did notice there was a metallic aftertaste. I know that the active ingredient, chlorhexidine digluconate is bitter and that would explain the sorbitol and neohesperidin dihydrochalcone, both of which are sweeteners. (Chlorhexidine digluconate is used in dental rinses and is notorious for being bitter and also affecting the perception of flavors in foods eaten after using it.) The other ingredients are skin cleansing surfactants, skin softeners and emulsifiers to keep everything blended. Please contact me for more specific information on the ingredients, I have researched them all!
Ingredients:
Aqua(water), Phenoxyethanol, Cocamidopropyl betaine, Chlorhexidine Digluconate, PEG-7 Glyceryl Cocoate, Dimethicone Copolyol, Neohesperidine, Sorbitol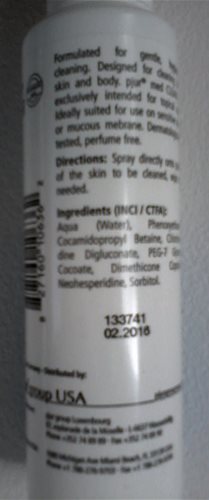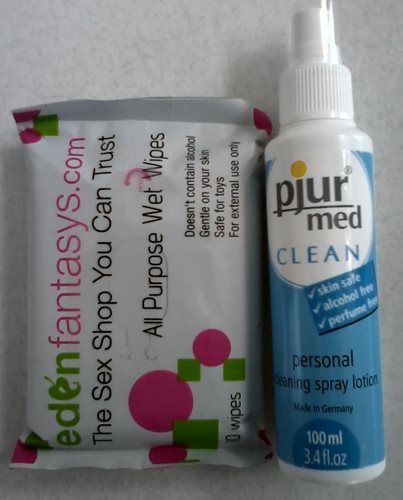 I have been looking for a toy cleanser that didn't contain any ingredients to which I am chemically sensitive, or other ingredients I just want to avoid for health reasons. I immediately ran into the problem that every toy cleaner I found contained triclosan, an antibacterial and antifungal agent that new evidence suggests is acting in our bodies as a endocrine disruptor.
An endocrine disruptor is a substance that interrupts your bodies' natural hormone systems. Hormones are the chemical messengers that are made in one part of your body and travel to another part to elicit a certain effect. For example, insulin is a hormone that is secreted by your pancreatic cells. It travels into your blood stream where it controls how sugar is supplied to cells in your body, especially cells in your liver, muscle and fat tissues. Basically, insulin lets your cells take in the sugar they need for energy, otherwise they starve. Now, imagine a synthetic substance you've been exposed to, say by using a hand soap. In this hypothetical situation, the chemicals have been absorbed into your body and interrupt the insulin receptors so it can't do its job. All your body's hormones are needed for some essential task. But they need to be able to get to the place where they work to do their job. A hormone disruptor prevents them from doing their job. When you consider it, hormone disruptors are some of the most serious threats to our long term health and development and many of them accumulate in our bodies over time as we are exposed to them!
So sure, an ingredient may kill bacteria and fungus, but if it also penetrates out bodies and disrupts our bodies' chemical messenger system, we have just done more harm than good, long reaching inestimable harm when you consider it can affect your reproductivity! Triclosan is in so many products and is becoming so hotly debated that it is now a top priority of the FDA to investigate this alarming new evidence. Regardless of the outcome, I am NOT willing to wait for the verdict according to an agency that allowed this chemical into our lives in the first place due to inadequate study! Clearly, I keep an eye on what's happening in the world of ingredients we are exposed to every day. Did you know triclosan is found in toothpaste, deodorants, acne products, soap, clothes, linens, paint and many more everyday products? Anytime you see something labeled as antibacterial, it is likely to have triclosan in it. But, I suspect, as it becomes more of a hot-button issue with the public, the way parabens have, that manufacturer's will begin to get "creative" in their labeling. So, also watch out for "polychloro phenoxy phenol" which is the chemical name for triclosan!
Why did I just blind you with science, you may ask? Because every sex toy spray I found had triclosan in it. People are more concerned over the much less harmlful parabens, yet they willingly slather triclosan-containing products on and into their bodies. Any residue left from those cleaners on your sex toy is then given secret, speedy access to you blood stream when it comes into contact with the mucous membranes of your genitals!
Experience
After smelling and tasting this, I tried a few patch tests that caused no irritation whatsoever. I was excited that I might have something here that I could use. So I took the plunge and misted it all over my perineal areas. The spray created a very fine, light mist. At about 5 inches away from my skin, one pump covered about a 3 inch diameter circle of skin. This was a very light coverage, so to spray the whole area took about 5 pumps, (I covered all the way back including my rectum). I think I could have used less, but I wanted a really good sampling of it for the review.

I immediately began to feel a warming sensation everywhere it touched. This initially concerned me, but it never progressed past the very warm stage. In fact, I believe some people would consider this the effect they are looking for with a sensual warming product! However, after about 3-4 hours, my vulva began to itch. I hurriedly washed the entire area off and began to burn, it was definitely a yeast infection. I then used over-the-counter antifungal treatment cream. It's been about 6 hours since I washed the product off and put on the medicine and I have finally stopped burning.

In the meantime, I decided to test this spray on my different toys, including glass, silicone, cyberskin, TPR/TPE and plastic. I discovered it took a little more product to successfully cover the semi-porous material, cyberskin , while the glass and plastic wet down the fastest. Silicone and TPR/TPE were in between. They all dried quickly and with no residue or smell after drying. I left the mist to dry to ensure the fullest, lasting antimicrobial effect. However, I will be thoroughly washing any of these toys before use! You will probably not need to wash them first and this would definitely be desirable because it would continue the germ fighting effect while in use. I imagine that would be the most helpful for the semi-porous materials.

I would recommend this product to anyone looking for a toy cleaner, not only an intimate cleanser! I just caution those with known sensitivities in the past, to take the usual precautions. Because I can't use it directly on my skin, I am giving this 4 of 5 stars, but that is the only reason.
Follow-up commentary
3 days after original review
I may have had an unfortunate experience using this directly on my skin, but I originally bought it as a toy cleaner. As such, it works beautifully and makes me feel a little safer using the few TPR/TPE toys that I have! I just spray this on after washing any of my toys and then allow it to dry. I let it remain on the surface for extra antimicrobial protection, but I am very careful to thoroughly re-wash the toy before use and remove all the residue I can.

I know I have an idiosyncratic, overly reactive system and that is part of the reason I am writing the reviews on ingredient products; I want other chemically sensitive individuals to have a reference. If anyone has questions about the ingredients, I have more research on them, I just couldn't include it all without going over the maximum word count! Feel free to contact me for any more information you may need.

I will update this again if I experience any reaction to using the toys after washing off the dried on spray.
This content is the opinion of the submitting contributor and is not endorsed by EdenFantasys.com

Thank you for viewing
Med clean spray
– toy cleanser review page!