Dude, where's my applicator?
If you're looking for the "sun kissed goddess" that Bella Il Fiore is talking about becoming, and you're also not on the darker end of the skin-tone spectrum, this product may be a disappointment. If, however, you have naturally darker skin, or are amazing at blending makeup so that you don't look like you're rockin' 4 shades darker than normal, this baby may really work for you. Just make sure you bring your own applicator, because this "compact" doesn't come with one.
Published:
Pros:
Paraben & Glycerin free.
Good for sensitive skin.
Cons:
No skin-tone choices.
Too dark (for me).
No applicator!
As I have stated before in numerous reviews of mine, I cannot wear very much makeup. I am perpetually on the lookout for things that I actually can wear, that don't make my eyes water or burn, and don't make it look like I've been locked in a Shaggin' Wagon smokin' bowls for the last half-day. This is actually one of the few products that I don't have a bad reaction to, which amazes me.
Unfortunately, the selection of bronze colors that are in this compact (if you can call it that, since it's huge) don't flatter my face very well. It works wonderfully on my arms and chest, though, so it isn't complely without use for me.
This bronzer came in a pink cardboard box, with the Bella Il Fiore brand, and Bella Beauty Bronzer on the front. The back had the ingredients, and a little quip about the product. Other than that, this was fairly void of all information. Inside was the compact, in a large black plastic container, with a clear plastic snap lid. I was initially really disappointed at the size of this bronzer, since I wanted to be able to toss it in my purse like a compact, and was expecting it to be about the same size. I suppose it's not really a big deal that it's a good inch all around larger than a regular compact, but it's still not what I was expecting. This is my own fault for not checking the "View actual size" option.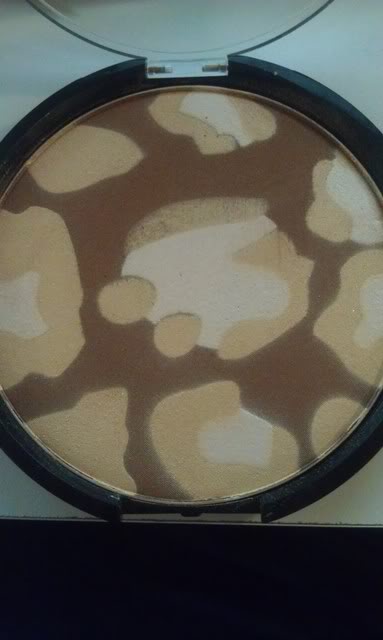 One of the biggest downsides for me regarding this product, is that there is no applicator with the product. No little felt pad that goes inside the container. No small blush brush. Nothing. So that makes this product even less portable and travel friendly for me, because now I have to find something to travel with this product to apply it with, since I won't be using my fingers. I have found a little brush that came in an old Neutrogena compact that works well for application, but it doesn't fit inside the container. Sadly, now I have to carry the brush and the bronzer in a travel bag, because if I don't, the brush will get all over everything else in my purse. I suppose I may just be being nit-picky, but this is an annoyance to me.
Now, as with bronzers, the point of them is to get a nice blend of colors that mix together to add some of that "natural glow" that most people naturally lack, that you'll find often in those lucky girls with darker complexions that spend a lot of time in the sun. I actually used to be that girl, as I was raised in Hawaii, and now that I'm on the East Coast and always without my beloved sunshine, I am forever trying to replicate that look to my skin.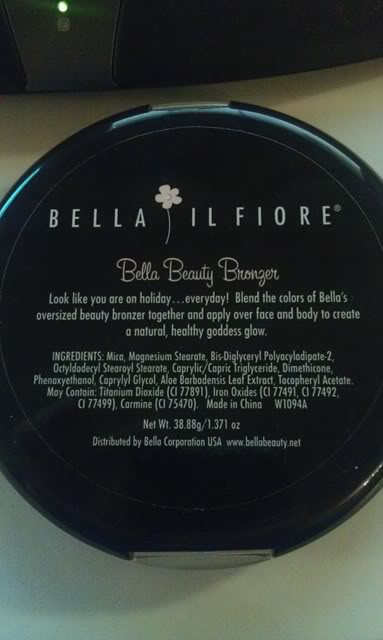 Now, I am not a makeup connoisseur, so I don't have a lot of behind-the-scenes knowledge on makeup, or the different scents or textures that they all have. That said, this smells to me like most other compact powders smell, just a bit less intense. If you get real close to the compact and smell it, you'll smell that tell-tale scent, but it's not at all overpowering, and I can't smell it at all when it's on my face. I haven't bothered to taste it, because I have no intentions of licking my bronzer-covered arms. Sorry if you're into that, guys. It's also very light, and doesn't leave an uncomfortable residue behind. I can tell that there's something on my face, as I really don't wear much makeup, but I can't tell there's anything on my arms. It also doesn't bother my face, but I can tell that it's there. Perhaps after long-term use, it would feel more natural to me.
Overall, I like this product. I just wish it worked better for my face, since it doesn't make me breakout. And I definitely wish it came with some form of applicator that didn't require me to carry around two additional items just to use this one. Grr at you, Bella Il Fiore!
Experience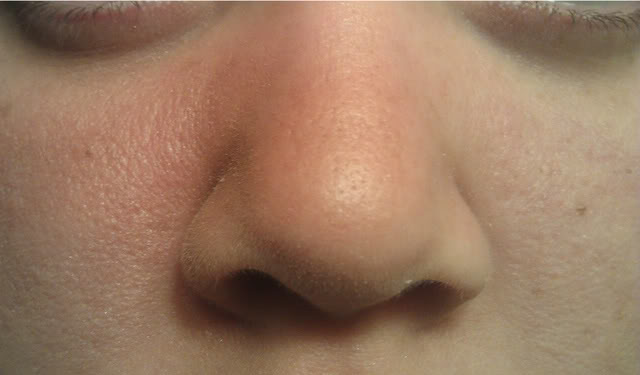 Bronzer is on the majority of my nose, and the left side of my face. The right side of my face is without any product. You can see that it doesn't blend that well with my skin tone, and it doesn't give me a sun-kissed look, but more of a clumped on look. This is a very light coat, also.
edit:
After seeing the published review, this doesn't look nearly as bad in photos as it does in person. Perhaps I'm being a little hard on the way the color blends. I still don't like it as much in person as I do in the photos.
So taking my annoying little Neutrogena brush, I swirled it around in my over-sized compact, and then applied it to my cheeks. I avoided getting too close to my eyes, for fear of allergies. After no reaction, I tried a bit more around the rest of my face. When it comes to my face, the tones are a bit too dark to look all that natural to me. I can selectively brush just parts of my face for a little bit of shimmer, but then I don't get any of the color of the bronzer. When I get the color of the bronzer, it makes me look fake, because the tone is not right for my skin. However, when I try it on my arms, it works just fine. Blended in to my arms, chest, and even my legs if I were going for that all-over-body look, it works just fine. As with most people I know, my face is a bit lighter than the rest of my body, so I imagine a decent bit of people may have the same issue that I do, where it works with either your face, or your arms, but not both.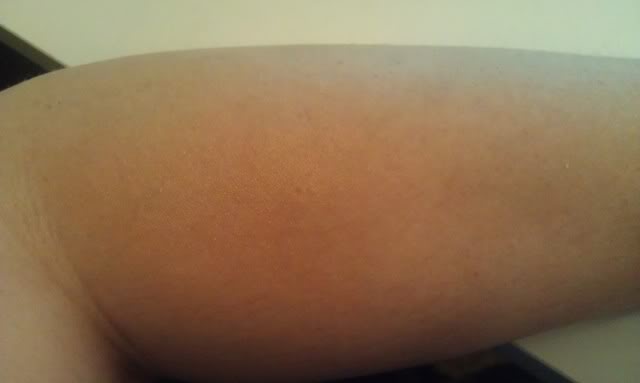 Again, the bronzer is on the left side of my arm, and my natural tone is on the right. This blends quite a bit better, in my opinion. You can still sort of see it, but it's definitely got more of the glow to it, and less of the caked-on-makeup look.
Ingredients:
Mica, Magnesium Stearate, Bis-Diglyceryl Polyacyladipate-2, Octyldodecyl Stearoyl Stearate, Caprylic/Capric Triglyceride, Dimethicone, Phenoxyethanol, Caprylyl Gylcol, Aloe Barbadensis Leaf Extract, Tocopheryl Acetate.
May Contain:
Titanium Dioxide (CI 77891), Iron Oxides (CI 77491, CI77492, CI77499)
This content is the opinion of the submitting contributor and is not endorsed by EdenFantasys.com

Thank you for viewing
Mineral beauty bronzer
review page!