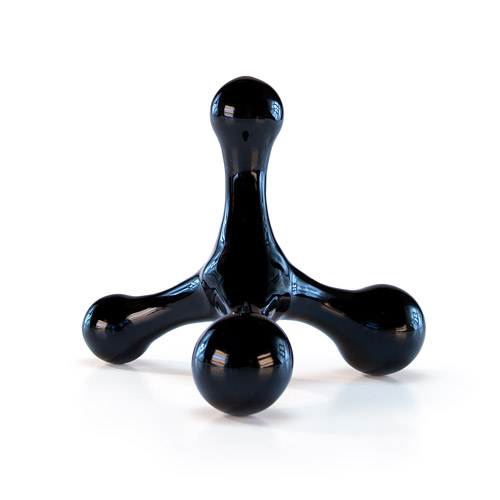 Eden spa deep tissue glass massager
Glass massager
by EdenFantasys
For the Advanced Crowd
If you are looking for a way to treat your partner to a relaxing massage, look no further than this glass massager. Capable of being heated or chilled to suit your interests, with small and large rounded ends capable of working out the most difficult kinks, this toy is the full massage package, so grab some oil, light a few candles and enjoy.
Published:
Pros
Glass
Multiple uses
Variation in size
Temperature play
Easy to clean
This glass massage tool is not for the faint of heart or for those who don't enjoy a fair amount of pressure when it comes to receiving a massage. I am neither one of those and have fallen absolutely head over heels in love with this product.
About the product itself:
IT'S GLASS, and for those of you who haven't used a glass toy before, you are in for a treat. Not only does glass glide easily across the skin for a continuous massage, but it can be used for temperature play or to increase the effectiveness of the massage. Hot stones have been used for centuries as a way to heal a sore muscles, but with this toy simple run it under hot water for a few minutes before use and you can give your partner many of those same sensations without spending hundreds of dollars at the spa. Additionally, if you are looking to shock your partner a bit, keep a bowl of ice water by the bed and dip the toy in that, it will send shivers everywhere.

Massaging:
This toy is capable of deep-tissue massage pressure, thanks to the ball like ends in various sizes, this toy can work out even the most difficult kinks. That being said, I recommend starting with less pressure and working your way up as this toy could cause pain with too much pressure. Also, make sure you and your partner are communicating during the massage to make sure all play stays in the good pain realm and not the bad pain realm as massages should be relaxing.

Packaging:
The toy comes in a red velvet pouch. The pouch is not padded and as this is a glass toy be careful where you store it. I have never personally had a glass toy break, but I know people who have, so it's better to be safe than sorry and store it carefully.
Experience
I suffer from chronic back pain due in part to working on my feet all day and in part to 3 spinal cord injuries, my partner is in a wheelchair and suffers from chronic pain at the base of his back as a result of that. We require massages to function in our daily lives and this little gem is going to save us hundreds of dollars a year. While we both still enjoy treating ourselves to a professional, this toy enables us to give a high quality massage at home. Now if only the toy could do all the work...
This product was provided free of charge to the reviewer. This review is in compliance with the FTC guidelines.
Thank you for viewing
Eden spa deep tissue glass massager
review page!