Hearts For My Body, With No Pain!
Have you ever wanted to wear jewelry and not want to go through the pain? Well, these cute heart shape body charms are perfect for that. You can wear them out and about, and also wear them to the club. If you wanted to you could get creative because they stick anywhere on the body.
Published:
Pros:
Cute, Hearts, Easy to apply.
Cons:
Not easy to get out of package, Charms can easily come off.
Use:
I am so happy that I was chosen for a assignment for the Body Charms Hearts by Cal Exotics. I got my favorite color too, so that really made my day. These adorable little hearts can be worn anywhere on the body. There is no piercing involved at all.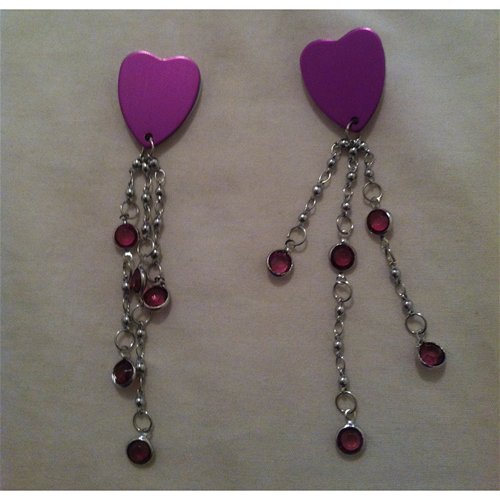 They are easy to put on. On the back of them they have a self adhesive sticky material. That makes it easy to stick on the ears or on your belly button. Those will probably be the only two places I use them on, unless I can get creative which I thought of a couple things to do, while trying them on.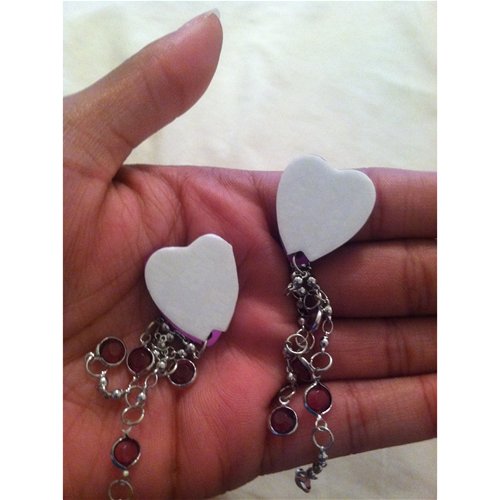 Packaging:
The Body charm hearts by Cal Exotics came in a clear package. It is cute how they have the lettering in purple and the body jewelry is purple. ON the front there is a picture of a girl and on the back there is a bunch of pictures with the same girl wearing the jewelry in different places. There are some instructions in black to show how to peel them off and apply them to the body part you want. There is also some information about Cal Exotics and their website.
Front of package: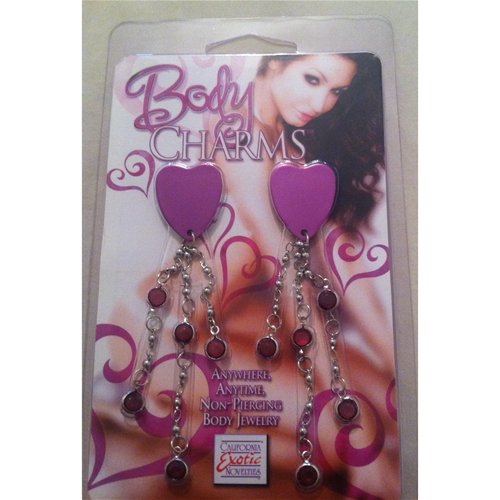 Here is the back of the package: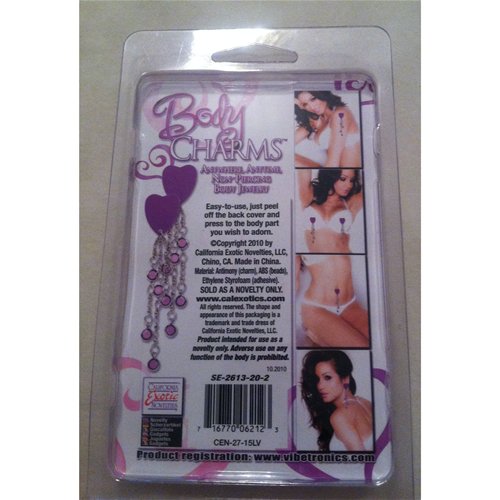 Care and Maintenance:
To keep the adhesive sticky I would take and put the cover back on them and store them back in the package it came in. I don't see any special care with these because if the sticky part does not stick anymore there is nothing you can do but throw them out. Unless you can find a store that sells adhesive, which I am sure they have for crafts. I store these in my Eden tote with the rest of my Eden things. You could put them in a jewelry box, just as long as you are careful that you don't get the tassels tangled. They would be easy to travel in a decent purse or in a duffel bag or suitcase.
Design/Shape/Size:
I got the purple hearts, which are 3 1/2" in length, 2 1/2" inches in circumference and 1" inch in diameter. A perfect size to get away with wearing them wherever you wanted to.
Material and Texture:
The Body charms are rated a 8 on the safety material scale. They are made of food grade material, hypo-allergenic, latex free, and phthalates free. They are made out of plastic, with a beaded and smooth texture.
Experience
These are so cute, that I am almost sorry that I have to give it a 4 star rating. I did have a problem when I took them out of the package, with not one but both. Do not, I repeat do not take these out of the package fast. Thank god there is circle loops that are easy to go back together. I made the mistake of trying to take them out at a decent speed and one of my gems came off of the chain. I also tried to do it slower on the other one and the same thing happened. I am so glad it did not break to where I could not fix it. All I had to do is open the ring up and put the gem hoop back thru and close it, by using my teeth.
Here is a pic of the lone gem before I put it back on: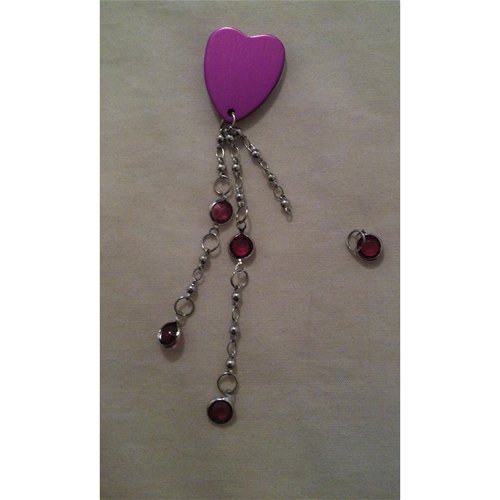 Here are some pics of me with them in different spots, on my ear, belly, and neck: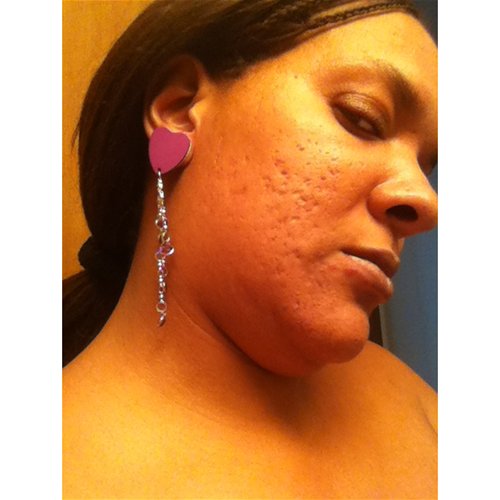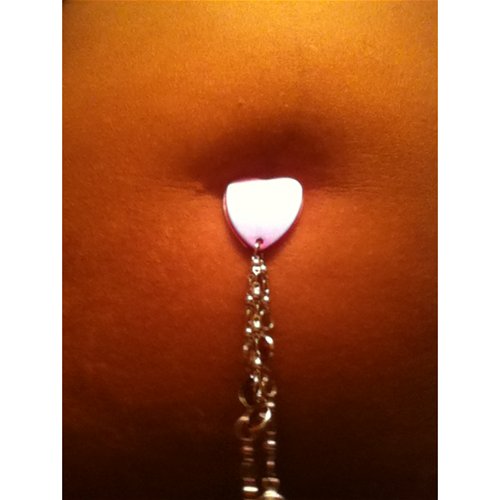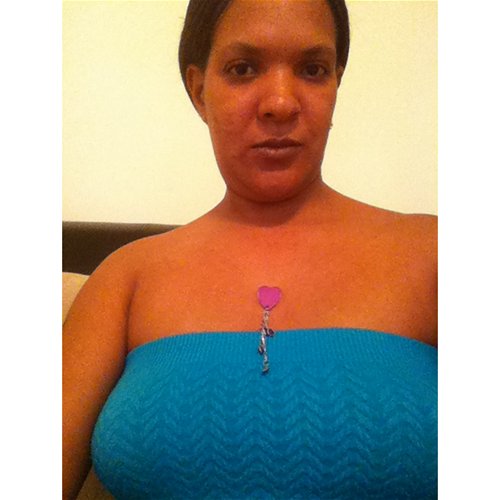 I did try these on my nipples but my nipples are too big so when I put it on and pushed it down, they popped back up it was a no go. It would work for someone who has smaller nipples.
Now I did say that you could get creative. The last picture I was thinking if you had a nice low cut shirt on headed out to the club, you could stick this right in between the breast area. Another idea I thought of was some way of putting some string or some kind of necklace material on so it appears as if you have a necklace on. Just my creative flow coming through.
I love these so much and I thank Edenfantasys for giving me the opportunity to try these out. Also for letting me try them in the purple color as well.
Follow-up commentary
3 months after original review
To be honest I have put this in the Eden tote's bag and forgot all about them. I will probably give them to my daughter when she gets a little bit older to play with them.
This product was provided free of charge to the reviewer. This review is in compliance with the FTC guidelines.

Thank you for viewing
Body charms hearts
– body jewelry review page!