Not Really Charming
While these body charms are easy to stick to pretty much anything you want, they aren't really all that appealing to me. They look kind of cheap. They can be used as fake piercings; however, I think the clip-on body jewelry looks much better. These are too small to work as pasties, yet they can be used to decorate a plain pastie. I personally would like them more if the hearts were considerably smaller.
Published:
Pros:
Stick well, easy to use, can be used anywhere you want.
Cons:
Not really cute, do not work as pasties, look cheap.
Typically I try to accept any review items that are assigned to me, regardless of my first opinion of them. Sometimes I end up loving a product, even though it looked like something I wouldn't normally bother with or buy. Hence why I accepted the assignment for these body charms.
The body charms come packaged in a small plastic clamshell case. There is a paper insert showing off a model wearing the charms. She shows them being worn as body jewelry on her arm and belly button, as well as earrings and decoration on her bra. Instructions state to simply peel off the back cover and stick them wherever you please. The materials are listed as: Antimony (charm), ABS (beads), Ethylene Styrofoam (adhesive).
Antimony is a common metal used in products coming out of China. It is often used to alloy materials like lead and tin. It has been used for cosmetic purposes since ancient times. I was unable to find any information online about the adhesive. If you have sensitive skin, I'd keep an eye on them during your first use to make sure they don't harm your skin.
These are stuck into the clamshell case so that they don't move. Because of that, the indents where they sit will hold the charms when you try to take them out. This could break them if you are not careful, and also makes the case useless to store these in, since it's a pain to sit these in the indents properly once they've been taken out. I keep mine in a little dish on my dresser with some other pieces of jewelry.
I received the pink charms, which are considerably lighter than the product picture on EdenFantasys shows. The charms are metallic. Each charm measures 1 inch tall. There are three strands attached to the charm, with lengths of 3, 2 1/4, and 1 inches. Two of the strands have two tiny see-through pink beads attached to them, while the shortest strand only has one. The metal used for this seems a bit fragile, so you'll want to be careful. If any of the rings attaching sections of beads together comes apart, they can easily be fixed with needle nose pliers. I didn't see any loose rings on mine, but any tugging on them can loosen them.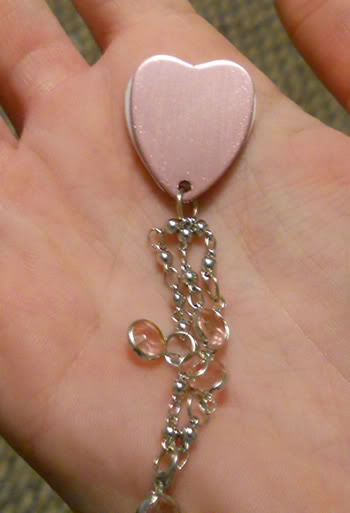 As the packaging shows, you can really stick these anywhere you want to. They can be used to fake a belly button piercing, on ears, on top of pasties or a bra, or as adornments on lingerie. I do not feel they are large enough to be used as pasties, though they can be placed over some plain pasties to make them a little cuter. The backing of the adhesive is easy to peel off and stick back on, which can give you multiple uses out of one adhesive backing. These stick to skin pretty well; however, any amount of sweating or moisture will cause them to lose their grip. While I haven't noticed it yet, I am sure that if they are used on clothing and end up getting a lot of lint on them, the adhesive won't be sticky anymore. When I stuck them to a few different lint-free fabrics, including my microfiber bra, satin, and cotton, they stuck well. When I peeled them off, they did not leave any adhesive residue on any fabric. It actually takes quite a bit of tugging to peel these off.
If you do need to replace the adhesive, you can try looking at hardware or craft stores for 3M foam adhesive, which is what is used on these. To remove the old adhesive, you can either soak it in hot water or use a hair dryer on medium heat held 2-3 inches away. With either method, the adhesive will peel off once it becomes soft. If there is any remaining residue, some rubbing alcohol on a cotton ball will remove it.
Experience
Honestly, I do not care for these charms at all. They are kind of cute, but they aren't useful for me on my body. I don't care for the look of them as a fake piercing, just because the heart is pretty big. I have two piercings in each ear as it is, so I'd prefer to just use those rather than cover them up. I think the clip on earrings look better than these do, as those at least somewhat resemble an earring. If the metal hearts had been considerably smaller, I probably would have liked these more.

I think these are a bit cheap looking. The metal strands seem very delicate. They also look like something you'd give a little girl to play with or stick to her walls. I could see using these to decorate gifts or something, too. When I saw I had an assignment for these, I thought my initial opinion that they didn't look like something I'd enjoy would change. Unfortunately, it did not.
Follow-up commentary
2 months after original review
I still don't know what to do with these. They aren't really functional for me as body charms. I'd much prefer to have a real piercing than a fake one stuck on me. I haven't been able to figure out any sort of crafty things to do with them, either.
This product was provided free of charge to the reviewer. This review is in compliance with the FTC guidelines.

Thank you for viewing
Body charms hearts
– body jewelry review page!