Hey baby, let me give you a massage with my candle!
Candles can be great for setting the mood, adding delicious scents to your living space or adding romantic light to a situation. Massage oil is great for getting your partner "in the mood" or to relieve aches and pains. Earthly Body came up with a fantastic wax-to-oil solution, so you can have both in the same product! On top of that, this nifty invention is also edible. A few different ways to use the product, and worth every penny!
Published:
Pros:
Amazing scent, Not too strong a taste
Fun and easy to use!
Cons:
Not strong a taste if that is what you are looking for
The
Suntouched Edible Candle
was a fantastic experience for both my partner and I. I had ordered this product with an unusual idea in mind. While I realized that this probably wouldn't be possible to use as a regular bath oil even once melted down, I still wondered how it would feel on the skin while in the bath! I ordered the product, and it was time to experiment!
First of all, let me tell you a little bit about the product itself. It comes in a very adorable heart shaped tin. I chose the Watermelon flavor/scent, and the lid shows a (rather large) picture of a slice of watermelon to the right, with a woman licking it. The lid is easy to remove, simply pull it up and it reveals upon first opening the product; a clear plastic spoon atop the white candle.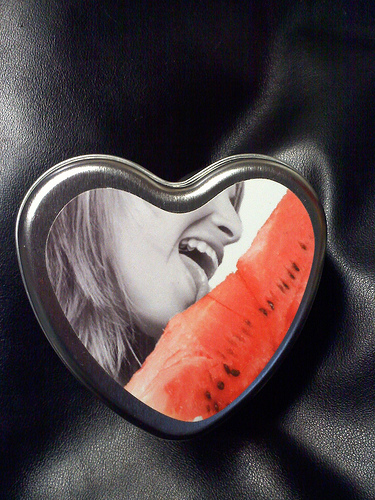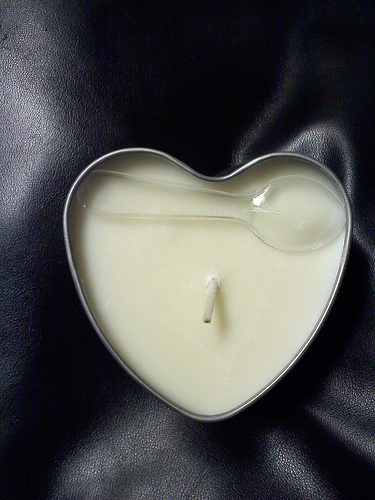 Instantly after lifting the lid, I could smell the scent of watermelon. It was strong enough to smell without having to get too close, but not overpowering. To me, it reminded me of the watermelon flavored Jolly Ranchers! I ran my finger against the hard wax and noted that there was a slight oily feel to it. I rubbed it into my fingers and the oily feeling disappeared right away.
The bottom of the tin lists product information, directions, the cautions, and ingredients. I was also very thrilled to see "Drug & Cruelty Free" Which, to me, is very important. I tend to cling to products once I find that they do not test on animals, so this was great to see. Also, with a list of very natural ingredients, I became more excited!
Moving on to the taste of the product. While the wax was still hardened, I decided to give it a tiny taste, and the only thing I discovered out of my little lick, was that it does indeed taste like wax. Unflavored, uninteresting wax. Melted, however, it did have a
slight
taste to it, and I'll emphasize the word slight. It didn't exactly have a burst of watermelon flavor like I was secretly hoping that it would, but at least there was no unpleasant aftertaste.
I didn't really expect much in the way of flavor, so this was not a problem at all. It did, however, make a fantastic massage oil once melted. The spoon in the package allows you to dip out some hot wax and spread it on your lover, so that you do not burn your fingers on the tin or in the flame. I chose to use the spoon, and didn't find any problems in doing so.
The watermelon scent is not nearly as noticeable once the candle is lit and the oil begins to form. In fact, unless you are quite close to the lit candle, you may not notice the watermelon scent at all! Instead, it smells as though you were burning an unscented candle, unless you are close enough to smell it. Once the candle hardened again after the first use, the watermelon scent was still there, but not quite as strong.
The oil itself isn't sticky at all, nor is it greasy. It rubs into the skin nicely, just leaving a thin layer which can be licked off. If you continue to rub it in long enough, eventually it rubs into the skin for the most part. It does leave a slight "lotion-like" feeling on the surface of the skin, and so if you do not like that feeling, you may want to wash the product off. Either way, your skin will feel softer and more moisturized, even if you need to wash the product off.
On the skin; if you do not wash it away, the scent will stay with you for several hours, at least, but one must be very close to you to notice this. If you wash the product off of your body and don't wash too well (such as using just a washcloth and not soap and water) you'll have a very faint scent left on you, for about 30 minutes or so. Either way, unless you will be in very close contact with others, you needn't worry about others noticing a new smell on your body!
All in all, the product looks discreet; no words jumping out at you or pictures that can be questioned. I would say this is safe enough to give as a gift to someone, unless you have concerns about them reading the bit on the bottom about sensual massage!
Here is the back of the tin, which includes the ingredients list.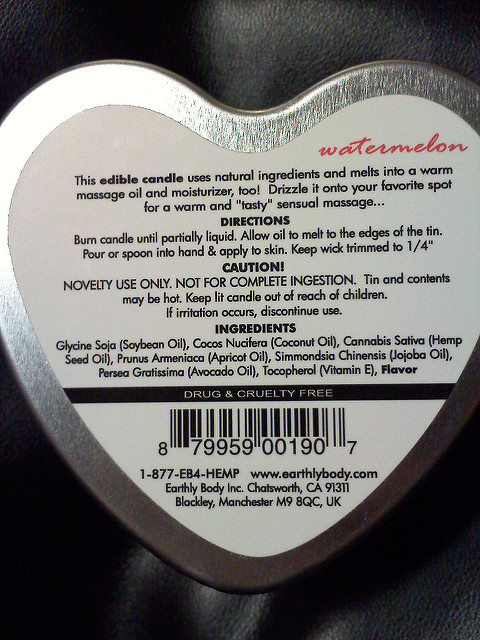 Experience
Now, as I mentioned before, I had ordered the product with a little bit different of an idea than I've seen in previous reviews. I found that my experiment was successful, although the intended use was far more fun.

My partner and I both agree on the temperature of the water when we take a bath, and that is hot. Not scalding hot, but as hot as we can stand, which means there will be steam coming off of the water! Because of this, I figured that the wax, once melted into oil, would not change its consistency and harden too quickly if being rubbed into the skin for a nice bath-time massage. I also figured that because the water was not cool, if any of the wax were to drip into the water it would hold its consistency somewhat, and not turn into globs of floating wax.

Our first step was to light the candle, because it takes a while for enough wax to melt into oil to do much. Once there was a decent amount of oil forming, we ran our steamy bath water. Settling into the water, he leaned back and I was the first to try the wax out on him. I dipped the spoon into the wax, against the side of the tin, as directed, and pulled up a spoonful of the oil (melted wax). I dripped a bit onto his chest, and began with that. Rubbing into his upper shoulders and pecs, then moving on with another spoonful applied to just above the waterline on his stomach. I dragged the oil down on his body; trying to keep my hand firmly against his skin, all the way down to his thighs. Surprisingly, the oil stuck to his skin fairly well; although it thinned out greatly under the water, but remained oil, nonetheless.

This was perfect for a quick bath time hand job as well! The experiment was fun and I was pleased with how well the candle worked in combination with water. This was fun, and next time- I get a nice back massage when we use this again for the tub!

After the little experiment, we later used it for a back massage on me, but in the bedroom this time. He did the same as I'd done previously. Scooping some wax into the spoon and allowing it to dribble across my skin. It was very warm, but not as hot as if he had just taken wax from a regular candle and dripped it on my body. If you are looking for a candle that is very hot and burns a bit, this is not what you are looking for.

We did enjoy giving each other massages and kissing and nibbling this candle off of each other. I would love to try the other two flavors, and see if the taste and aroma are any stronger, or if the experience is the same. Either way, I enjoyed using this candle, and the great news is, through our few uses so far, we've barely made a real dent in the item; so I see it lasting for a lot longer than I expected, seeing the size.
Follow-up commentary
3 months after original review
I've long since used up this candle, but it did live up to all of my expectations. I have also purchased this in strawberry and cherry from this site, and found a vanilla one as well! I plan to buy more of these, because even though I don't always use them for their intended purpose, I LOVE the way they smell! My favorite is definitely the watermelon, followed by vanilla, then strawberry and then cherry!

I am so glad that I made this purchase!
This product was provided free of charge to the reviewer. This review is in compliance with the FTC guidelines.

Thank you for viewing
Suntouched edible candles
– oil review page!