I want to eat my body powder for dessert!
Not only is honey something to add to your food but it also is something to add to your skin! Petite Honey Dust is a fantastic way to add something sensual to your everyday life
Published:
Pros:
~Made in the USA
~Smells fantastic
~Tastes delicious
~Works well/easy to use
~Not sticky
Cons:
~Packaging can be a bit messy!
I've quickly become a fan of edible body powders, and have a nice collection growing! I decided to purchase the
Petite Honey Dust
by
Kama Sutra
since they had it in one of my favorite flavors.
This dust comes in 3 different flavors: Strawberry, Strawberries and Champagne, or Sweet Honeysuckle. I chose the honeysuckle, because I just love that scent and flavor so much! You can use these dusts for a few purposes. Powders like this may be used as a sensual aid, to dust on your partner or yourself and be licked or kissed off. Another use is more common and done with even un-edible powders: dust in places of your body which sweat and may chafe. Often I use something like this under/between my breasts, behind elbows and knees, and on my neck. A third use would be as a perfume of sorts. Honey Dust works well for all three of these uses, and it works well.
The scent of honeysuckle was apparent even before I opened the box! The powder came inside of a clear plastic bag stuck inside of a black drawstring bag. The drawstring bag looks silky and isn't very thick. If you hold it up to the light, you can see through it. Also in the bag is a feather duster. It has a small handle with a few feathers sticking out of it. It's actually a lot more sturdy than it looks! I was pleasantly surprised by the way it was made!
To use, simply dip the feather duster into the powder and dust a light coating on your body in the desired area for the desired above-mentioned purpose (or maybe one I didn't list!). You will not want to pour the dust into the draw-string bag. I left mine inside of the plastic bag and keep that inside of the drawstring one, since it will actually seep through the bag and make a mess!
The scent of this powder is amazing! Honeysuckle is a sweet flower and this powder smells exactly like it! We have honeysuckle in our yard, so I know firsthand how wonderful the aroma can be, and I will go as far as saying that this is a great comparison to their aroma! The taste is very sweet, much like the real thing, but a bit sweeter tasting, more like honey. It may be too sweet for some, but for me it was perfect! I love sweet things, even sickeningly sweet things, so this was nothing for me! It tasted great and I wanted to eat the whole bag! There was no bitter or unpleasant aftertaste at all and no artificial ones either with this product. From start to finish it tasted wonderful and smells great.
Once on your body, as long as you are not doing anything to somehow remove the powder, you should be able to smell this on you for about an hour. It isn't that great for long-term wear if you are using it as a perfume of sorts, but it works a lot longer than you can smell it! I could still tell the difference under my breast area hours after I'd applied it!
Even though it contains honey, it is not sticky at all. After being licked off, even if you don't lick it all off, this product will not leave an unpleasant residue on the skin. You just get a soft feeling left over!
ALLERGY CONCERNS
Below is a full list of ingredients, however I will point a few allergy concerns out immediately. This product contains
honey
, and so some may want to avoid this product. Honey is typically great for skin in softening it up, but some people do have allergy concerns with bees and/or honey! Also, there is
glucose
, so if you should not ingest it due to any sugar problems, be aware that it is in here!
Front and back of box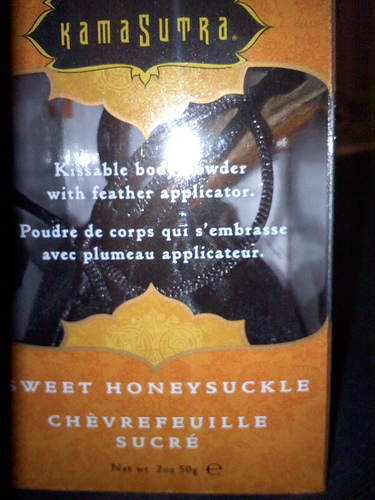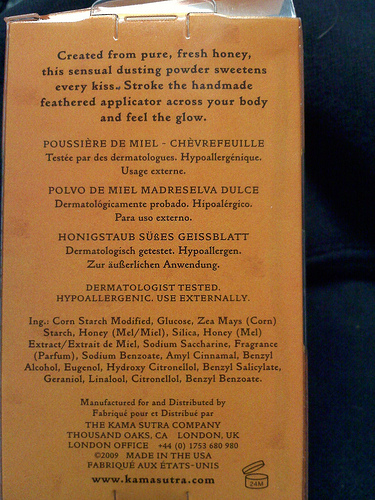 Set outside of packaging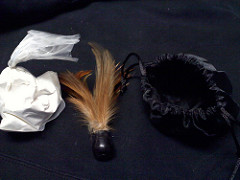 For reviews sake, I put a tiny bit of the powder in the drawstring bag and then set it down on a black shirt. This was the result: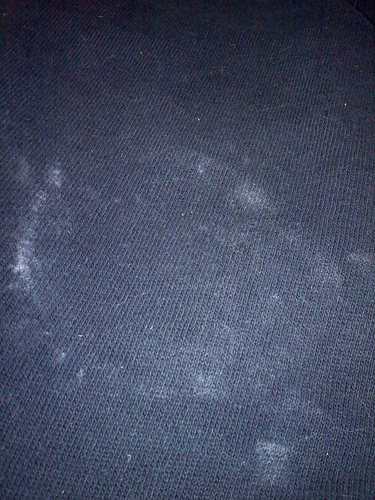 Ingredients list: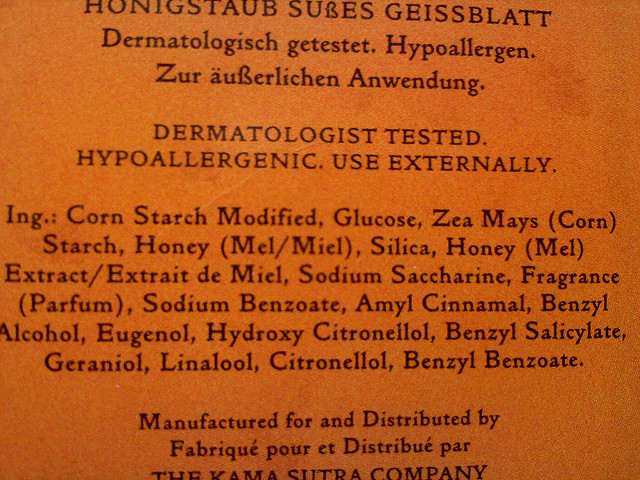 Experience
My partner loves it when I put this on my neck and he gets to kiss it off of me! 5 out of 5 stars for this product! Though I'd have liked packaging that is a little bit less messy, the product itself is fantastic. It smells great, tastes great, works well and does everything I'd expect from an edible body powder. My partner and I love this product!
Follow-up commentary
5 months after original review
I still like this product, though I prefer a couple of my other edible body powders a bit more. The scent of this ended up being a bit too strong for me. At first it wasn't a problem but after long-term use I began to notice it more and more, and if I use too much of it I get a headache now!

But, it still tastes very good and I even once added it to my hot tea and it gave it such a great flavor! Just a tiny bit, though, will go a long way!
This product was provided at a discounted price in exchange for an unbiased review. This review is in compliance with the FTC guidelines.

Thank you for viewing
Petite honey dust
– powder review page!