JimmyJane for Your Feet!
The Contour Q Massage Stones by JimmyJane are truly the best thing my feet have felt since that odd electric massager my aunt used to have. Each stone has its own texture, giving you more than one type of stimulation. They're versatile, in that they can be used on your hands, your head, your muscles, and your feet. My only complaint is that they're seriously noisy when used with the Contour M. But really, I prefer them alone, anyway.
Published:
Pros:
Gives amazing foot massages, body safe, versatile, durable.
Cons:
Use massage oil or lotion for best results.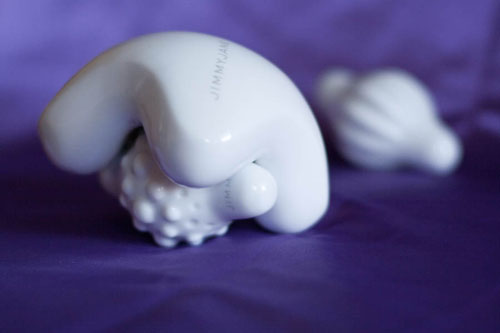 What's that for?
Pictured above, with the Contour M, are the Contour Q massage stones by JimmyJane. The Contour Q is a set of two massage stones made with all over relaxation and relief in mind, though I've found they work the best on my feet. I cannot begin to describe how amazing it feels to roll one of these under each foot after a long day of walking, or hiking, or even just cleaning up around the house.
Whether you've been giving massages forever, or have just started to learn how, you can't go wrong with any of
JimmyJane's Contour Collection
. Use the Contour Q to ease a tension headache, or sooth aching fingers. Roll them up and down your lover's shoulders to ease away they day's tension. Couple them with the Contour M to make the massage easier on your hands. Put them in hot or cold water or add aromatherapy massage candles or oils to change the setting of the massage. Let your imagination be your guide.
What'd it come in?
Most of JimmyJane's stuff comes in a white cardboard box with either black or gray accents. The Contour Q's box is hot pink on the inside, as well, and depicts the many ways these stones can be used. It also has photos of other products you can use with these stones for different types of stimulation. And inside, you'll find the stones, and directions.
How's it made?
The cool thing about this set is that it comes with two stones. One stone has ribs, and the other has little nubs all over it. Each are about three inches long, and five and a quarter inches around at their widest points. They're both sort of lemon shaped, with thinner nubs on the ends meant for a) single-point focused pressure, or b) holding the toy steady in the Contour M.
How is it?
I love the ribbed one on my feet, but it seems I'm finding the nubbed one has too much texture. Apparently, the rest of me is as finicky as my pussy. I'm sure that it's a case of not finding the best way to use it. And I'm sure that with more experience, I'll enjoy it in the future. But right now, it almost hurts my arches.
M, on the other hand, doesn't seem to really be able to tell the difference. I still maintain that he's insane.
For all over stimulation, though, either one is nice, and each stimulates the muscles differently. The nubby ends, with a little diluted peppermint oil, do wonders for migraines, and tension headaches. They're a snap to clean, and even easier to store. I really love these massage stones.
Anything else I should know?
Clean these with a nonabrasive, antibacterial soap and warm water. Use oil or lotion with them for a friction free massage. Store them in the box, or pick up a bag to keep them safe in. These massage stones are a snap to care for.
Please read warnings and directions carefully before use.
This product was provided at a discounted price in exchange for an unbiased review. This review is in compliance with the FTC guidelines.

Thank you for viewing
Contour Q
– massager review page!