Lumpy Latex
This product is great for body painting, sensory play, and can be used for crafting! It dries quickly and is easy to apply, however the ammonia smell and chunky texture do not add to the visual appeal.
Published:
Pros:
Versatile, stretchy, restricting, interesting feeling
Cons:
Ammonia smell, chunky paint, wasted dried paint on the underside of the lid
This florescent latex was made for making crafts and for sensory play. It could probably also be used for glue, though. The product I received was chilly, moderately viscous, and chunky. If you want to use it for sensory play, you should also know that it has a mild ammonia smell that goes away as the product dries. As it sets, the product creates a feel of restriction or a "second skin" feel. In a sensory deprivation situation, this could feel terrifying and interesting.
I, however, used it for crafting. I used it to make two nipple pasties, and several bracelets. The chunkiness of the liquid latex was extremely difficult to work with. It dried slower due to the texture, and created an awkward bumpy surface, which was too weird for pasties. The latex did come off easily, even without petroleum jelly! They simply stretched right over my wrist.
The dried latex re-sticks to your skin shortly after it's made, but will lose its stickiness within 24 hours.
Color
The color in normal lighting is a medium pink color, however you can mix it with different things to create different effects. I mixed mine with black liquid latex while it was still wet and it came out fuchsia. Additionally, while wet, I mixed it with some white body glitter, and it turned out a sparkly princess pink! It sucked in the things I mixed, so the glitter didn't flake off anywhere, which was awesome.
If you mix it with things after it is almost dry, the colors stay separate, and you can create interesting, well-defined patterns. Stripes and polka dots seemed to show up well when combined with black liquid latex. Additionally, you can put glitter on top to create a glittery splatter pattern, although the glitter will flake off if you do it that way.
I don't have info yet on how this looks under black light, but I'll be posting a follow up review soon with pictures of that.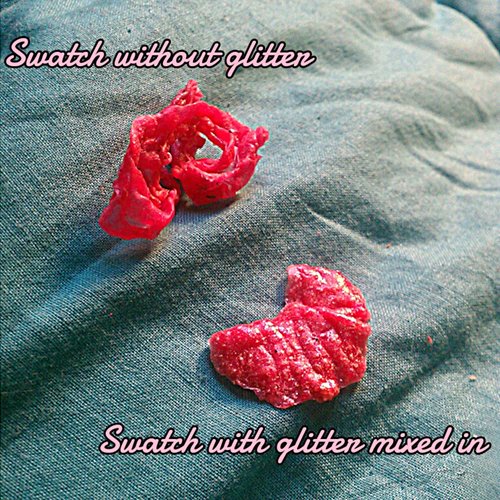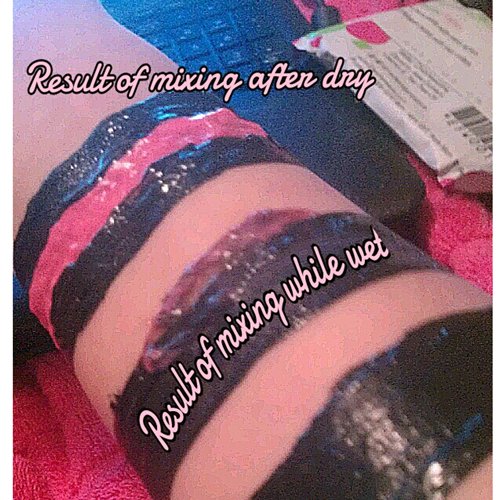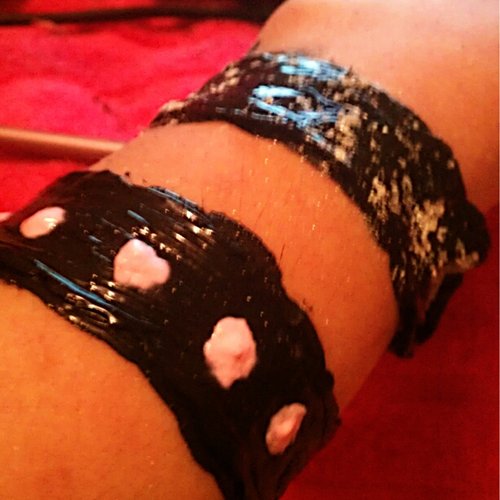 Instructions and tips:
Before use, do an allergy test. Complete the first four steps below on a small patch of skin, and wait 24 hours for any signs of hives or inflammation.
1. Go to a place that can be easily cleaned, or put LOTS of disposable fabric around you. Make sure the room has good ventilation.
2. Apply a petroleum jelly, lanolin, or glycerin type product to the area you will apply the product. This will allow for easier removal.
3. Use a paint brush, sponge brush, or roller to apply the product in the shape you want it. Do not place it near eyes, hair, or mouth. Try pulling your hair back, or it will probably get stuck in the latex.
4. Apply a THIN coat and wait 10-15 minutes for it to dry.
5. Apply more coats as needed, allowing drying time in between each coat.
Material and Clean Up
This product is made of latex, obviously. Do not use if you have latex allergies.
Clean up is easy. Wash it off with soap and water, if you don't want your designs to last. If you want to keep your design and you created thick enough layers, it works to simply peel it off. It stretches enough to pull it over wrists or ankles.
Packaging
The liquid latex came in a 16 oz. tub with a lid. It blatantly says what it is, but liquid latex isn't an obvious sex toy, and may still be discreet depending on your environment.
The main complaint I have is that the tub wasn't filled all the way to the top, so the latex splashed around inside during shipping. This caused a thick layer of latex to dry on the bottom of the lid, wasting paint and making the product difficult to open. It may have also contributed to how chunky the liquid was. This didn't happen to other latex I ordered, so it may or may not happen to you.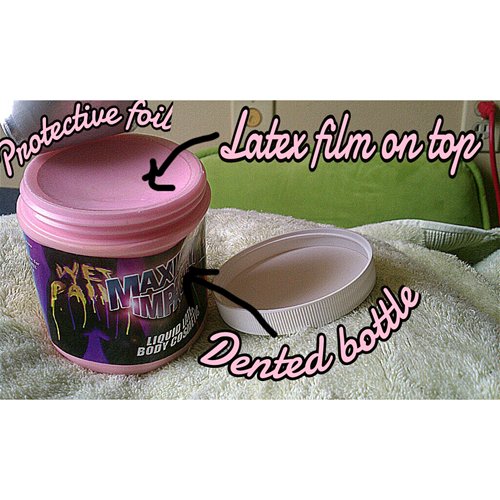 Experience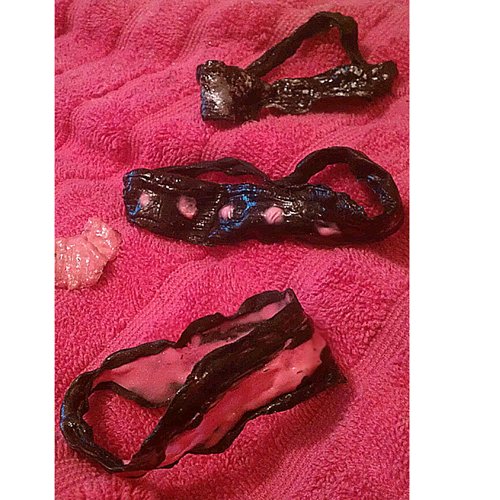 Finished product!
This product was provided free of charge to the reviewer. This review is in compliance with the FTC guidelines.

Thank you for viewing
Fluorescent liquid latex
– body paint review page!