Male Cat Attractant?
The Female Attractant Pheromone Bracelet by Evolved Novelties is supposed to be infused with pheromones. When my partner wore this bracelet, it didn't do a thing for me. My partner enjoyed the bracelet but he experiences placebo affect with anything that is said to have pheromones in it. I could pass him a can of pop and say it had pheromones in it. His mood would change. The confidence was nice, but this product is not.
Published:
Pros:
silicone, soft sweet scent, gender-neutral appearance.
Cons:
pheromones did not work (for me), non-adjustable size, pheromones only last a maximum of 45 days.
The Female Attractant Pheromone Bracelet by Evolved Novelties is a silicone band bracelet which is "pheromone infused". My partner really wanted the bracelet despite the fact that I told him he shouldn't. From my experiences with pheromone products, they never work. Of course, he bought it anyway.
The bracelet arrived in a clear plastic package with a paper insert inside. The front of the insert states the company name, product name, and states that it's a men's bracelet. Even though it is stated as a men's bracelet females who want to attract other females with the pheromones can wear it. The back of the packaging has a brief product description, company website, and company contact information. The packaging isn't good for storing the bracelet when it's not being worn.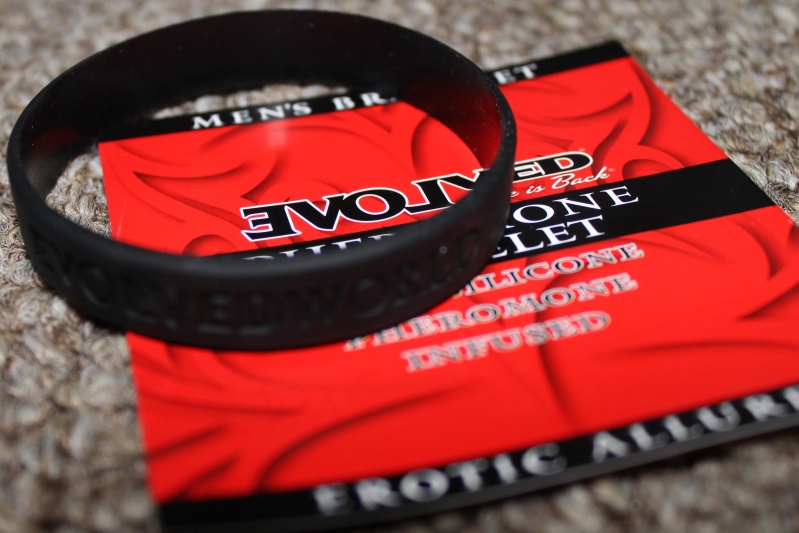 The band is pure silicone. The material is phthalate and latex free. The band is black in colour and has the word "EvolvedWorld" imprinted in it. The appearance of the bracelet is pretty gender-neutral. The band does have stretch to it. The bracelet (unstretched) has a circumference of 8 ¼ inches. The band is approximately ½ inch. The band fit my partner well but I would not suggest wearing the band if you have a wrist circumference over 8 ¼ inches. As for the appearance of the bracelet, my partner really likes this type of bracelet. For myself, I think they are unattractive and cheap looking. Below is a photo of me wearing the band. You can see the imprinted word clearly in the photo. My wrist circumference is 6 inches so it's quite loose on me (my partner wasn't home for me to take a photo of him wearing it).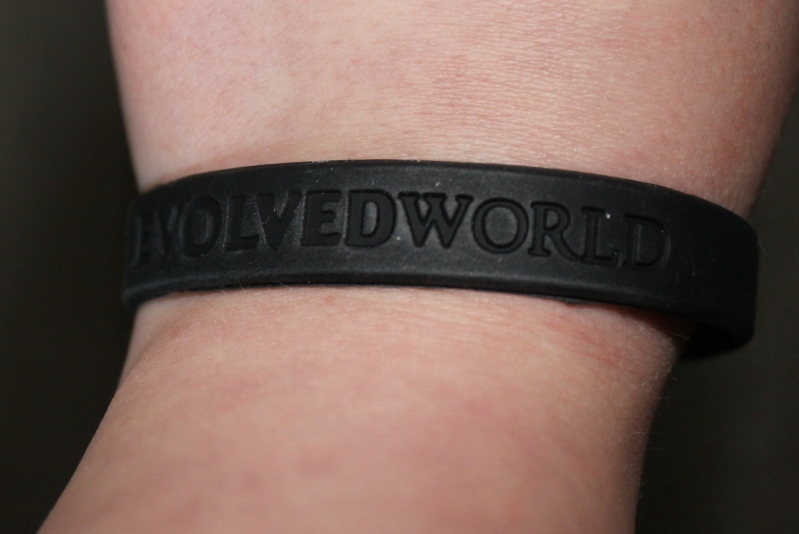 The packaging says that the bracelet is odourless but it's not. Right out of the packaging, the bracelet has a light scent to it. The scent is sweet but can only be smelled if you put your nose right up to the bracelet. Over time, the scent fades. The packaging states that the pheromones last for 45 days after the packaging has been opened. It also says that the bracelet can be washed without removing any of the pheromones. It's hard to say how long the pheromones actually last because from day 1, it never did a darn thing for me when my partner wore it. I asked him if he had received any extra attention from females while wearing the bracelet and he said no.
The pheromone products we have tried have never done a thing for me. However, my partner seems to experience placebo affect from products that say they have pheromones in them. If I were to tell him that some random product had pheromones in it, even if it didn't, you'd see his mood change a bit. This isn't necessarily a bad thing. If a person believes that they are going to attract females with this bracelet, their confidence level rises. In turn, they will feel more attractive and probably get a bit of extra attention because of that confidence.
I personally would not recommend this product because I don't think the pheromones actually work. To me, I consider this bracelet to be a fashion accessory only. I wouldn't even recommend this as a fashion accessory because you could get a few of them at the dollar store for half the price. I've given the bracelet two stars instead of one because if you're lucky enough to have a partner who experiences the placebo affect, the confidence they show will be more of an attractant than any pheromone product could provide (assuming you are like me and find confidence to be extremely sexy and appealing).
To conclude, I have a humorous story. After about 2 weeks of my partner wearing the bracelet, we found our male cat with it. My partner never slept with the bracelet on. He'd always put it on his nightstand. One morning we woke up to find Chunky (our male cat), walking around the house with the band in his mouth. We tried taking the band from him but he got really defensive so we let him play with it. Later that day, we found Chunky humping the bracelet. For a week or so, the cat went everywhere with this bracelet. It's funny because our female cat had absolutely no interest it. My partner said to me, "I wish the bracelet had that type of affect on human women".
Follow-up commentary
2 months after original review
I still don't like this bracelet but my partner does. Since the supposed pheromones wear off after 45 days, the bracelet no longer "works" (though I never thought that it did). The bracelet can continue to be worn as an accessory once the pheromones have dissipated.
This content is the opinion of the submitting contributor and is not endorsed by EdenFantasys.com

Thank you for viewing
Female attractant pheromone bracelet
– oil review page!