My bum smells like a spice cabinet.
If you are an individual likely to fall prey to the placebo effect, this product may work well for you, especially if the faint smell of oranges and the very strong smell of cloves is something you would enjoy. Sadly, I don't fall into either category.
Published:
Pros:
Faint warming sensation.
Cons:
Strong, lingering odor.
Does not provide relaxation.
Expensive.
As I wrote in a previous
review
, I had been on a mission to make sure my husband and I could have anal sex. This was part of that arsenal. I had initially purchased this product because it was supposed to be an anesthetic free way of relaxing the anus, so that I could enjoy anal play safely. I wanted to avoid anything and everything that could numb me, thus causing possible damage without me being able to feel it. In my searches, I came across this product, and figured I'd give it a go.
My first mistake was that in reading over the ingredients, I was looking specifically for two things -- parabens and glycerin. This didn't have either, so I tossed it in my cart without much of a second glance because it said that the flavor was ORANGE. I saw that clove oil was high on the list, but I had no idea it would be this overpowering.
Firstly, my ass smells like a spice rack. No, seriously. The scent of this product is so overhwhelming that I wanted to stop everything I was doing and go bake a pumpkin pie the second I opened the container. It is literally like smelling a jar of cloves. Not only that, but the smell clings to EVERYTHING it comes in contact with. It took me washing my sheets twice to get the scent from lingering in the fabric, and only a small bit came in contact with it from when I rolled over on the bed -- none was directly spayed there.
Secondly, and this is not meant to be in any way scientific or anything else, but my own research has shown that clove oil is a natural numbing agent, used in everything from tooth aches to paper cuts. This part is where I got a bit concerned, because I purchased this product under the impression that it would RELAX my anus, but not numb it. This concerned me, so I tried it on myself with just my fingers and the spade, to see if it did numb me at all. It didn't. While I did experience some tingling sensations after leaving it on for 15 minutes as suggested, I didn't experience any numbing. This is good! This is what I wanted. I wanted to feel my ass! I just..well, I still smelled like a Djarum black cigarette.
I had assumed that this product would be a little thicker than it ended up being, but that was my own mistake for having any preconceived notions. It isn't thick, at all. In fact, it's not much different in consistency than a body spray you'd find from Bed Bath and Beyond or any other similar products. It does have a bit of slipperiness to it, but it is, by no means, meant to be used as a lubricant. It is a spray meant to be used in CONJUNCTION with lubricant, if you so choose, but it is not lubrication.
As I previously stated, this baby has an aroma that you will not forget. If you own toys that retain scents, I would suggest you not pair them with this product, unless you really
love
the scent. Personally, I don't, and I only will use it paired with my glass products that I can easily wash off. And speaking of washing off, even the next day, after bathing and scouring my derriere very well, I still could smell the product on my skin. It didn't leave behind a residue after my shower, but the scent still lingered.
Despite the lingering scent and the faint numbing, I was left very unimpressed with this product. It didn't provide any relaxation for me what-so-ever. I didn't find myself more or less comfortable using this product than I did without using this product. All in all, this has ended up being a $22 bottle of butt perfume that neither myself nor my husband find ourselves reaching for very often, simply because other than assault our noses, it doesn't seem to do much of anything at all.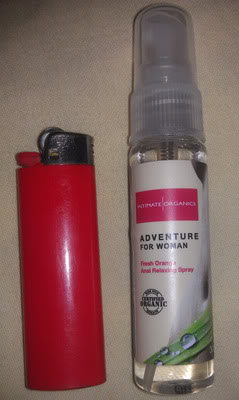 ingredients:
Dimethicone, Isopropyl Myristate, Syzgium aromaticum (clove bud) oil, Parfum, Certified organic helianthus annuus (sunflower) seed oil, Certified organic lycium barbarum (goji berry) fruit extract, Certified organic cymbopogon schoenanthus (lemon grass) leaf/stem extract, Certified organic aloe barbadensis (aloe) leaf extract.
Bottle claims "Latex condom friendly. This product does NOT contain Benzocaine or Lidocaine!"
Follow-up commentary
4 months after original review
I really cannot bring myself to use this product anymore. I tried it twice since my initial review, and the placebo effect and the awful scent leave me feeling worse than if I had just used nothing but lube.
This product was provided at a discounted price in exchange for an unbiased review. This review is in compliance with the FTC guidelines.

Thank you for viewing
Adventure
– anal lube review page!