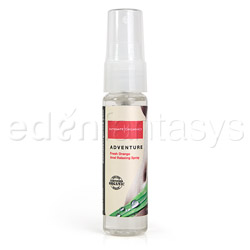 Adventure
Anal relaxing spray by Intimate Organics
Finally, a safe and effective anal relaxing spray!
The Anal Relaxing spray for Intimate Organics is a safe, anesthetic free, way of relaxing the anal sphincter allowing one to more comfortable enjoy anal play. The silicone lubricant that it contains also eases penetration. The spray is all natural, organic certified ingredients are vegan friendly and pleasant smelling. All ingredients are also safe for use with latex condoms.
Published:
Pros:
Relaxes and eases anal play, no numbing agents, pleasant smell.
Cons:
None.
When looking for products to help ease anal play, one is left with the option of only lubricants as most items billed as anal relaxants contain numbing agents which are actually dangerous to use as they can hide pain and/or injury. EdenFantasys made a huge step forward in sex and sex toy safety when they removed such items from the site.
Rest assured, there is another fantastic choice besides lubricant.
Intimate Organics Adventure Anal Relaxing Spray
contains no numbing agents, is USDA organic certified, and actually does help make anal play a little easier. The packaging and bottle of the Anal Relaxing spray are both attractively designed featuring light colors, a sexy photo of a woman's abdomen, and a leaf pattern. It's subtle and tasteful and unless someone read the label, probably wouldn't get much notice beside a bed.
The organic ingredients said to make this work are clove, goji berry, aloe, and lemongrass. Spray a light amount onto your anus, wait 3-10 minutes, and believe it or not, I did notice some relaxation. If you'd need more lubricant, the Anal Relaxing spray works best if you let it absorb in for 10 minutes and then apply lubricant as needed.
The fact there is Dimethicone in this makes insertion a little easier as it is a lubricant. This is the most costly of the silicone lubricants and provides a more velvety feel. Caution should be taken when using this spray with silicone toys as there is a potential for reaction. I've used this spray with Tantus silicone plugs and haven't had any problems.
The scent of the spray is pleasant. It smells like an orange tea and is not overwhelming in any way. The bottle is easy to hold in the hand and the pump works very well as long as it is not held upside down. One spray goes a long way, so this one ounce bottle should last awhile.
While this spray does work to relax the anal sphincter and provide some lubrication, always use smart and safe sex practices. This spray is safe with latex condoms. If you should feel pain or discomfort, stop, slow down, and try a little more lubricant.
This product was provided free of charge to the reviewer. This review is in compliance with the FTC guidelines.

Thank you for viewing
Adventure
– anal lube review page!