Not Nearly Nude
As with any cosmetic, the right shade can make or break a look. Despite its name, the nude share of the lip gloss duo is much darker and more orange than you may be expecting. It doesn't offer a subtle effect at all and I suspect that it why many consumers would opt for this shade over others. It may simply be more wise to buy this in person, if you can find it in a store near you, or skip it altogether.
Published:
Pros:
Shiny, base and top coat, easy to use, pretty tube
Cons:
Orangey, super sticky base, color comes off, uneven amount of product, comparatively expensive
BELLA IL FIORE's lipgloss duo is a pretty standard product as far as lipglosses go. One end features a flatter base color while the other is a shiny, glittery topcoat. The colors in this line are all named after cities. I wanted a minimal look so I opted for Paris or "nude." Although I haven't tried the other shades, I can say with some certainty that this is not how I define nude.

The double-ended tube is square in design, rather than round. It's feminine and cute, simply but perhaps the shape could make it easier to find in your bag. The longer end of the tube houses the base color. Upon my first application, I noticed how sticky it was. The base is almost dry, too. Luckily, the glittery topcoat adds shine and moisture. Because of this, I really wouldn't wear the base coat alone but you might consider it, if you want a less dramatic look. I do find that the stickiness stays, even after removing the product and, as it dries/wears off, it tends to pull at my lips and clump a bit. That's never attractive.

Oddly enough, the tube for the base color is much longer than the other side. It seems to me, that if I always use it together, I'd wind up using about the same amount of each product so this is awfully silly. The base color uses the typical gloss wand style with a slightly angled applicator tip. The topcoat uses a thin brush, however. Because this end of the tube is so short, you might find it a bit difficult to apply. However, it works well to paint over the base coat without removing much of the product, which can happen with duos like this.

To be honest, the entire tube is probably shorter than some single glosses I have and is definitely shorter than any other duo I've used. When you consider price, this product may not be worth it. I've had cheaper drug store duos that I like better. I wouldn't count on this as all day color and I'd be careful because this gloss will rub off on other things: skin, silverware, cups et cetera.

The main reason I am not thrilled with this product, though, is that the nude comes off quite orangey. It's definitely not the shade I expected. Although "nude" can vary and can be closer to champagne or more peachy, this comes off as far too dark and orange for the description to be accurate. It's also odd that the topcoat is not nude but a pink sheen with pink glitter. I was hoping for something that would highlight my natural color but this just covered it up and wasn't flattering with my skin tone.

The official website describes this product as giving a "3D" look, which is accurate in that the shine gives depth. I do like shiny glosses myself but, paired with the glitter, this may be too much for some. The lip duo does not promote plumping, doesn't tingle or cool and isn't especially marketed to moisturize your lips. In fact, I much prefer the feel of my cherry Chapstick.

While described as non-scented, the base coat definitely has a slightly sweet aroma to it. It's close to that hazelnutty smell that almost every lip gloss has. However, there is no discernible taste.
Experience
I had a hard time photographing this because my phone's flash isn't very strong. It was especially apparent how orange/salmon-y this product was when I wiped it off (with an Eden toy wipe, heh).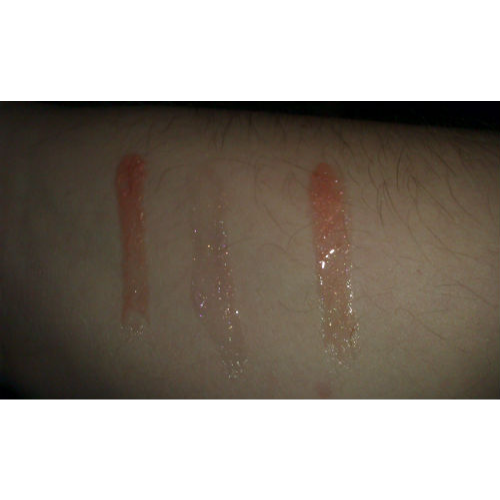 Follow-up commentary
5 months after original review
I tried this on again and promptly remembered why it's been sitting at the back of the cabinet. The color is still too orange and the texture is far too sticky for my tastes. I wiped it off right away and tossed it back into the cabinet.
This content is the opinion of the submitting contributor and is not endorsed by EdenFantasys.com

Thank you for viewing
Perfect pout lip gloss duo
review page!