~*Romance or Roadkill?*~
This product is a study in highs and lows. On the one hand (mitt?) it delivers soft sensation at an attractive price point; on the other hand, it raises a lot of questions and I'm left feeling like I compromised my ethics. All I can do is caution buyers to do research so they know exactly what they're getting.
Published:
Pros:
+ Very soft
+ Can easily fit a woman's or man's hand
Cons:
- Cannot choose color
- No cleaning information
- No manufacturer information
There's no nice way of putting this — the Rabbit Fur Mitt is skin and hair that once belonged to something lower down the food chain. If you can't stand the thought of
Thumper
being skinned for pleasure, you want to stop reading now and type "vegan" in the search box at the top of this page. Or consider some of the
feather products
which do not require the animals to be killed to obtain. If animal skins do not offend you, please continue…
The Rabbit Fur Mitt is made by Entrenue, and according to the lone tag that came attached (and needs to be clipped off before first use), "Made in the U.S.A." I can neither confirm nor deny this as there is just about zero information to be found about the company online. It's like
Fight Club
rules are in effect, "First RULE: You do not talk about Entrenue. Second RULE: You DO NOT talk about Entrenue." If country of origin or the treatment of animals raised for pelts is very important to you, just know that this product lacks detailed information.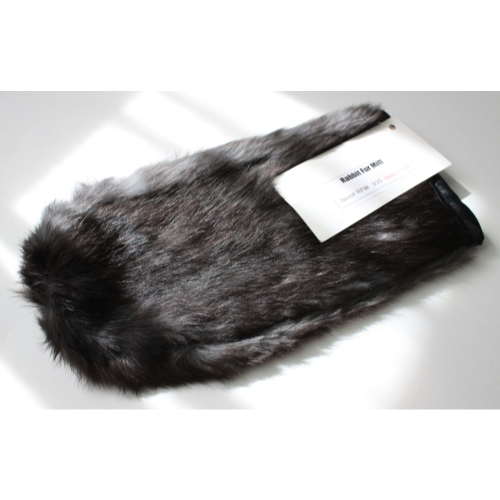 It also lacks information on how to clean the mitt, however it's the same as cleaning a rabbit fur hat or rabbit trimmed jacket. For general upkeep, lightly wipe with a cloth dampened in cool water. For small spots, at home dry cleaner sheets should be sufficient. For more serious stains, or heavy dirt and grime, take it to the cleaners.
The mitt I received
measures 9¾" tall
(including the trim) and
5¾" across
at the widest point. It can accommodate either my or my husband's hand with room to spare. The fur is
very soft
, and reasonably
plush
for the price point. The color is a kind of calico brown that can kindly be described as "muddy." I observed all of this immediately since it came in —
you guessed it!
— a clear ziplock bag.
Slightly closer examination revealed that the trim is uniformly stitched and that the fur has undertones of gray. Unless you have known allergies to fur, nothing about the mitt should cause a problem or reaction.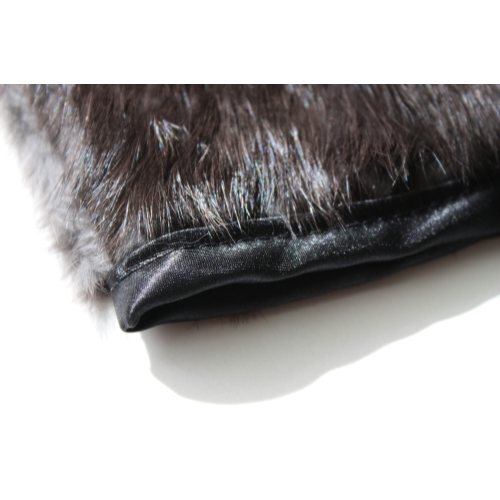 Using the Rabbit Fur Mitt is as simple as 1, 2… just put your hand inside and rub your partner. This is truly idiot-proof.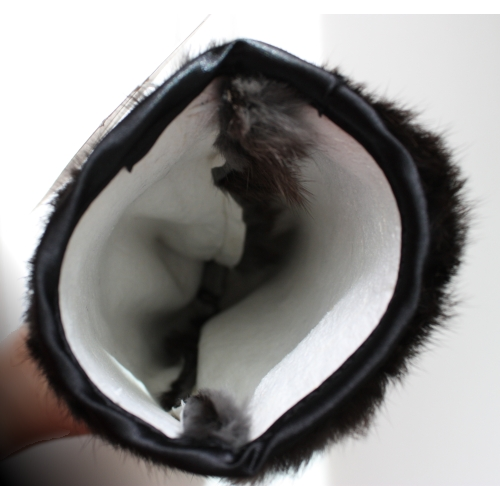 To spice things up, you can put a small vibrating toy inside with your hand or cool it in the freezer before play.
Like natural fibers, I suggest airing this between uses, and storing it in a container that allows it to breathe. Use it because you like the luxurious touch of fur… use it because you're too sore for anything firmer… use it just because… it's a simple item that leaves the creativity up to you.
Experience
The famous quote that falls from the lips of every celebrity who decides to pose for PETA is, "I'd rather go naked than wear fur."
Me?
I'd rather be naked while wearing fur… or while laying on it… or while it's drawn along my body.
I almost never buy fur because of the conditions the animals are forced to live in and the way the fur is harvested, but since the Rabbit Fur Mitt was small, inexpensive and American-made, I decided to give it a chance. I
hoped
it was ethically farmed. I
expected
a light colored fluffy mitt. What
arrived
looked like roadkill. I like brown, black and gray, but on this mitt those colors looked raccoon-esque. Enough of the little bandits get hit by cars around here that the color upset me.
To make matters worse, while I knew I was gambling by buying fur from an unknown manufacturer, alarms went off in my head when I couldn't find
any
information about Entrenue other than a wholesale portal. Sometimes "Made in the U.S.A." items are made from materials
sourced outside
of the U.S. — in the case of animal skins, they're usually from the Far East and the animals live in inhumane conditions before meeting a painful end.
So what does this have to do with the actual performance of the product? Very little. The Rabbit Fur Mitt is as advertised: soft, soft fur. I cannot confirm that it's rabbit fur, but it is plush and feels absolutely wonderful on contact with your skin. My husband says one side of the mitt feels softer than the other, but I think both sides feel nice. To my surprise, it doesn't create static when I pet his hairy bits.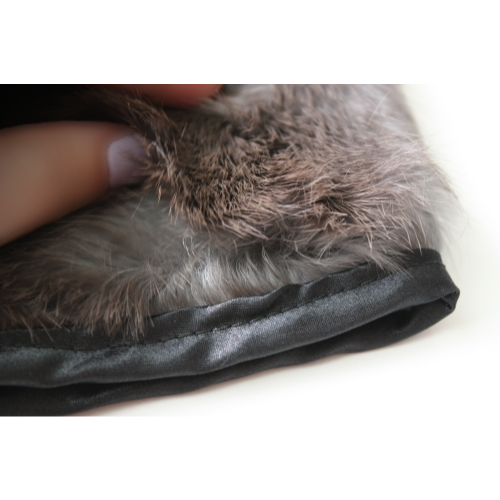 It's soothing to areas like the arms and back, and it can be fun to swipe across naughtier places though I studiously avoid areas, like armpits, where it is more likely to pick-up scents and moisture. Remember, this is fur — smells can become trapped in the hair. For now I let it air, then throw it into a sock drawer. Ideally, I'd like to get a small cotton bag to store it in.
With gentle use I can see the mitt lasting a long time. If it does fall apart, I won't mind buying another one, but I will not purchase it from Entrenue.
This content is the opinion of the submitting contributor and is not endorsed by EdenFantasys.com

Thank you for viewing
Rabbit fur mitt
– massage mitt review page!