Simply Sexy...enough for your grandma.
Since apparently this works a bit differently for every person's body and natural chemical makeup, you may have better luck with this one than I did, but for myself, this is not a scent that I will be using, and I'm going to try to find a friend who has better luck with this one than I did. You get what you pay for, and this only cost me $13, so...
Published:
Pros:
Long lasting.
Inexpensive.
Cons:
Over-powering scent.
Smells unpleasant.
Pheromones don't seem to work.
I'm not entirely sure why I thought that a $13 perfume was going to smell amazing, but I probably should have used my own common sense with that one.
When I first opened my box of goodies, I didn't even notice this was there because it's so small. That isn't necessarially a bad thing, because that makes it nice and portable, but it is a very small bottle. It came to me wrapped in the standard plastic bag and tied with a knot. Other than that and a very small cardboard tag secured around the top, this has minimal packaging. The tag lists it as a pheromone sex attractant, and the inside says silly phrases like "pheromones provide a sexual attractant to entice and arouse the senses!", with the ingredient and contact information listed in tiny letters on the back of the tag.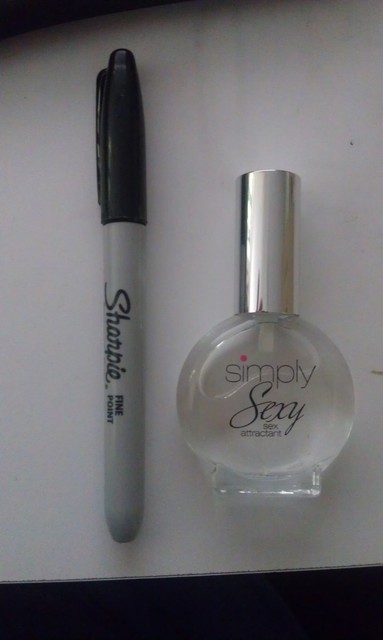 The bottle is glass, and holds the .5 fluid ounces of clear liquid inside of it. The front has a sticker on it, that says "simply sexy/sex attractant", and that's absolutely it, aside from the tag that you can discard. The lid is plastic, and is painted silver (which I imagine can chip), and when you pull it off, matches the silver plastic pump-top style that this product uses for an applicator. I do not like this scent enough to bring it with me in my purse, so I cannot vouch for this in terms of being travel-friendly, but the lid seems secure enough in that aspect.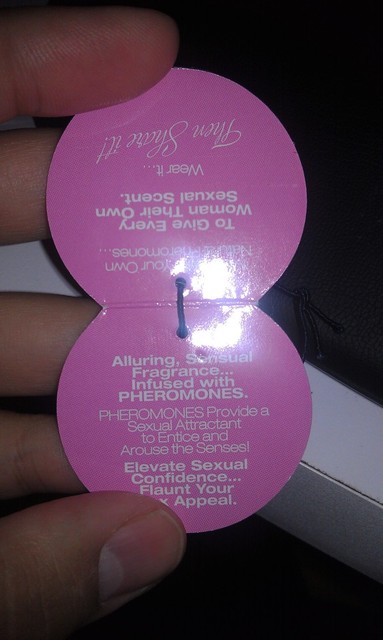 So getting down to what we really all care about: the scent. This thing reminds me of someone's grandma. I remember when I was a little girl, sneaking into grandma's bathroom and smelling all her perfumes; they weren't actually enjoyable scents, it was just that I wasn't supposed to touch them, so of course, I wanted to. Well, that's what this reminds me of. It smells like a bottle of perfume that was made far too many years ago, that you really don't want to ever wear because it's off limits. This is sort of a mix between rubbing alcohol, baby powder, and roses. There's something awful and chemically that hits you immediately (no matter how long it's been since you sprayed it), and then sort of goes into a baby powder and rotten flowers. It's also got quite a long wear to it, which in most cases would be a bonus, but for me that's definitely not a good thing. I had to shower to get rid of the scent, and only then did it wash off.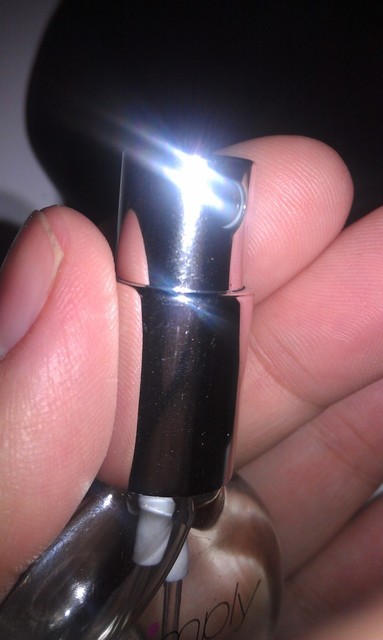 Apparently this contains pheromones, which, according to the tag, "mixes with your own natural pheromones...to give every woman their own sexual scent", so maybe it's just -my- body that treats this like grandmas stash. Either way, I don't find this to be very sexy, nor do I find it to make me -feel- sexy, as I'm apparently supposed to. I'm also not entirely sure how I feel about the ingredients this thing contains, either.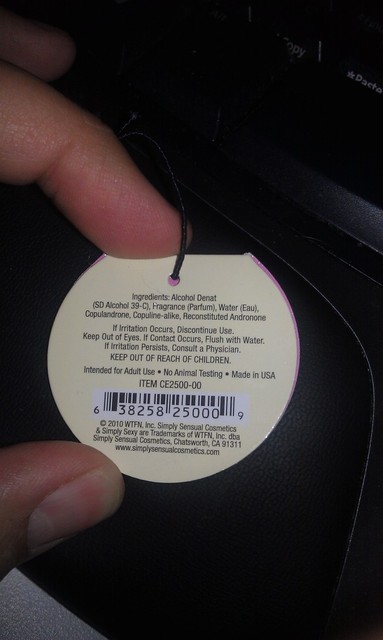 All in all, this one may be worth grabbing if you're curious to see what your body creates, fragrance wise, or if you just need a couple more bucks on your order to get free shipping.
Ingredients:
Alcohol Denat (SD Alcohol 39-C), Fragrance (Parfum), Water (Eau), Copulandrone, Copuline-alike, Reconstituted Andronone.
Be aware that some of these ingredients have been known to cause allergies in some people, so try a small area first if you aren't sure.
This product was provided at a discounted price in exchange for an unbiased review. This review is in compliance with the FTC guidelines.

Thank you for viewing
Simply sexy fragrance
– perfume review page!