Smells good, but has glycerin in!
A very nice set for someone who likes the smell of vanilla and orange, or cakes in general. Not very nice if your skin doesn't deal with glycerin well or you don't like strong scents.
Published:
Pros:
Makes skin feel very soft for long periods of time, not much is needed, smell lasts ages
Cons:
Almost too strong for me, has glycerin in
Presentation
There's a lot to be said about the packaging for this product. The box is adorable and very fun. The colours used are reminiscent of cakes, which is obviously the reason they were chosen. I really enjoyed the cake design on the side of the box and the overall party theme. I think it's perfect to give as a gift, since everything about it is friendly and cheerful.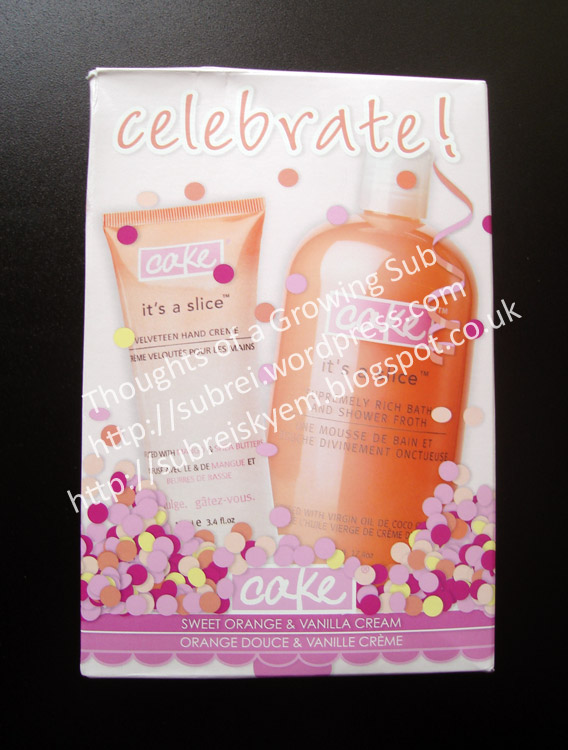 On the back of the box, the language is written in both English and French, because
Cake Beauty
are a Canadian company. The shower froth and hand creme also have the ingredients and such listed in both languages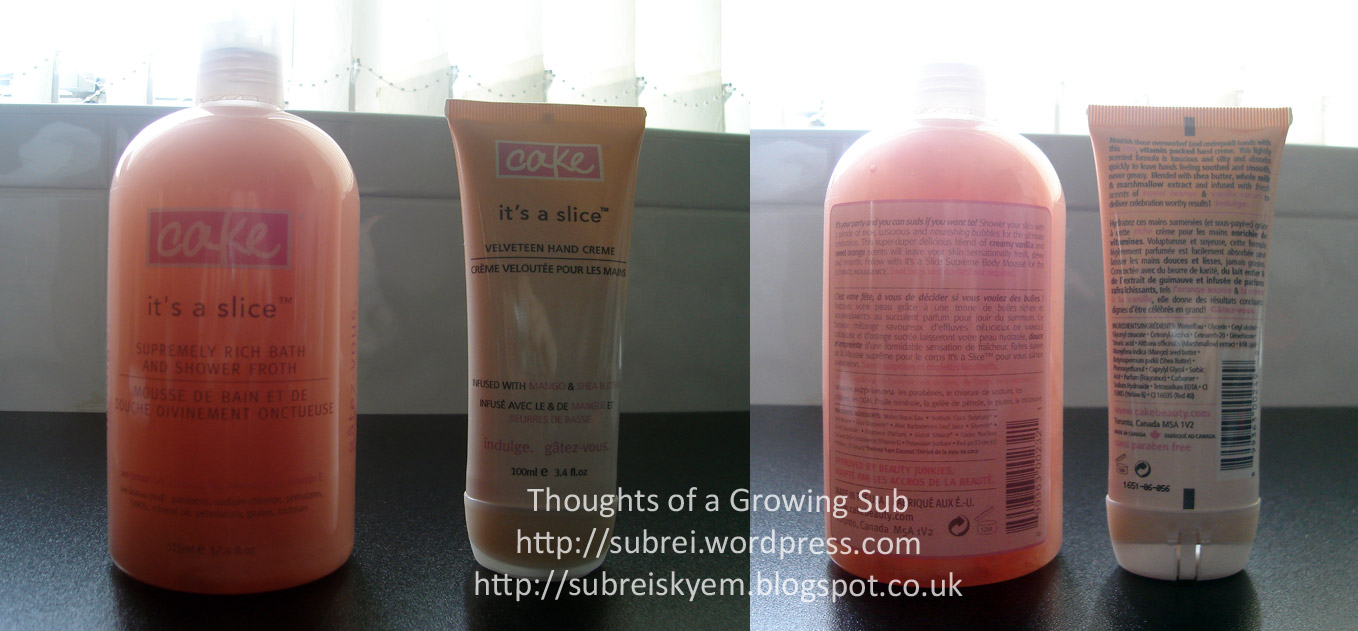 , so you don't need to keep the box if you don't want to.
Inside
, there is a small cardboard separator to prevent the items opening and making a mess of each other, which I thought was nice. I liked that there was no plastic in the packaging since it meant I could recycle it more easily if I wanted to.
One thing that I really liked about this set is that the designs match
all the other items
in the
Cake
range, except for the colours. I generally like all my beauty products to match if possible, because it looks much nicer that way.
Ingredients
The ingredients list for these products can be found on the normal EdenFantasys page. People who are sensitive to glycerin will want to give this a miss but otherwise the ingredients should be safe for everyone.
Texture and smell
Let's begin with the texture of the hand creme: it is very silky and smooth and feels much like other hand or face cremes on the market. It even squeezes out in that strange curl that most do. It comes out of the tube very easily, so if you use it you need to be careful not to get out too much as a little actually goes quite a long way.
The shower froth lasts a long time too, especially if you wash with a shower puff. Its texture is more like baby oil than any shower gel I have owned but this just makes it feel silky in my hands rather than slimy. It is very runny and comes out of the bottle with relative ease. Underneath the lid there is a seal to prevent it from leaking but when you've used it for the first time it will no longer be there.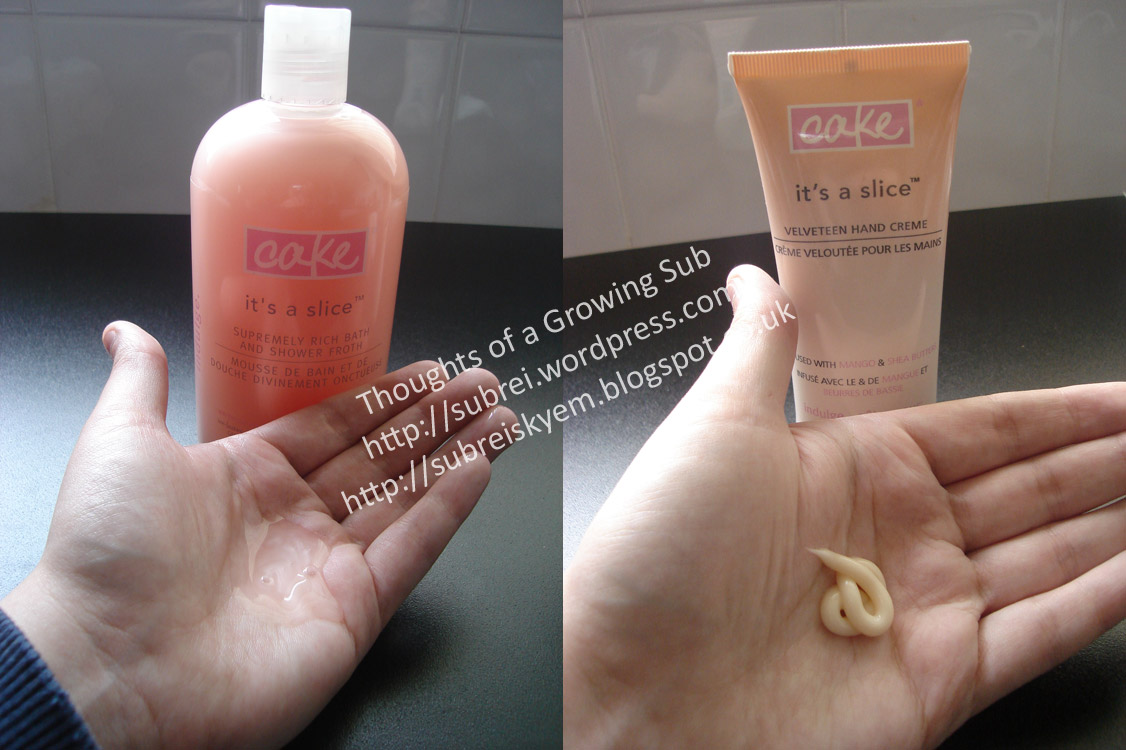 Both the hand creme and the shower froth have a strong, distinctive smell. It is "sweet orange and vanilla cream" wherein the vanilla is stronger and thus is the first thing you notice. The sweet orange comes in a bit later, almost as though it is an afterthought. The smell of the hand creme in particular is very strong, though I'm not entirely sure if that's just because my hands tend to be near my face a lot. Either way, it was almost overpowering for me at first though I got used to it after a while. The scent ended up lasting more than 10 hours and I could still faintly smell it when I went to bed.
Effect
Using this set made my skin genuinely softer. I was surprised by how effective it was since I don't think my skin is all that dry yet it was so soft it was difficult to stop stroking over parts of my body. I don't generally use hand cremes because I don't need to but this one is lovely. My hands were even soft the very next day, which was definitely a plus.
Overall
Despite the fact that the smell of the hand creme is almost too much for me, I still like this set. I feel both clean and soft when I use it and the smell lasts for a very long time. To me, that is good value for money since you won't need to re-apply it all the time to keep the smell going. I genuinely think the box is fantastic; it's a perfect Christmas present (or birthday gift, in fact) because of how upbeat and cute it is!
People sensitive to glycerin should avoid this product as both the shower froth and hand creme have it in. The reason this gets a 4/5 instead of a 5/5 is that they haven't taken this into account.
If you're like me and you don't use hand lotions, you can buy the
shower/bath froth separately
. However, if you do it probably won't come with the adorable box.
This product was provided free of charge to the reviewer. This review is in compliance with the FTC guidelines.

Forum
| Discussion | Posts | Last Update |
| --- | --- | --- |
| Smells | 2 | |
Thank you for viewing
Celebrate it's a slice duo
– bath and shower gel review page!