So.. Much.. PINK!
Sugar Lips is an affordable lipstick that can be worn both in the bedroom and out in daily life. The color and scent are both delicious, however the flavor could be a little bit stronger. The manufacturing company also does not list any ingredients for it.
Published:
Pros:
great color and scent, affordable
Cons:
flavor could be stronger, no ingredient list
Sugar Lips is a flavored scented lipstick. The color/flavor I chose is Squeeze My Melons, which is a hot pink color. After trying it, I feel I would prefer a red color, since the pink kind of clashes with my skin and hair. The other flavors available are: pump me coloda (tan), lick my strawberry (dark red), cock n candy (light pink), ride 'em raspberry (mauve), and whip me cream (pale pink).

The tube is a silver swirly looking design. It's pretty neat looking, and the swirled design makes it easier to open than smooth lipstick tubes. It does not come with any sort of ingredient list and comes packaged simply in just a clear plastic bag. I checked the web site on the bottom of the tube, which also did not list any ingredient information. Upon opening my tube, I saw a message taped around it that says, "Go get 'em Tiger!"

There is a good amount of scent to Sugar Lips. It smells like a sweet watermelon and strawberry candy. I would estimate that someone closer than 4 feet would be able to smell this. However, it is not nearly as tasty as it smells. I can only get a good amount of flavor off of it if I put a lot on or if I lick the lip stick. It's sweet, but not overpowering.

The texture is the same as every other lipstick I have tried. It rubs on smooth and is a bit sticky. It wiped off my skin around my mouth very easily with just a tissue. Sugar Lips has a matte finish, which I felt I did not like all too much. I just put a bit of sheer lip gloss over top of it to make it glossier. It did, however, seem to plump my lips up quite a bit.

When I kissed my boyfriend on the cheek with it, he was able to remove it with just soap and water. Make up removing wipes or cleansers would also work. It did not irritate our skin at all, though neither of us has sensitive skin.

Sugar Lips lasts long as long as you don't eat or drink. It stayed on just fine until I drank some water, then it was just all over the glass. I don't really hold that against it, though, since very few lip products actually seem to stick around when eating and drinking. I noticed it did not bleed out from my lips at all, which I have seen some lipsticks do.

Overall, Sugar Lips is a good quality lip stick at an affordable price. It is about as much as most drugstore lip sticks, and is flavored and scented to boot. It would make a good bridal or bachelorette gift. It would also be just fine to wear as a regular lip stick.
Experience
I took two pictures of Sugar Lips on. The first one is with just the lipstick, which is a matte finish: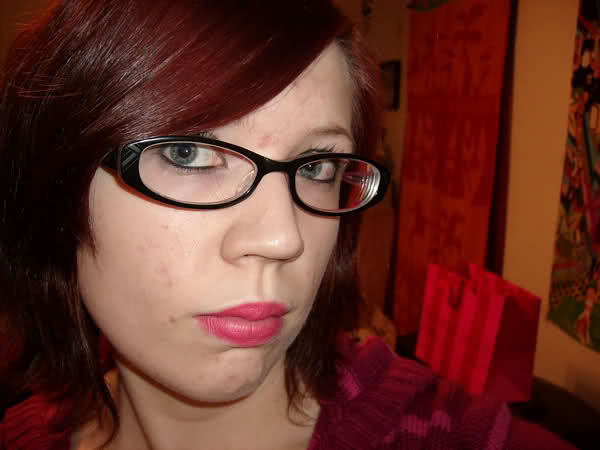 This one is the lipstick and a clear shiny lip gloss: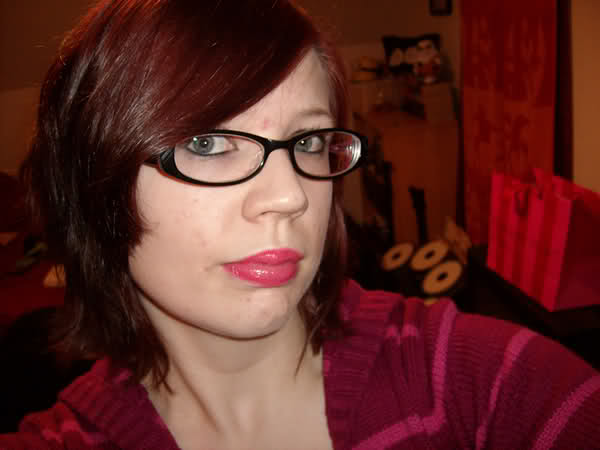 It looks like I missed a spot on my lower lip, right in the middle, but when I checked in a few mirrors in rooms with different lighting, it didn't look like that at all, so maybe it is the camera.
Follow-up commentary
2 months after original review
I honestly have not worn this lipstick all too much. I think the pink clashes a bit too much with my hair and skin color. The lipstick tube has held up fine, though. None of the lipstick has gotten icky or sweaty, like some makeup can do after a while. It still has the same scent and slight flavor as it did when I first got it.
This content is the opinion of the submitting contributor and is not endorsed by EdenFantasys.com

Thank you for viewing
Sugar lips
review page!