Take The Pill, Touch Your Clit, Then You'll Be Horny.
When I read what Velextra was supposed to do, I was intrigued and excited. After waiting, and waiting, and waiting, I realized that this was just another supplement flop. It'd be fabulous if it did what it was supposed to, but I didn't notice any differences at all. Maybe it'll work for you, but it didn't for me.
Published:
Pros:
package has only one capsule, inexpensive, no after-taste.
Cons:
did not work for me, directions seem very odd to me.
Velextra by Beamonstar is an "all-natural libido booster"…or at least that's what it says on the packaging. The supplement is in the form of a pink capsule. This pill was designed for women only, and should only be used by those 18 years of age or older. Also, before taking anything new, you should always consult your doctor first.
The capsule arrived in a plastic package. The packaging is black, pink, and white. The front of the package states the product name, a few features of the product, and the product website. The back of the packaging has a brief summary of the product, supplemental facts, and directions. This package holds a single capsule.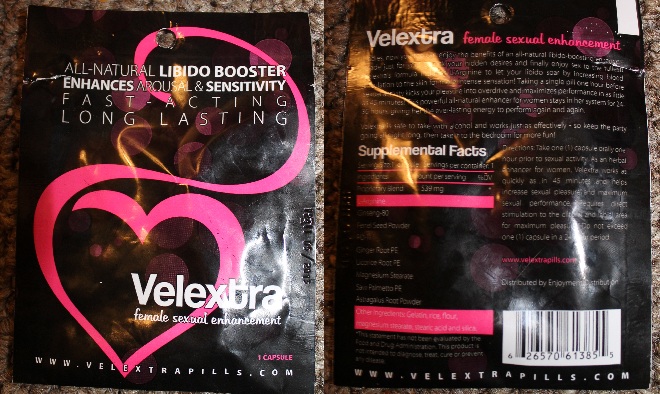 The ingredients in the supplement as stated on the packaging are as follows: L-Arginine, Ginseng - 80, Fennel Seed Powder, FO-Ti, Ginger Root PE, Licorice Root PE, Magnesium Stearate, Saw Palmetto PE, Astragalus Root Powder, Gelatin, Rice, Flour, Magnesium Stearate, Stearic Acid, and Silica.
I really wasn't sure what to expect with the Velextra since I had previously
reviewed
a sexual enhancement supplement and it was a flop. I had taken a look at the product website and it lists the various things that the supplement is supposed to help with. Below is the list from the website.
• Adds passion back to your intimate encounters.
• Deeply intensifying sexual sensations.
• Dramatically increased desire for sex.
• Quicker full body arousal.
• Intense climax with more pleasure.
• Sexual impulses to get the mood going!
The packaging states that you should take the capsule one hour before sexual activity. The pill is supposed to stay in your system for 24-36 hours, so it's important you read, and re-read the ingredients list to be sure there is not something you may be allergic to. The product can be taken with alcohol, though I didn't have alcohol with the capsule.
The pill is taken orally. The directions state that for maximum pleasure, it is required that stimulation is applied to the clitoral and labia area. Maybe it's just me, but I found this a bit odd. If the pill is supposed to give a person sexual impulses to get the mood going, I assumed that the pill would make the person want to stimulate their areas, rather than stimulate your areas and then get impulses… I mean, speaking for myself, if I'm stimulating my areas, I'm going to start feeling aroused and pleasured with or without a pill.
The pill is a hot pink colour. I had taken the pill with a glass of water and it went down easily. I didn't notice any funky taste to the pill, but that could be because I had taken it with water.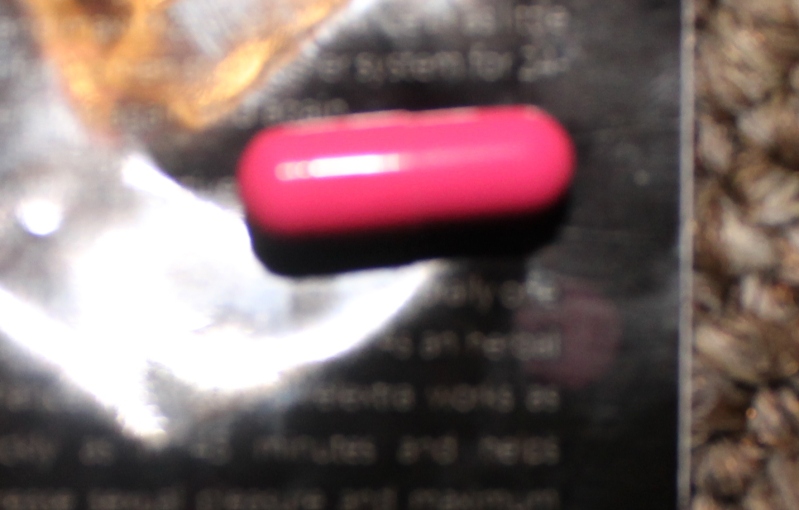 After an hour of waiting for something magical to happen, I decided to stimulate my areas to see if there was any extra sensitivity "down there". Basically what I was looking for was everything that the website listed that the supplement will do (see list above). I didn't notice any difference in how I felt physically or emotionally. There was no extra sensitivity, no quicker arousal, no increase in desire for sex, etc. I hadn't noticed any change after taking the capsule.
Like I had mentioned, the fact that you basically have to touch yourself (or get your partner to touch your areas) to get the pill to work seems very odd to me. Maybe this pill would work better for those who usually do not respond to their clitoris or labia being stimulated? I'm not sure. Velextra may work for some people since everybody is different, but then again, would it just be the placebo effect? It's difficult to say when it comes to supplements like these.
It's been a little over 6 hours now and I assume that if I were going to notice any of the "effects", then they would have happened within the first few hours. For me, this product was a dud.
I don't want to discourage anyone from trying this because who knows; it may just work for you! One good thing about this supplement is that it comes in single serving packets. I looked on the product website and one capsule sells for $6.99. I like that they sell them in single serving packets because it gives the buyer a chance to try out the product and see if it works for them before investing in a bottle of the capsules.
Sadly, this product receives a 2 out of 5 rating from me. It did absolutely nothing for me. If you decide to give the supplement a try, I hope you have better results!
Follow-up commentary
2 months after original review
Since I had received this as a one-time use sample, I have not tried the product since. Nothing came from taking this pill and I still would not recommend it to anybody.
This product was provided free of charge to the reviewer. This review is in compliance with the FTC guidelines.

Thank you for viewing
Velextra female sexual enhancement
– jack off lube review page!