Tubes of pure relaxation!
For the ultimate in relaxation along with 4 incredible aromas to choose from, this is a MUST HAVE product! Enjoyable in every aspect!
Published:
Pros:
Amazing aroma, very cute, relaxing, worth the money!
Cons:
You only get a lot of bubbles out of it with stronger water streams
After a long, hard week at my stressful job, I looked forward to receiving this product. Inside of the package that all of my items had arrived in, I found my bubble bath set, wrapped in thin plastic with the label "Chemistry 4 SEX-perimental bubble bath potions". It was held together as a set by a hard plastic casing. The bubble bath set is very cute and stands upright on its own, making it easy to store on the ledge of your bathtub or in a cabinet.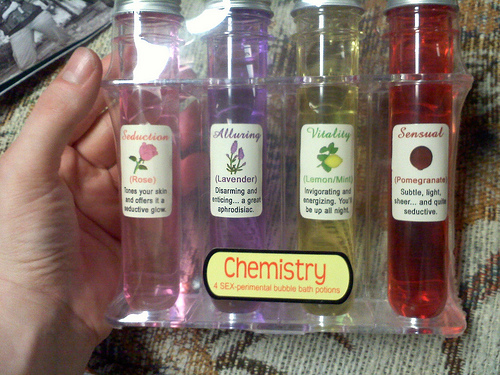 The four scents this bubble bath comes in are Seduction (Rose), Alluring (Lavender), Vitality (Lemon/Mint), and Sensual (Pomegranate). All four scents smell absolutely amazing, as I discovered upon opening each of the tops to decide which one I would try first! The tops were easy to remove, just unscrew the silver lids; the only thing holding you back from pouring in that delightful aroma into your bathtub!!
Each bubble bath smelled exactly as I would've pictured, based on the scent, and the only one I was a bit unsure of was the Lemon/Mint which again smells exactly as it is described! It has a strong hit of lemon scent with just a hint of the mint to it. They are housed in hard plastic tubes, and the whole set added a nice touch to my bathroom sitting next to my tub after I was finished with my bath!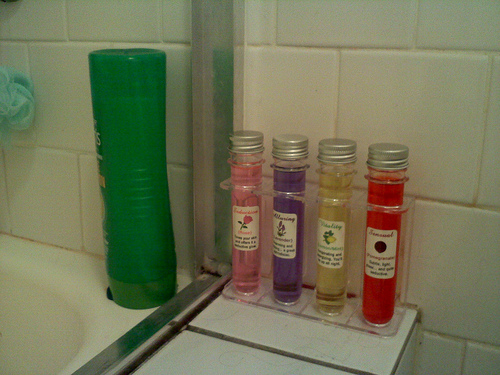 It took a long time to choose which amazing scent I should give a try to first in order to give my opinion on the product in general. After whining to my boyfriend to help me pick because I simply couldn't choose just one (although the product may be called "Chemistry", I don't think playing a chemist and mixing all four would be such a fabulous idea!), it was finally decided upon that I would try the pink vial of Seduction. This one says it is to tone your skin and give you a seductive glow! It was a Saturday in the early afternoon so of course, this was perfect for spending some quality time together afterward, and going out for dinner later that night!
I turned on the water and put the stopper in the drain, let the water get really hot, and then added in the bubble bath. The steam from the water carried the scent of roses through the entire bathroom, and I was greeted by the pleasant smell almost as soon as it hit the water. I added in a small amount, and although the scent instantly filled the air, there weren't too many bubbles. I recalled reading a post about this particular bubble bath not giving mounds of bubbles, but had an idea, and turned up the water pressure to full, added in a tiny bit more, and instant bubbles! So for those of you who like lots of bubbles in your bath as well as the incredible aroma, just make sure you have high water pressure first, otherwise you may not end up with too many bubbles, but certainly still have the rest of the experience! Below is an image of what you can expect if you don't have a very strong water stream: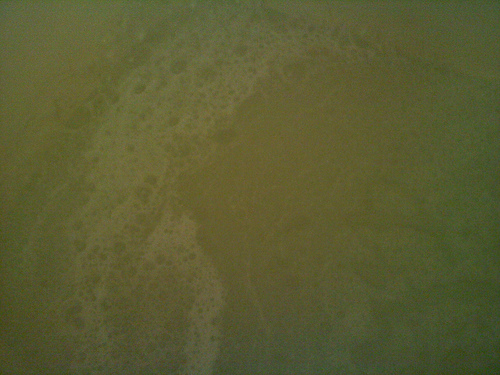 Once the tub was full, I slipped a foot into the tub and was greeted by the warmth of the water and the tickle of the bubbles. Sinking into the water I became instantly relaxed and soaked for quite a while. I took in the aroma of roses, and closed my eyes, resting my head against the back of the tub. The bathroom smelled like a rose garden, and I was provided with extreme relaxation.
After getting out of the tub and drying off, I could still smell the faint aroma of roses but about 20 minutes after the bath, there wasn't much left over on my body. This goes with just about any bubble bath, which I had expected, but I will still happy that even an hour after the bath, my boyfriend could still smell the fragrance on me.
Overall, it was a very pleasant experience, and if the other three scents are as wonderful as the Seduction, I can guarantee it was worth the money spent, and I will certainly be purchasing this item again!
Follow-up commentary
3 months after original review
Pleasure...bliss...relaxation...and then DEVASTATION! What caused that last part, you may ask? I ran out of my bubble bath! All 4 tubes lasted quite a while for me. I managed to get 4 baths out of all but the last, the Rose scented which was my favorite so I stretched it out into 5, the last two baths just had less bubbles.

If I were to rate this product again it would get the full 5 stars. I plan to purchase this product again, and again! It will certainly be worth every penny! Now, can I buy less expensive bubble bath at Walmart? Certainly, and I will be. But for special occasions, this bubble bath set is on my list!
This product was provided at a discounted price in exchange for an unbiased review. This review is in compliance with the FTC guidelines.

Thank you for viewing
Chemistry bubble bath set
– sensual bath review page!