Va Va Vroom!
This works well for nipple and clitoral play and gives an amazing clitoral orgasm but it doesn't do as well for massages on the body or tense muscles. The head just can't get deep enough into the tissue because of the flexible head. The vibrations are strong enough to put me over the edge but it just takes a little longer to achieve it. If this was waterproof with a smaller head, this toy would be in my top vibrator category.
Published:
Pros:
Powerful vibrations, Attractive handle on toy, Ease of function.
Cons:
Battery compartment is a major pain to remove.
Who knew that this little guy would be so powerful! I sure didn't! Now I won't go as far as to say that it's like the top of the line massagers but it does work better than most of the bullets that I have used in the past.
Packaging
This comes in a cute box that is pink and black has a window on the front to see the toy before actually opening the box. The front of the box opens back and forth to showcase the toy. The packaging shows a photo on the box so it is not discreet and not really good for storage. I just tossed it after the photos for the review were taken. Inside the box is a nice set of instructions that are very thorough.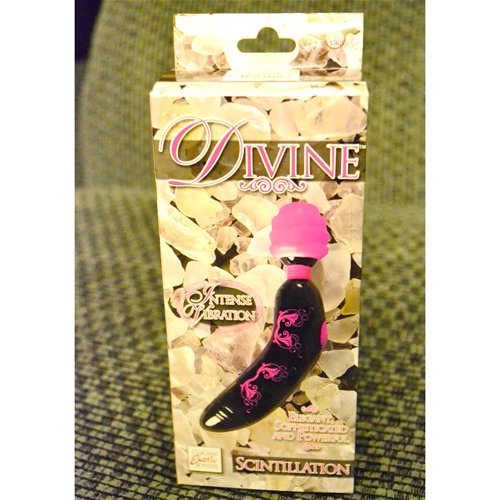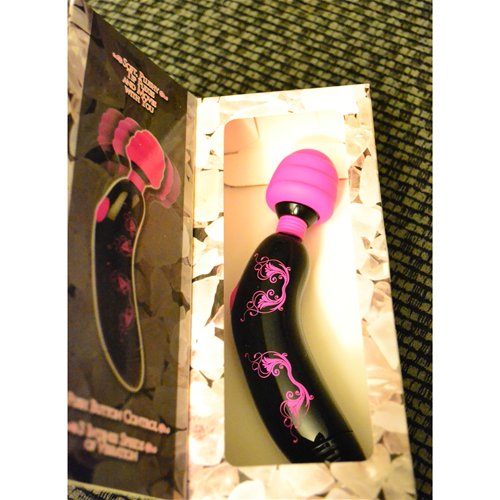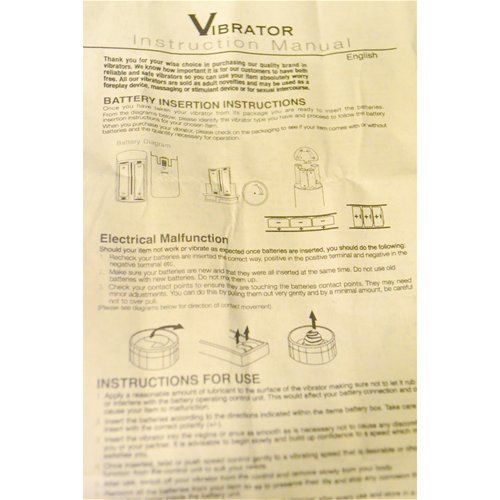 Materials
Once I took the toy out of the package, I noticed how smooth the head was and how flexible the neck was. The toy is made from TPR silicone which is what is used on the head, neck and button parts and plastic is what is used on the handle, under the head, and battery compartment. TPR silicone is a thermoplastic rubber and it is a level 7 on the material safety scale that ranges from 1-10. The TPR head is ribbed and provides for maximum satisfaction because these add a texture if being used on the clitoris or nipples.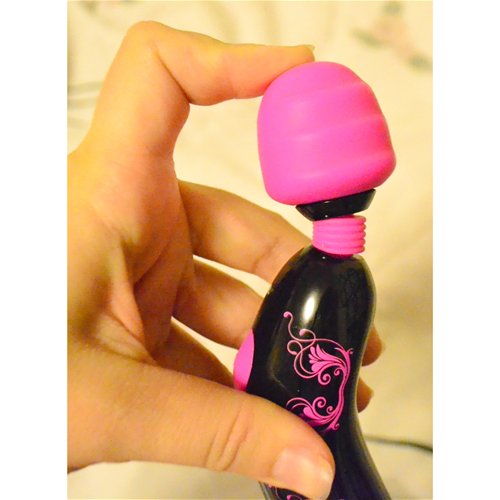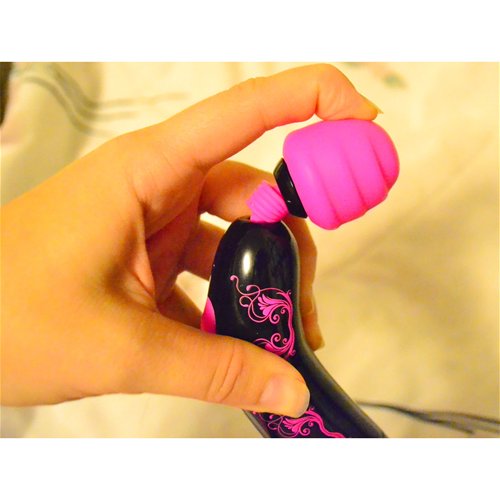 It is a Food-grade material, Hypo-allergenic, Latex free, Phthalates free.
The head of the toy is smooth and soft, yet has a firmness to it under the soft TPR material. The plastic handle is very smooth. There was no strong odor or smell present. This material can't be boiled so if you would like to use for anal play or with partners, use a condom for safety reasons.
Design/Shape/Size
Measurements:
The massager is 7.5" in length
The head cirumference is 4 1/8"
The handle circumference is 4"
The diameter is 1 1/8"
The weight is 2.1 oz.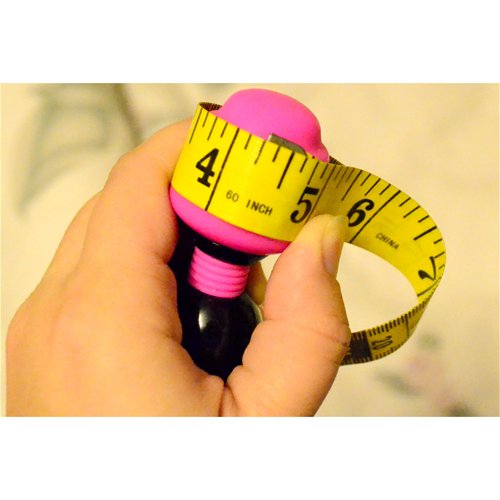 The power button is small at 3/4" and it is the push button type, it is located on the top side of the toy.
One push of the button is low. = 2 Vrooms
Two pushes of the button is medium. = 3 Vrooms
Three pushes of the button is high. = 4 Vrooms
Once you hit the 3rd level which is high, the next push of the button turns off the toy. Hit it once more and it turns on again and starts over from the lowest level.
The handle has a curved shape, almost like that of a boomerang. The handle is shiny black with some pretty swirl designs in hot pink. There are 2 designs on each side of the handle.
Now we are getting to the battery cover. This is a complete fail. I have to get my significant other to open this because of the placement and grip. It is far from easy to open. I have struggled with it numerous times and I was really disgusted with it. It is a pull off and push on type. The curve and slickness of the plastic are not a good combination for the battery compartment of this toy. Just this one factor almost made me send it back but I don't like having to return unless it is very necessary. It's a good thing that it has good battery life or I would probably put it away and not bother with it. My hand just slides off the toy and this is not a good thing. The toy takes 2 AAA batteries and you just take off the battery compartment cap and slide one in with the positive up and then slide the other opposite with the negative up. There is a diagram inside for ease of use when inserting the batteries. There is also paper inside the compartment.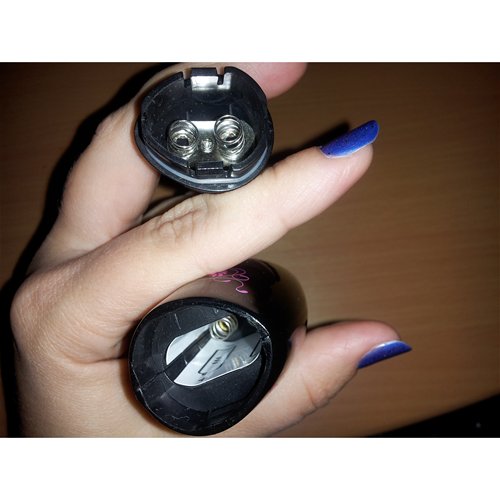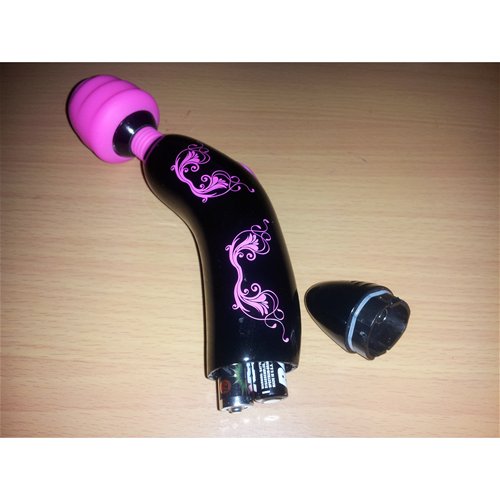 The sound is not as high pitched as some similar to this size, it is a lower vibration and it can't be heard through a door. The size of this makes great for travel and can be hidden easily. It fit into my significant others pocket fine and I couldn't tell that it was in there.
Performance
This worked well for nipple play. I put a layer of lubricant on them and they were as firm as can be in a few seconds.
The best overall use is for clitoral stimulation. It brought me to orgasm in about 5 minutes. If the head part was smaller and offered more pinpoint vibrations, I would have climaxed in 2-3 minutes. I am very narrow in that area, so this may just be an issue for me.
Experience
I liked the powerful vibrations and the flexible neck that allows me to maneuver it to my liking. The neck can be bent to many angles but don't be too rough with it. Once you bend it hard, you will see what I'm talking about. Once I bend it to a certain point, it almost feels like it could break but that is bending it pretty far over. I used a bit of water based when I used the toy on my nipples and silicone can also be used.

I like how the bendable neck works and it can hit just the right spot by a quick movement of the wrist. I took this on a trip this past weekend and it worked out well because it's small, lightweight, and battery powered.



Care
For the care of this toy, I suggest using a toy cleaner or an antibacterial soap with a wash rag and warm/hot water. Only wash the top/head with a rag and do not immerse in water because it is not waterproof.
You can use a sanitizing spray for plastics on the handle and wipe dry or use a sanitizing wipe, don't get overly wet and make sure to keep the area where the opening to the battery compartment is, very dry. if this gets wet, your toy could be done for.
I would suggest to store in a small satin bag or something that has a thicker fabric and take out the batteries when not in use..
Follow-up commentary
1 month after original review
This is the perfect little guy for foreplay. It works for me and my partner and it's not too strong and it fits perfectly in my hand during intercourse. I hope he stays around for a while!
This content is the opinion of the submitting contributor and is not endorsed by EdenFantasys.com

Thank you for viewing
Divine scintillation massager
– wand massager review page!