Who says kittens don't like baths?
From the cute packaging to the product itself, this bubble bath kit is a must have! For those who love having their own at-home spa days or just love bubble baths in general, this is a great way to relax and rejuvenate! The calming white chocolate and honey aroma along with the vibrating mitt will melt your stress away! The only true con is that the bubble bath doesn't come in a larger size!
Published:
Pros:
Smells great
Relaxing
Cons:
Only one size!!!
Takes watch batteries
Takes about 4 hours or so to dry
The
Bath Kitten Kit
, a fantastic product by
Booty Parlor
, is a bubble bath kit! To me, there is nothing more relaxing than a hot bubble bath after a long, hard day at work!
YOUR PACKAGE INCLUDES
1 5fl oz bottle of bubble bath
1 bath mitt with bullet
3 button cell batteries
PACKAGING
The kit comes inside a pink cardboard sleeve listing all the important product information. The front lists the product name, company logo and contents. The two sides show directions, contents, ingredients and warranty information. The other side lists the company logo once more. On the back of the sleeve is the information about this wonderful product to hook you, and make you want to try it out! You can then push a second box out of the sleeve. This second box is black with a pink stripe going all the way around aside from two sections where you can see the product through cut-outs with plastic over them. You can then slide out the piece of plastic which is molded around the products. The packaging is very nice and for a bubble bath set, I was impressed to be honest! The bubble bath comes in a round bottle with a screw on/off cap and a flat bottom so that it sits in place. Unlike my previous bubble bath from this company, the bottle is a hard plastic and even if you press hard on the sides it does not dent easily.
Front: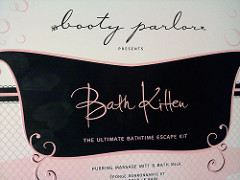 Back: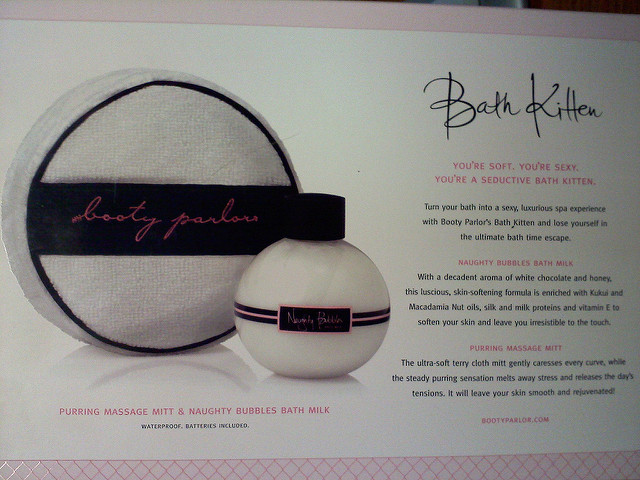 Inside of the black box: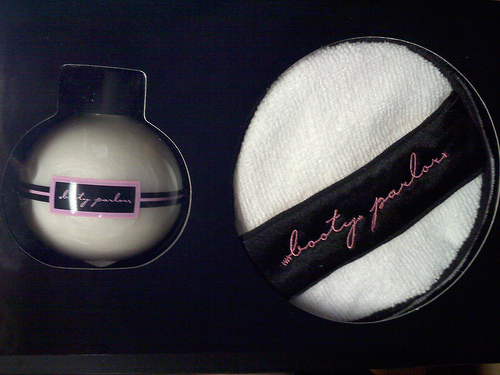 SCENT/AROMA & TASTE
I did not taste anything in this kit, and unless you want to risk a bad tummy ache and possibly a yucky taste in your mouth, you shouldn't either! Nothing in this kit is edible, although upon unscrewing the lid and taking a whiff, you may be pretty tempted to guzzle the contents! Listed on the product page, it says that this product is chocolate/honey. Upon inspection of the kit, it is
white chocolate
and honey, to be more specific. While subtle enough to not give me a headache yet noticeable enough to really love, the white chocolate scent is definitely more heavy than the honey, which I didn't notice too much of unless I put my nose right up to the bottle and took a deep whiff. I compared my initial thoughts of the scent to Mounds candy, because the honey gives it a bit of a coconut scent from afar.
HOW TO USE
Simply pour a generous amount of bubble bath under running water and watch your bath water come to life! The mitt is simple to use as well! You will find a slit in the side which you can unfasten via velcro. Simply pull apart the velcro and there is a bullet lodged inside of two foam pieces. Pull it out and unscrew the top. This should be very easy to do. Once opened, there is a round white disc which prevents the battery from touching the metal piece in the bullet that will allow it to turn on. Once this piece is removed simply screw the top back on and push the button! You will feel the bullet come to life! The, you just place it back into the mitt where it came from and velcro 'er back up!
Directions as listed on the box: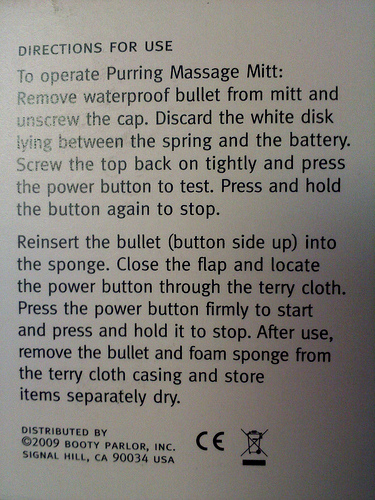 INGREDIENTS/MATERIALS
The mitt is made out of terry cloth encasing, polyester, nylon and stuffed with polyurethane foam. This makes for one very soft, fluffy, enticing mitt! The ingredients list for the bubble bath includes: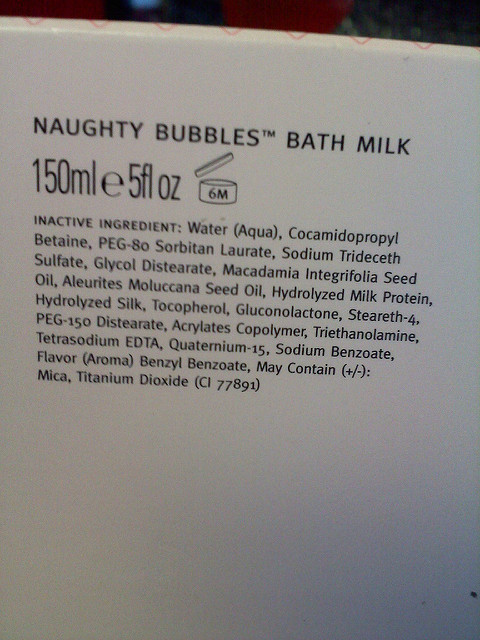 CLEANING/STORAGE
The mitt and bullet are waterproof. They shouldn't get dirty, as you will most likely be using them under the water, but you can also clean them afterwards with warm water and antibacterial soap, if you'd like. To dry, take the bullet out of the mitt and dry them separately. Take the piece of foam out of the cloth, and dry all 3 pieces individually. For storage, I held on to the box that the products came in and simply put them back and placed the box on the dry ledge of my bathtub. Unless someone really reads into it, the box is somewhat discreet. The box says, at most, the company name and mentions that the bubbles "Turn your bath into a sexy, luxurious experience". Although we have privacy in our bathroom, I would say that it is safe for anyone to leave out, really. The box specifies that the mitt is to "melt stress away", and who would think twice about that?!
Bottle of bubbles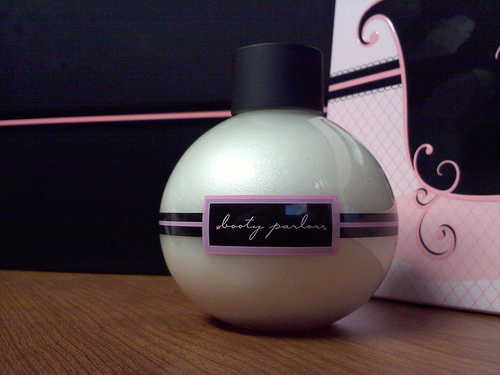 Mitt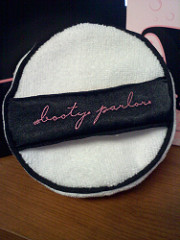 Mitt again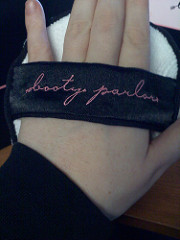 How the bullet fits into the mitt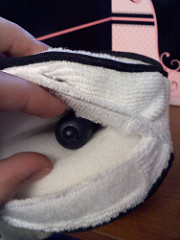 "Power" button area on mitt where bullet will be, secured by velcro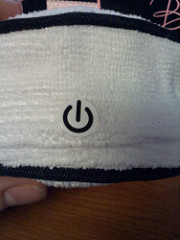 Size of the bullet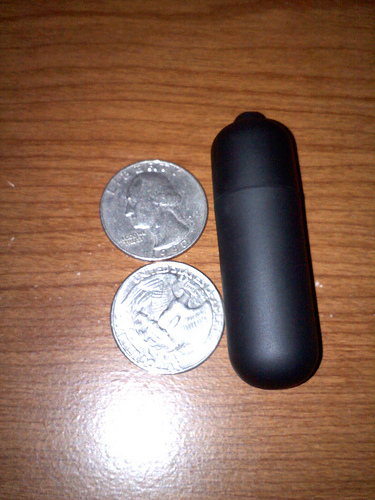 Battery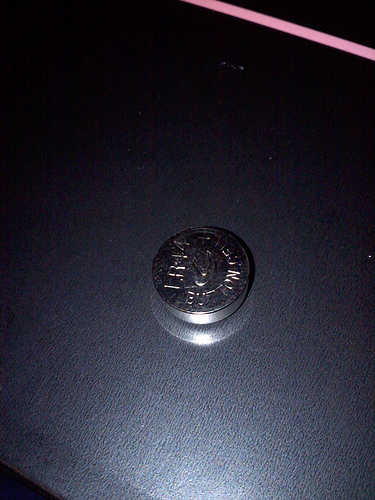 Experience
No allergy concerns with this product and no headaches from the scent? That's a plus for me! I noticed that as with the last bubble bath I received from this company, there is a nice shimmer in the bubbles, and although it doesn't leave your skin "glittery", it does leave a beautiful radiant shine to it! Also, if you look closely in the water after the bubbles are gone or if you have bright lights in your bathroom, you can see a very distinct shimmer in the tub! It almost looks as if someone stole a fairy's bag of dust and dumped it in the tub! I believe the shimmering may be from the oils mixed with the water, but either way, they leave my skin looking amazing, so I won't worry too much to find out!

Being a milk bubble bath, my skin was left so silky smooth, and the chocolate and honey scent stuck to my skin. My guy could smell it on me, and about 45 minutes after my bath, the bathroom had been given time to air out and when he walked in to wash his hands, he commented on how great the bathroom still smelled!

Aside from the healthy skin from all those great vitamins and oils, my muscles were relaxed from the mitt! I have a lot of back aches and shoulder pain, and using the vibrating mitt on those muscles was fantastic! It really added to the bath and afterwards I felt so rejuvenated!

The drawback to the bubble bath was that there weren't mountains of bubbles. There were enough to enjoy, though, and they did last for about 15 minutes but it was a pretty thin layer after I'd been in for just over about 5 minutes. I wasn't too disappointed, though, because the mitt and the wonderful aroma made up for it! I also would like to add that once poured into the steamy hot water the honey scent was a lot more apparent than while still in the bottle. The mitt is so soft and feels like the material you'd expect in a luxurious bathrobe. The bullet was strong enough to really enjoy (and is of course, waterproof as mentioned before) and is especially enjoyable when your partner uses it on your back for you!

I feel comfortable saying that I can get about 4 baths out of this bubble bath, using enough to allow 15 minutes of bubbles for each one.

To clarify my ratings for the Vrooms and Bees:
My ratings were based on the bullet being inside of the mitt, as it is meant to be used. While outside of the mitt, the Bees did not change much, although the Vroom rating would probably be about 1 higher. It was a strong enough bullet to relax your muscles and feel good but doesn't do much as a personal massager. This means, power-queens should look elsewhere if that is your intention of purchasing this bullet!
Follow-up commentary
4 months after original review
I've used up the last drop of this bubble bath but never got tired of that delicious scent! Unfortunately, this kit is not sold separately, which means that if I want a refill of my bubble bath I have to spend the extra money for the mitt, too! So since my mitt won't be wearing out, I don't see spending the extra money for another kit over and over. If they carry the bubble bath separately, I will definitely be buying it as soon as it comes out!
This product was provided free of charge to the reviewer. This review is in compliance with the FTC guidelines.

Thank you for viewing
Bath kitten kit
– bubble bath review page!