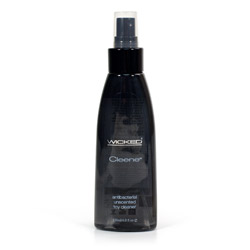 Cleene
Toy cleanser by Wicked
Dirty toy? Cleene it up!
The Wicked Sensual Care Collection is a new line of high-end products from Wicked Pictures. The entire collection is vegan, cruelty-free and PETA certified. The packaging is discreet and tasteful enough to look good in anyone's medicine cabinet or toy box. If you're looking for a quick, simple way to kill germs on your play things that survived after a good washing, look no further - get your toys Wicked Cleene!
Published:
Pros:
Safe for all materials, paraben free, fragrance free, anti-bacterial, made in USA, easy to use.
Cons:
Possible allergens, needs to be rinsed off.
Use
Wicked Cleene is an anti-bacterial toy cleaner that is safe for all toy materials, and is fragrance and paraben free. It is designed for toy cleaning only, and should not be used on the skin.
Directions for use can be found directly on the bottle. Hold the bottle 4-6 inches away from your toy and spray enough Cleene on it to cover the entire surface. Wait 1 minute, and then wipe the toy dry with a soft cloth. Then rinse the toy or wipe it with a damp cloth, and allow it to dry before storing it.
This is not ideal to use as the only way you clean your toys, especially if your toys are extremely textured or gunky. This would be the ideal final step in your cleaning process, meant to kill any remaining germs.
Ingredients
The full ingredient list can be found on the product information page, and it is accurate. The two ingredients that have antibacterial properties in this cleaner are triclosan and methylisothiazolinone (sometimes referred to as MIT). They are both biocides commonly used in personal care products from shampoo to cosmetics. Check your tube of toothpaste: triclosan is a common ingredient used to prevent gingivitis! Both these chemicals can trigger allergies in some people.
Two other ingredients worth noting are the lavender flower extract and olive leaf extract. Lavender oil can also be an allergen for some people, so keep that in mind.
Please be aware of any chemical sensitivity you may have personally, or any allergies, and check the list thoroughly to be sure if this product is safe for you. Cleene contains cocamidopropyl, which can cause an allergic reaction in some people.
This product is not to be swallowed, should be kept out of the reach of children and pets, and eye contact should be avoided.
Smell & Feel
Taking the lid off, a very feint smell is noted, almost a Windex type smell. It smells clean and like a cleaner. When sprayed, the smell becomes even more faint and is barely noticeable.
The cleanser itself is a clear, watery liquid with a slight oily feel to it. It lathers, or bubbles, just a little when sprayed, and this can be further encouraged by rubbing the sprayed toy a little.
Packaging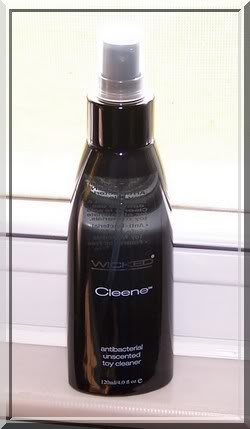 Cleene comes in a sleek, modern looking black pump bottle. It is discreet and classy looking. When held up to the light the bottle becomes see-through, so it is always easy to know how much cleaner is left in your bottle. The bottle comes shrink wrapped in plastic, with a thin strip of perforated plastic that made it pretty easy to remove.
A clear plastic top pops on over the pump sprayer, making this bottle perfect for throwing into your toy bag and taking it with you when you're on the go. The plastic top really stays on, too. I tossed this bottle in one of my bags while I was road tripping, and it held up beautifully with no leaking. At 120ml or 4 fl oz, it is too big to leave in your carry on.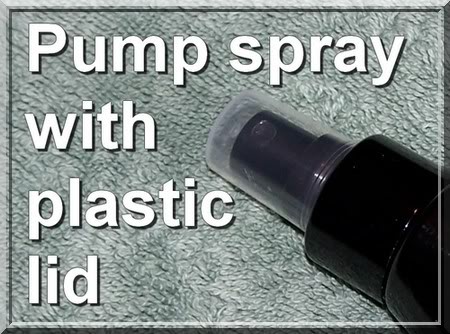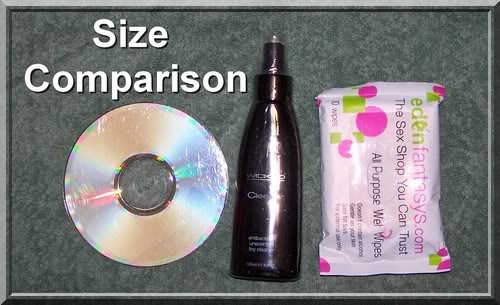 Experience
Performance & Experience
This was my first experience with a toy cleaner, so I had no idea what to expect. While I can't do any testing to see if this cleaner really does kill all the lurking germs on my toys or not, it does seem to do a good job cleaning them. To get most of the grime off, I wash toys in soap and water first and dry them. Then, as the final step, I sprayed them down with Cleene.
Different sized toys will require different amounts of cleaner: from my experience, the MiMi needed 6 sprays to be covered, the Bent Graduate needed 10 sprays, and the Goodfella needed 20 sprays. I found that 9 sprays weighed about 0.1 oz, so one 4 oz bottle of this stuff should last quite a long time. Keep in mind these are not metered sprays, so each spray will not deliver the exact same amount of product. This is just to give you a general idea.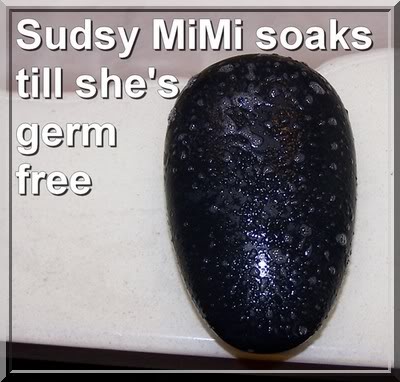 One thing I noticed with my bottle of Cleene is that when I held the bottle at an angle as I sprayed my toys, a little bit of cleaner bubbled up and out from around the sprayer. Later, when I touched that area of the bottle with my hand, black came off on my fingers. Nothing leaks when I hold the bottle almost totally upright to spray. This may be unique to my spray bottle of Cleene, and I can easily pour all the cleaner into a different pump sprayer to solve it. Not a big deal in my book, since it doesn't happen when sprayed upright.
This product was provided free of charge to the reviewer. This review is in compliance with the FTC guidelines.

Thank you for viewing
Cleene
– toy cleanser review page!