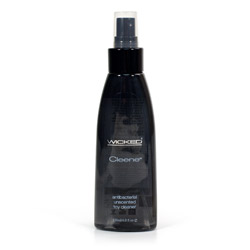 Cleene
Toy cleanser by Wicked
Rub-a-dub-dub, your toys in a tub!
Well, that's not quite how this toy cleaner works but you get the idea! This product is, for lack of a better term, just plain Wicked! Oh wait! That's the brand name! Wicked Cleene (yes, it's spelled that way) is a spray-on antibacterial toy cleaner that is easy to spritz on and then wash off.
Published:
Pros:
Seems to work.
Cons:
It's a bit expensive for such a small bottle.
Use
This is the first toy cleaner I've used and it seems to give me a new sense of confidence that after I've rubbed one out (with a toy), I can then return the favor and rub out the critters that may be lurking in some hidden crevice on my favorite playthings. In the past, I often take a nice long shower with my toys to get them squeaky clean. Just to make sure, I will usually use mild soap or alcohol.
Now that I have Wicked Cleene, I feel more secure that the creepy-crawlies left behind after I've done my duty have been murdered and won't infest my favorite cock rings, Fleshlights, or Tenga Flip Holes. Even better, there's less of a chance that the little microscopic beasties that may have previously thrived inside my favorite pocket pussies (and those other secret places that only my manhood goes), won't come back to haunt me!
Wicked Cleene (gosh, I wish they would correct the spelling of their product name) can't be any easier to use; just spray some on, about four to six inches from the toy, wait one minute (maybe boil an egg while you're waiting or, even better, get in your daily aerobic exercise by doing the Minute Waltz), rinse off, wipe with a damp cloth, and allow to dry. Personally, I also prefer to still take a nice warm shower with my toys before I begin the cleaning procedure. Regardless, Wicked Cleaner seems to do the job.
Texture / Consistency / Thickness / Viscosity
Although the very small print on the bottle states that Cleene "is not intended for use on skin," I felt it was my duty to put some on mine just to test it for this review. Not to worry, I did not put any on my cock (as that's where I draw the line between duty and self-preservation). I'm happy to report that I didn't lose any fingers. Cleene does, however, have a bit of a thick soapy consistency but that's to be expected from a product intended to clean your toys.
Taste / Aroma
There is no aroma or scent of any kind, at least none that I can detect. According to the instructions, Cleene should also not be swallowed. I have to admit, that I borrowed one of my most talkative toys, my
Vickie Quickie Pocket Pussy
, and she never complained. Given that her insistent chatter never stopped while I was spritzing Clean on her pussy lips, it would appear that there is not any taste either.
Perhaps the best thing about this product is that it makes one of my favorite toys that I make bacon with,
Ms. Piglet
, very happy! In fact, our relationship hasn't been better because of Wicked Cleene! The reason for this is that the manufacturer proudly proclaims that Cleene "is completely vegan, cruelty-free, and PETA (People for the Ethical Treatment of Animals) certified." That means that no animals were brutally slaughtered in the manufacturing of this product and PETA members are ecstatic! The best part is that
Ms. Piglet
can drink Cleene until the cows come home and she won't have to go off her strict vegan diet! Wow!
Performance
Cleene is safe to use on all toy materials, its anti-bacterial properties are appreciated, and it is paraben-free. Parabens are a type of chemical that have been widely used in anti-bacterial products but have been found to cause cancer. Unfortunately, if PETA finds out that Wicked Cleene murders millions of bacteria, they may remove their endorsement.
Packaging
Cleene comes in an unpretentious and discreet black plastic bottle. Most of the text is so small that it can't be read without a magnifying glass. Unfortunately, that can be a bit of a problem for those of us who are visually challenged, but it's not the end of the world. The bottle is, in fact, so inconspicuous that it can safely be left on the counter and no one but the most obnoxious privacy invading guests, who have a pathological need to read every label on your bathroom counter, will ever know what it is. Overall, Cleene comes in a very classy container.
Experience
While you really can't tell how well this product cleans your toys, presumably it brutally slaughters the most pernicious microorganisms that may be lurking inside of them. I can't imagine anything more heinous than a herd of loathsome bacteria waiting inside a well-used Fleshlight just aching to attack my penis. I certainly feel more comfortable knowing that Cleene has cruelly and agonizingly crushed the life out of the vast army of bacteria waiting to harm me; that makes my dick very happy. I just hope that PETA doesn't realize that Cleene may be responsible for the massacre of millions of innocent microorganisms.
Follow-up commentary
1 month after original review
Overall, this seems to do the job. I remain a bit concerned that it's simply too expensive for the size of the bottle but, just the same, it seems to work well. As a result, I continue to like it although I think that there are other, less expensive, alternatives to keeping your toys clean.
This product was provided free of charge to the reviewer. This review is in compliance with the FTC guidelines.

Thank you for viewing
Cleene
– toy cleanser review page!