Holds Many Toys!
I was surprised at the sturdy, roomy, reusable tote bag I received as a free gift with my order. Because of the obvious sex store logos on both sides of this tote bag, I will only be using it in my home. The uses are practically endless, but my favorite use is for storing all the toys I have accumulated! I favor the idea of hanging this on a back hook in my closet to keep my toys out of sight. Even if it weren't free, I can easily see myself purchasing a few more.
Published:
Pros:
Free, reusable, surprisingly roomy & sturdy, flat bottom stands bag upright
Cons:
Not discreet, can't close it
One of this things everyone loves about Eden Fantasys is the free gift with purchase! I have always chosen the Edenfantasys' All-Purpose Wipes, but decided it was about time I try one of these tote bags. I was only able to find my photo of the one side of the bag, along with a package of the Edenfantasys' wipes on the lower left hand corner as a reference for scale. The other side is shown in the photo taken by Eden and is located in the upper left hand corner of this review page.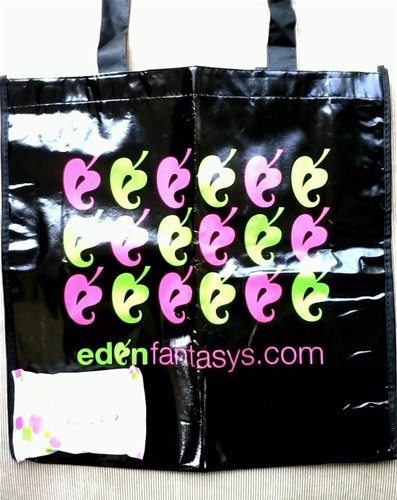 This tote bag is made of a non-woven, synthetic material with a plastic-like feel & a shiny black surface sporting pink & green graphics and print. On one side, there are 3 rows each of 6 leaf logos, under which it says "edenfantasys.com." The other side says "edenfantasys" on the top and then, in larger letters, it says, "Sexy & Smart" in the middle, while on the bottom are the Facebook and Twitter addresses. The measurements are a generous 15" tall by 15-1/2" long by 15" wide, with a side depth of 4-1/2". I was not expecting the expanding side depth, nor the squared off base, which allows it to sit upright instead of having to lie on its side or hang on something.
I have amassed quite a collection of toys and accessories in the five months I have been a member. Unfortunately, I did not have the foresight to plan for dedicated storage and just left everything in boxes on my bedroom floor. That was fine at first, but now I have stacks of boxes up to my knees and I can't open the bedroom door all the way without crashing into some of them! So, when I read some reviews suggesting that people store their toys inside the bags and then hang the bags on a back closet hook, I took notice. I have to say, I was skeptical that a full bag would be strong enough to support the weight and not have either the handles break or a seam tear open. Then there was also the issue of just how much one of these bags can hold.
So, I began stuffing my tote bag full of items grabbed from my stack of toys. On the bottom I placed the 6 glass dildos in their red velveteen bags, plus one in its box. Then, I put in 15 packets of Eden wipes, as well as 11 insertable vibrators, 5 bullet vibrators and one boxed packer dildo. I also fit in 2 different types of vaginal balls, a pair of nipple suction devices and a towel.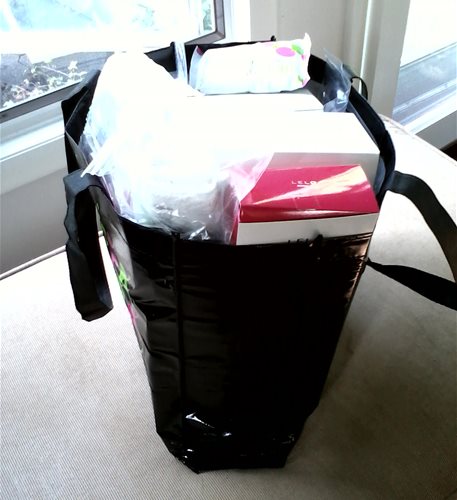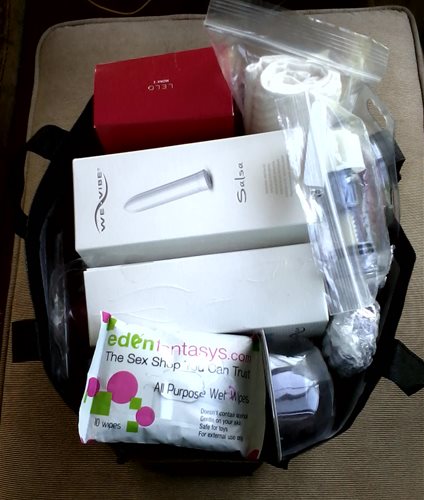 It was fairly heavy when filled with all of these toys, but I did not feel as if that were straining the handles or the tote itself in any way.
I can hardly believe the amount of stuff I was able to comfortably fit in this tote bag! If I had not included the original packaging, I would have been able to fit much more, but what I did manage to fit in it is pretty amazing. Here are some photos of everything from the bag, spread out for you to see.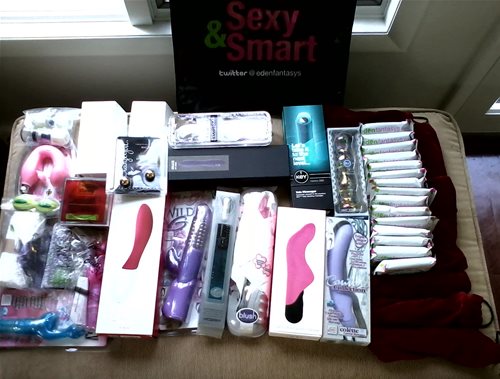 I even have some closer shots, so you can see items on the left side of the big picture.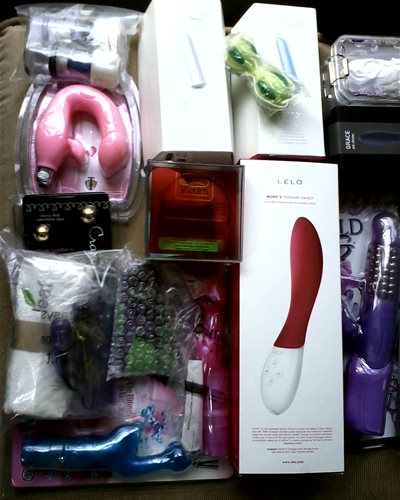 This is a close up of the right side of the big picture.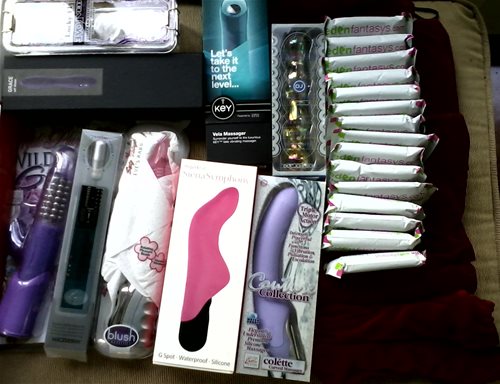 Experience
I was pleasantly surprised at the number - as well as the combined weight - of the toys that I was able to fit inside the Edenfantasys tote bag. For me, this is the most practical and anticipated use for one of these bags. However, the other ways I can see using this bag are for toiletries, craft supplies, mail, magazines, laundry and other uses inside my home. I am not yet comfortable enough to use this as a reusable shopping bag, although if I didn't already have a bunch of reusable shopping bags, I could be tempted to use this one.

I used to choose only the free wipes with my orders, but now I am going to start collecting more of these surprisingly sturdy & roomy tote bags for use around the house! I would even recommend these at the $2.00 regular Edenfantasys' price, as the tote bag that isn't flimsy & weak. So go ahead and grab one on your next order - after all, who couldn't use more bags?
Follow-up commentary
7 days after original review
I never thought I'd ever say this, but I like this bag enough to have selected it for my last few orders as the free gift! The over-stuffed bag shown in the above photos, has been hanging on a back hook in my closet for over a week and it is still in one piece. I expected the handles to have pulled out by now, or the bottom to blow open. But no, it is doing fine and I have to admit this is actually a pretty good way to get my toys stored away until I can work on a better long term storage plan. At least for now, they will be up off the floor and out of sight of prying eyes.
This content is the opinion of the submitting contributor and is not endorsed by EdenFantasys.com

Thank you for viewing
Edenfantasys tote bag
– storage container review page!