Lovely paint brush for painting or teasing your lover
Whether you are looking for a new way to tease your lover, or looking to branch out your artwork onto the human body, this is a great buy for you. The soft bristles of this toy make it an awesome way to tease your lover, even without using paint!
Published:
Pros:
Soft bristles, High Quality, Long plastic ring to keep bristles safe.
Cons:
Doesn't come with secure storage.
What is the sexual appeal of the Colore Moi paint brush?
For those those out there who love to paint, this might be a key item in bringing your passion for art into the bedroom. There are 3 main ways I have found to use this brush and I will start with the most simple, using the brush without any kind of paint. Simply running the soft bristles over your lovers skin can create a tingle in them. It provides a new sensation, an almost tickle, which is handy on both the nipples and the genitals. But even beyond sexual activity itself, it can be a very small "tickler" for all over your body.
If you are already an edible body paint lover, this brush will not only be more sensational than your finger, but also give you the ability to create more intricate designs. When using with these kinds of paints, cleanup is super easy. Simply wash out the bristles with warm water and if the bristles seem to have been "dyed", you can use your everyday dish soap to massage out excess paint.
Another option this brush gives you is the ability to create beautiful designs in latex paint. While I personally do not own latex body paint, I looked up the proper way to clean paint brush bristles after using latex paint. First you want to rinse the bristles in warm running water, then you want to comb out any excess paint stuck to your brush. You continue rinsing until the running water runs clear, tap out excess water and you and good to go.
What does the packaging and brush itself look like?
The packaging the Colore Moi paint brush comes in is very minimalist and discreet. If you have ever bought a solitary paint brush from an arts and crafts store, you've seen very similar packaging, I'm sure. But for those who do not paint, or haven't bought brushes in a decade, the brush comes in a plastic cellophane which is sealed tight at the very top, under the hole it would be hung by in a store. The back side of this package is white, and the front is completely clear, spare the weird red little design at the bottom of the package.
Through this clear package, you can see three main things about this paint brush. First, at the very top, toward the hanging hold, you can see that the bristles of your brush are wrapped in a harder plastic long ring. The long plastic ring covers your bristles to keep them perfectly straight, and to a point, when not in use. The second thing you will notice as you gaze down the brush is in the direct center of the brush. There you will notice is says "Love Yourself!" with the registered trademark emblem. The last thing on the brush itself is only a short space after that, it is labeled as "by Fun Factory".
With the plastic covering over the bristles, this paint brush is 8" long and is 1/4" wide. The handle itself is clear with the attatchment to the bristles being silver. The bristles themselves are white and are 3/4"long.
How do I store it?
The easiest and cheapest option you have is keeping it in the cellophane it comes in. Since it clear and so thin, it might get lost on its own in your toy box. I personally have container just for our body paint stuff, so I have been storing mine in the cellophan inside there. If you really wanted to invest in this brush, you could go to your local arts and crafts store and purchase a paint brush pouch. But in my opinion, it would be a waste since this paint brush isn't very costly in the first place. Another way to keep your Colore Moi paint brush in top form is to keep the plastic piece that comes around the bristles.
NOTE:
Before storing it in anything, make sure it is completely dry. While drying, leave it in a tall cup, bristles up. When dry, place the plastic piece back around the bristles to keep them from being bent and to protect them from being splayed but something else inside your toy box.
Okay, I'm sold! Where in the world do I find edible body paints and body safe latex paints?
Here on Eden you silly goose! Here are a few links to Edible Body Paints here on Eden:
Tasty body paint
,
Adult paint box, this one comes with a paint brush, but it is crummy in comparison
,
Chocolate fantasy finger
.
The latex paints I wasn't even aware Eden sold until I searched for body paint on the site. Here is a brief list:
Large liquid latex
,
Liquid Latex
,
Fluorescent liquid latex
Experience
In my personal opinion, this is a great buy for those who enjoy painting on their lovers. Then brushes you generally get, when you even get a brush, appear much more like the kind of brushes you see in a child's water color kit. This brush gives you more ability to make detail and thus create a more beautiful and sensational design. Beyond how well it makes your body art look, it also has a great feeling to it. The paint brushes I have encountered previously that came with body paint kits have had plastic bristles, these are not plastic. I am unsure of the exact material since the packaging does not label it and the Colore Moi's product page doesn't have it listed either. But they feel very smooth and soft which leads me to believe it is a form of hair, but again, I didn't read this anywhere and could be totally wrong.
I'm sorry my pictures aren't more clear, apparently when focusing on something small my camera sucks.
Front of package: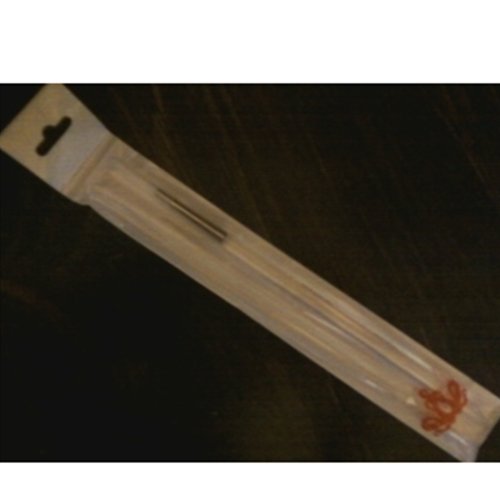 Rear of package: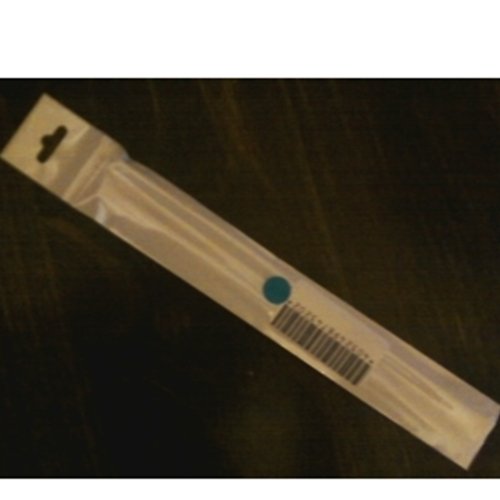 Close up of emblem on package: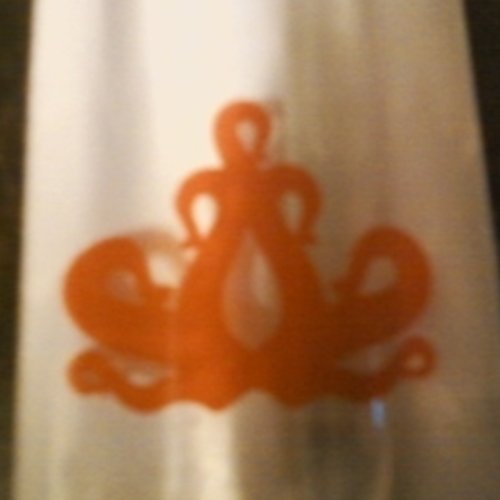 Love yourself: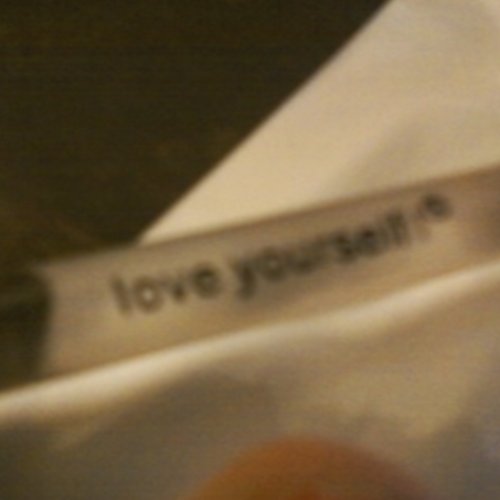 I tried to photograph the Fun Factory part, but you could not read it in any of the shots taken. Sorry.
Compared to the brush that comes with the Adult Paint Box: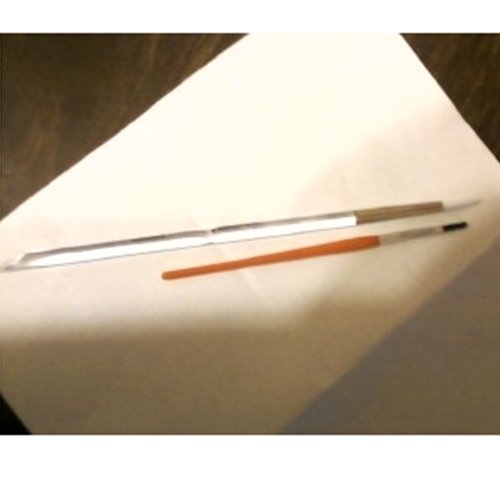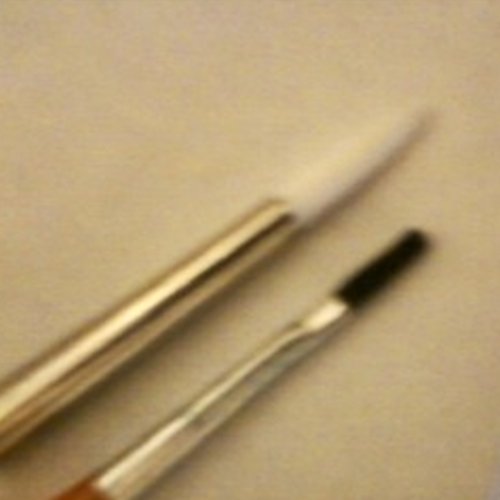 As you can see from these photos, the Colore Moi paint brush is of a much higher quality.
After reading the comments on my review, I thought there was one more thing I should add. This paintbrush is very similar to your normal paintbrushes found at your local hardware, craft, or hobby store. But, when you have 50 brushes sitting around you house that you use to make art with, as I do, it is nice to have a designated brush just for edible paints. Whether you paint with acrylics or oil paints you don't want to ingest that, ever, so it is a great idea to have a completely separate brush for body paints, especially edibles ones. Still, you could go to a store and buy one for that purpose, but I bet it will look like many of the other in you painting kit. The true appeal of the Color Moi paintbrush isn't that it is a paint brush, but that it is distinctly MADE for body paints and can be set aside with your body paints. Generally you won't find a clear paint brush at a store, and when you do it certainly isn't labeled "Love yourself by Fun Factory". The appeal of this brush is simply that it can easily be determined as your body paint brush at a glace, for those out there who have 50-100 paint brushes of all sizes, shapes, and colors already, as I do.
If you don't paint at all, I suppose going to a craft store to pick one up might be a bit less costly for you. But as I said, if you already have many paint brushes, this one can at a glace be recognized as your "Adult" paint brush.
Follow-up commentary
4 months after original review
As the time has passed, I have only used this paint brush once since my review. When I used to paint on my lover, I enjoyed using my fingers. I feel that makes the experience more intimate.

Who would I recommend this to? Probably those who are looking at it for use as a teaser.
This product was provided free of charge to the reviewer. This review is in compliance with the FTC guidelines.

Thank you for viewing
Colore Moi paint brush
review page!