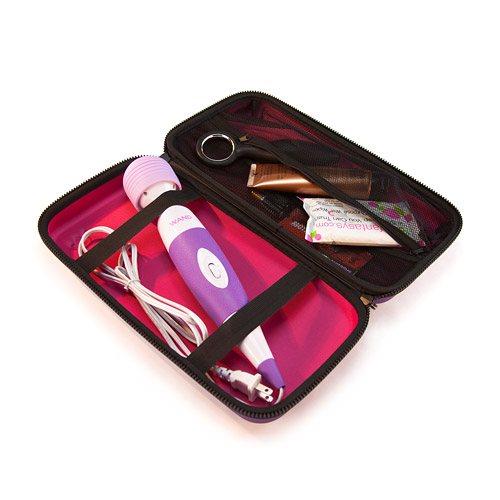 Eden toy case
Storage case
by EdenFantasys
The Perfect Storage Case
This is beautiful, and I love the purple color! This is a good size case at 13 inches and will hold a lot of toys, and to clean it you can just wipe it down & spot clean it. If you're considering getting this, DO IT. You wont regret your purchase, and it's definitely worth the price. I consider this a luxury case, and even though it doesn't come with a lock & key set, it can be locked, stored away, and used for years to come!
Published:
Pros
-Beautiful case, love the color!
-Large, good amount of room
-Quality material and zippers
Cons
-Would love to see this in more sizes and colors
-Does not include a lock & key set
I was so impressed and surprised with the size of this case when I opened up the big cardboard box it came in and saw it peeking up at me through its thin plastic bag. I hardly noticed that it came in simple packaging that I could recycle and use to store other toys in (one of my silicone dildos) but upon un-packaging it, wanted to make use of the plastic so it wouldn't be thrown away. Of course, I did my research on the case before it came, and saw the collection of objects that are shown stored in it on the product page. But for some reason I was still surprised with how big it is.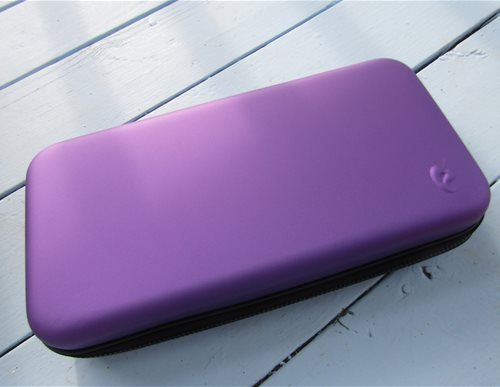 At 13 inches, just over a foot long, it will fit some long or large items. I was able to fit almost all of my new sex toys in it, as well as two Tantus dildos and two Tantus butt plugs. I took a plethora of pictures and I am in love with it!
The zipped pocket "case" inside of it (on its "roof," or at least the side I have facing up currently) is also a great nook for more of your pleasurable items. I was able to fit a blindfold, feather tickler, and my entire homemade pencil case full of condoms (which I use for toy covers mostly). And I know I can easily fit a couple more light things, such as lubricant and my other blindfolds.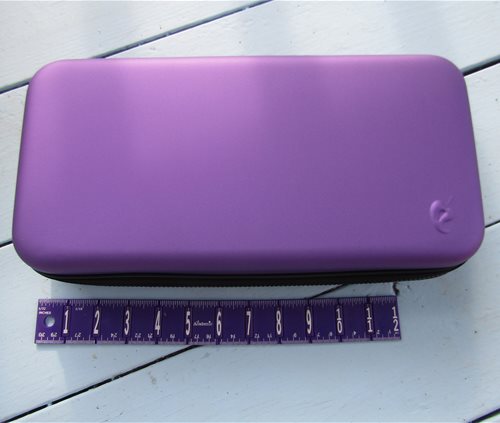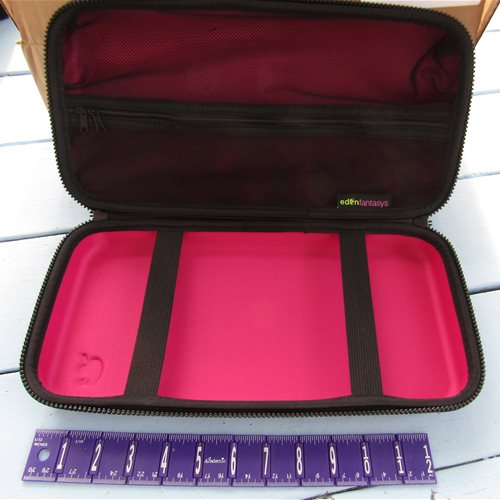 I was so, again, impressed with the overall quality of this case, including the double zippers and option to lock it in their center (though it does not include a lock), the pressed EdenFantasys logo (which can be seen inside and outside as it must have been molded to be), the smoothness of the outside and inside of it, and the beautiful purple color.
Speaking of the color; I love the color, and I love the features! The elastic bands inside it help hold all your chosen toys in place, and the zipped pocket feature inside will hold even more. I filled my case to the max, heavier stuff on the bottom (held down by the elastic) and lighter stuff in the zipper pocket. I then put it into my big Pipedream carry-all bag which came with my portable love machine, the heavier stuff still on the bottom. The "bottom" of this case, though, which is the side with the elastic bands, is the side featuring that beautiful EdenFantasys leaf logo, so it's facing down. Unless you choose to put your heavier objects in the zipped up pouch inside and make that the "bottom," the EdenFantasys logo will be hidden from sight. I had hoped it would be featured on both sides of this polyurethane case, but that doesn't matter overall. I'll still know it's there.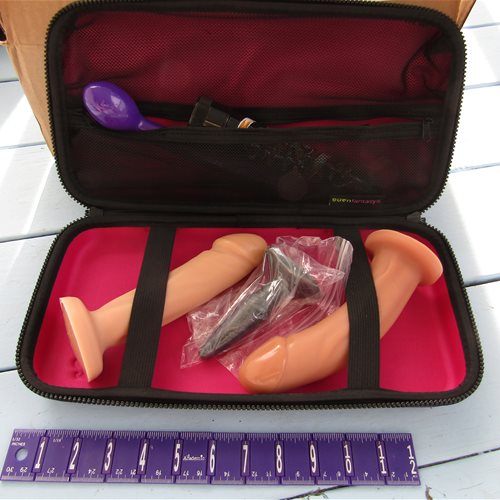 I am enamored by the absolute beauty and simplicity of this case, which is again, 13 inches long with a width of 6 inches and a weight of 11 ounces. It is also about 3 inches deep. I have never seen a purple case like this, but have seen many in black on other sites. I have to be honest, I like this one better than any others I have seen.
Do you think you can start making it in other sizes and colors too, EdenFantasys? I can only imagine how quickly you may start selling these and how popular of an item they'll become! I am one satisfied sex toy owner. This case is beautiful, the zippers are strong, the material is real quality, and it's got a good amount of room. I may end up getting more of these, even in the same size. This is truly a luxury case, and I strongly recommend that every sex toy owner buy one of these to put their treasures in.
For cleaning, I use a lot of baby wipes; they really come in handy. And as a mom, I always have them available. To clean the outside of this case, baby wipes or a wet rag will easily get the polyurethane plastic clean. To clean the inside, such as in the case of a lubricant leak, I would recommend that it be spot cleaned only, as there really aren't any other options. For this I would also say to go with the baby wipe or wet rag and clean up the mess immediately or as soon as possible to prevent staining or smells.
This came completely clean and it did not have an un-normal smell to it at all. Does the smell of fabric count?
This product was provided free of charge to the reviewer. This review is in compliance with the FTC guidelines.
Thank you for viewing
Eden toy case
– storage case review page!