A replacement for Maximus?
This Anal lube from Topco sales is a great lube for our butt play. Thicker than Maximus and last just as long with no need to clean up when your done, this lube is just bursting with goodness. Due to one of the ingredients (Talc), I do not recommended it for vaginal use.
Published:
Pros
Long lasting, thick, no need to wash off, Glycerin-free and compatible with all materials.
Cons
Beads feel strange and do not always burst. Contains Talc and other not so nice stuff!
Climax Burst, that is a name I know all to well. My favorite and only toy cleaner is from this line made by Topco Sales. Therefore, when I seen an anal lube form the line while doing a search for a new lube, I just knew that I had to try it. I am glad I did.
First lets us see what is in this lube. The ingredients are on the product page but I will add Benzoic Acid, this is at the end of the ingredients list on the bottle. This lube contains; Cellulose, Parabens, Glycols and Talc, so be advised. I do not have a problem with these ingredients but the Talc gave me pause, I am glad I read a few reviews! I usually use all of my lubes for vaginal penetration with the wife, which is something I do not want to chance. For more info on Talc and cancer check this out [http://www.cancer.org/Cancer/CancerCauses/OtherCarcinogens/AtHome/talcum-powder-and-cancer]
OK, on we go. The bottle is the same as all the Climax Burst line. It has 4fl. oz. / 118 ml. in the 6" tall by 5" circumference (1 1/2" diameter) bottle. The cap is a "Pop up" style cap that can be opened with one hand, just grip it in your hand and pop the top up with your thumb. One problem with this is the lube is so thick that you have to squeeze the bottle to get the lube out, this means that you have to shake the bottle upside down to get the air bubble to the bottom (top when inverted). Ya, it works but a pump top would be so much nicer. Although I do not know how it would work with the beads.
"Beads?" You say, yep just like all of the products in the Climax Burst line, this lube has Vitamin E enriched beads. I must say I really do not think they add much to the lube, in fact they are a bit strange feeling during application. You know those facial scrubs that you use to exfoliate you skin? They feel like that, they do not really hurt on my ass but they just feel weird. Thankfully, they are not felt while using a toy as they burst fairly easy. I am not sure about the vitamin E, that it is an oil and as such typically, you should not use oil with some materials. I have been using my toy cleaner for months with all my toys with no ill effects. These include, Silicone, Pure skin/TPR, TPE, Elastomer, SuperSkin and Sil-A-Gel, so if you are worried you might look to something else.
Here is a picture of the beads-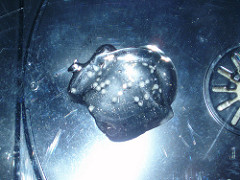 One with the beads smashed a bit-
Packaging is minimal; you get the bottle inside a bag. The bottle itself if somewhat discreet;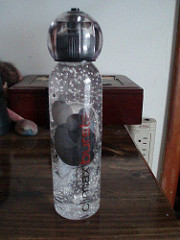 See that small print on the lower left side? That is where it says "Anal lube". I think most people will just think that it is a facial wash.
Experience
Does it replace my beloved Maximus? Well, that is a hard one. It is thicker and thus it works better for butt play but I will not use it when the wife and I are playing around. I just do not feel comfortable using it around my all time favorite toy, my wife's pussy. So in answer to the question, no. I will just use both.

I wish it had a pump top, it just makes things so much easier. Plus the bottle has a crease from the plastic bottle being squeezed to much. Due to the not so nice ingredients I am taking one star. Other than those few things, I will recommend it for your butt play fun.

Oh ya, I almost forgot to mention, it is not flammable. hehe
Follow-up commentary
5 months after original review
This took forever to use up, I just did not always think about having it. It does work good, once you get past the feeling of the little balls. It last almost as long as Maximus and seems to stay better.

One thing I did not like, towards the end of the bottle it becomes hard to get it out. You have to figure out a way to balance it on the lid so the lube will flow to the cap. Other than that I have no complaints.
This content is the opinion of the submitting contributor and is not endorsed by EdenFantasys.com
Thank you for viewing
Climax bursts anal
– lubricant review page!