Ahhhhhh, Blessed Relief!
To prevent hot spots and adhesive pads from losing contact with the skin during electro-stim play you cannot beat Fetish Fantasy electro-stim gel. It is thick enough to stay put and thin enough to glide over the skin so that you don't lose connectivity with the electrodes. With a heavy aloe base and several skin conditioners you are assured that your skin will not be burned or dry and scaly after play. The gel will intensify the sensations safely!
Published:
Pros:
Works as promised, easy to clean up after play, no smell or awful taste.
Cons:
Could excite allergies in some users, plastic lid can break, product can leak from open lid
I own the
Fetish Fantasy Shock Therapy
and I reasoned that the electro sex gel might make that toy just a bit more exciting for me as well as aid Sigel in his electro-stim play!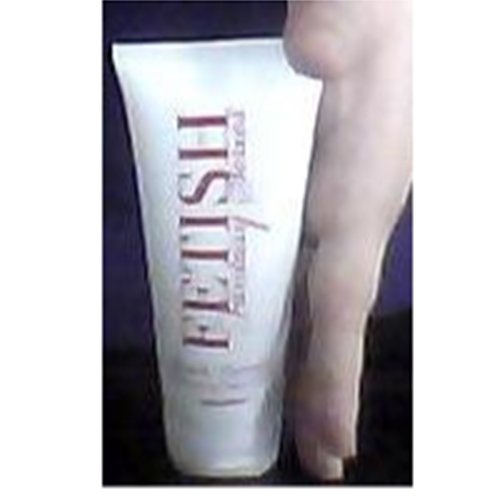 The packaging states that the Electrosex gel is supposed to' "...[magnify] the intensity of the electrodes and [provide] maximum conductivity between the skin and the Shock Therapy accessories. Eliminates 'hot spots' and works with both adhesive pads and other Shock Therapy plug-in accessories."
Happily, I can report that it does increase the intensity of the stimulation while keeping the pads firmly adhered to the skin so that you don't get arching as the electrode loses contact with the skin.
The gel is thick but lubricious rather than gooey. It is clear, non-staining, has little to no smell, and doesn't have an appreciable taste; though it might make your tongue tingle a bit unpleasantly if you get a large amount in your mouth.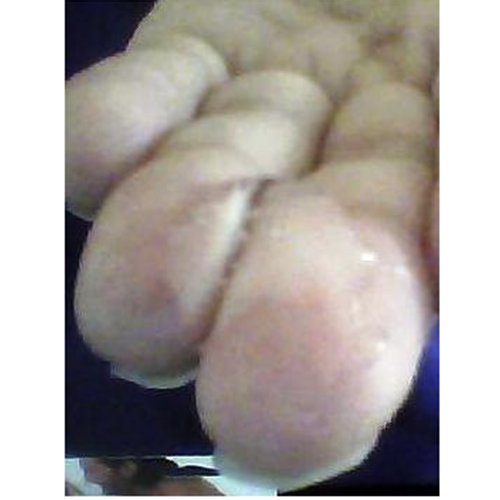 The product packaging advises the user to use a 'liberal amount' of the gel but I found that a dime sized portion was adequate when using adhesive pads.
This is not meant to be used as a sex lube and will dry up fairly quickly if used for a hand job. It is not meant to be used internally, though it is water based. For the purposes of electro-stim play it is superb.
The gel cleans quickly away with water and soap and doesn't dry leaving a film. We found that a simple wipe with a washcloth or an
Eden Toy Wipe
was fine after play was over.
The ingredients of the gel are pretty straight forward: Water (Aqua), Aloe Barbadensis (Aloe Vera) Leaf Juice, Zinc Gluconate, Magnesium Aspartate, Copper Gluconate, Carboxymethyl Hydroxyethylcellulose, Carbomer, Sodium Chloride (Natural Salt), Diazolidinyl Carbamide, Sodium Hydroxide (pH Modifier), Iodopropynyl Butylcarbamate
Notice that one of the first ingredients is Aloe! The aloe in the product helped to heal some of the burns Sigel still had from his overly rambunctious play and helped prevent any new burns. It also left our skin feeling soft, moisturized and smooth.
Some of the larger more dangerous looking ingredients:
*Zinc Gluconate- a naturally occurring mineral essential to proper health of body tissues.
*Magnesium Aspartate- another naturally occurring mineral essential to healthy cells, nerves, muscles, and ect.
*Copper Gluconate- yet another naturally occurring mineral, this time aimed at protecting the skin and conditioning it.
*Carboxymethyl Hydroxyethylcellulose- a thickening agent that helps to produce the gel like properties of the product. It is widely used in cosmetics, cleaning solutions and other household agents.
*Carbomer- helps to keep the gel like consistency, it is a fluffy white powder that helps to bond the emulsions together. They are widely used in cosmetics.
*Diazolidinyl Carbamide- Synthetic Urea that is used to stabilize the acid in solutions and stops the loss of moisture from skin. Widely used in cosmetics.
*Iodopropynyl Butylcarbamate- Preservative used in wet wipes,some cosmetics, and other personal care products. it is also a biocide used in paints, primers and industrial coolants. This product has been shown to cause allergies though it is in a very small amount in this product. Symptoms of a possible allergic response are itchiness, blisters or swelling.
For the price you get a generous 4 fl. oz. of product in a squeezable tube with a flip top, plastic lid. The lid doesn't seem to leak but can be broken easily and if the product is not capped it will leak all over the place. I would recommend the user place the tube in a plastic zip-lock type bag for travel.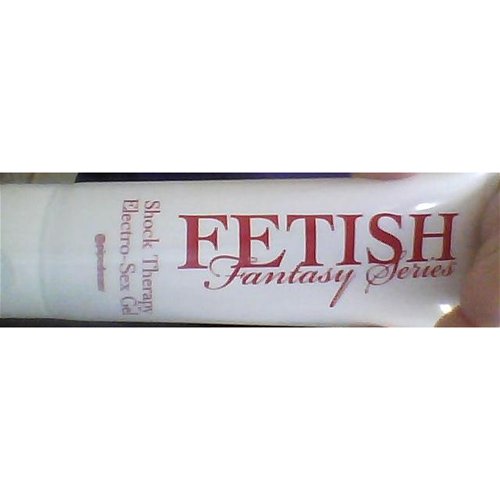 The label on the tube is fairly innocuous but the word 'Fetish' is clearly emblazoned across the white tube in bright red letters. Since the product can be stored on it's side I would recommend keeping it in a drawer out of direct sunlight to protect the gel from high heat. Some gels can break down and lose effectiveness under direct sunlight but the tube is opaque so it's not a huge problem.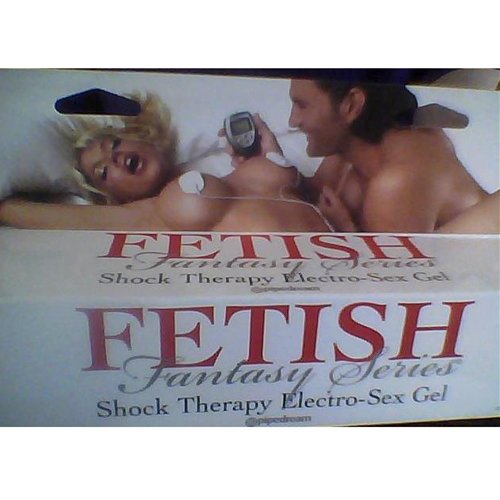 As you can see the box the tube arrives in is anything but discreet! It is a sturdy box and could be used, quite effectively, to store the tube but if discretion is a must in your household this probably isn't something you want sitting out.
Experience
My husband, Sigel, loves to play with electricity. He has had this love affair since he was a child and when he realized that orgasmic impulse is just an electrical spark he went to town strapping electrodes all over his bikini area. Lately he has noticed that he has been giving himself contact burns and this is not an area where you want burns! I decided to take matters in my own hands and order some lubes specifically designed for electro-stim play.
I am happy to report that not only did it stop the contact burns for Sigel it actually began the healing process for the ones he had gotten earlier. The gel works exactly as it is supposed to with a few added benefits!
Follow-up commentary
9 months after original review
This is the only lube we use with our electro sex toys. It prevents any contact burns, intensifies sensations and leaves the skin feeling smooth and moisturized. I definitely recommend this gel for all electro sex fans.
This product was provided free of charge to the reviewer. This review is in compliance with the FTC guidelines.

Thank you for viewing
Fetish Fantasy electro sex gel
– lubricant review page!