Great if you love hazelnut!
Overall, I think this is a great product. It smells good, tastes good, and can be used as lube, massage oil, or even for skincare in the shower. I personally couldn't stomach the really strong scent of the product itself, but others may find it to be more pleasant.
Published:
Pros:
Multiple uses, good taste and smell, easy to clean up, subtle appearance
Cons:
Somewhat expensive, smell is very strong, doesn't stay slick for very long
Hathor Aphrodisia- Lubricant Lickeurs
Hazelnut Caramel Flavor
Organic, sweetened with stevia
Appearance:
This product comes in a pretty golden/coppery plastic 4 Oz tube with clear, easy-to-read black lettering. The front of the bottle lists the name and a few characteristics of the product. The back of the bottle lists more details such as "condom compatible" as well as the ingredients and company contact information. The bottle has a flip-top, which- as far as I can tell- does NOT leak and is relatively easy to open. The tube is rather subtle, with no mention of sex anywhere on it. There IS an odd logo that may be considered "suggestive" by some; a flower within a heart that looks like it has sperm trying to break through its lines.
The lube itself is relatively colorless and, although it is thicker than water, it will run if given the opportunity. (Can't take your eye off this sneaky stuff for a second or it'll run halfway down your leg!) When rubbed into the skin, this lube does seem to leave a slight glisten, which rinses off easily enough.
Scent:
This lube is Hazelnut Caramel, and anyone within 5 feet of it can tell! If you like hazelnut, then you'll love this stuff, but it is rather strong. The caramel is definitely more understated.
Taste:
Although this is relatively tasty as far as lubes go, some may find it to be too sweet for their personal taste. Just as with the scent, the hazelnut is stronger than the caramel. There's also a third saccharine taste that I can't quite identify, but believe it may be due to the stevia.
Feel (and cleanup):
This lube does give everything a nice glide... for a few minutes. But because it's not very thick, it does tend to start drying out and dragging after 3-5 minutes of motion. It does feel a little bit greasy (It's lube. What can you expect?) And will leave a bit of residue on the skin, but it rinses off easily enough with soap and water. And soap is actually not completely necessary, especially if you'd like to use the lube as a sort of skin moisturizer.
Uses:
Well, seeing as this is a lube, I'm assuming the primary use intended would be lubrication. This is a water based lube that is safe to use with condoms and toys and all that good stuff. I believe the best uses would be lubrication for penetration (both vaginal and anal) or oral sex since this is an edible, flavored lube. It also may work well for massages, though it does have a bit of a greasy feel to it and leaves behind some residue. Another thing I've noticed in my experimentation with this product is that once it's been rubbed into the skin and rinsed off, the scent is MUCH milder, and it leaves your skin nice and soft!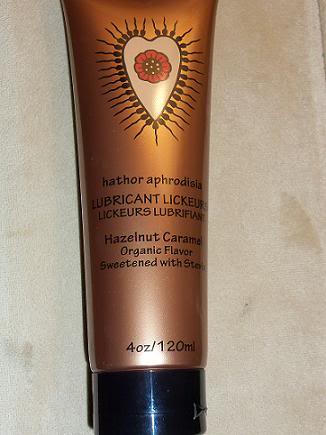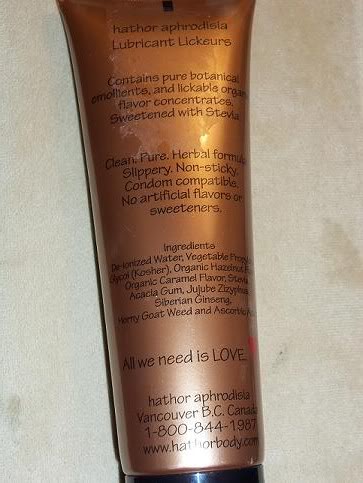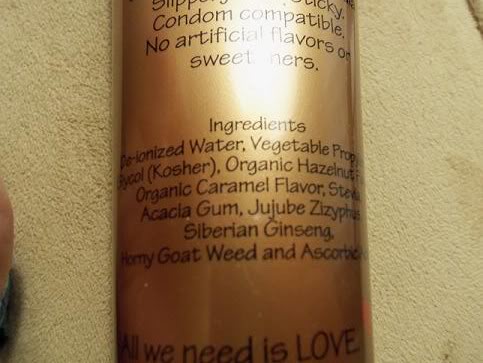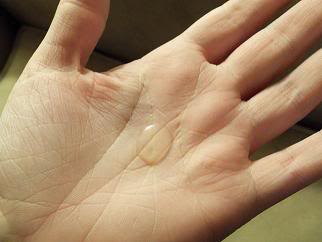 Experience
Because this lube's scent is so overwhelmingly strong, I just couldn't bring myself to use it for lubrication, either sexual or for massage. Instead, I chose to use it in the shower, like a body wash of sorts. I rubbed it into my skin, let it soak in for a minute, and then rinsed it off. I only did this to one arm, as an experiment. After showering and drying off, I asked my partner to feel the skin on my arms and tell me what he thought. He could immediately tell that I'd applied the product to my right arm, because the skin was so much softer. We both noticed that, when used this way (as a shower treatment), the scent is MUCH milder.
Follow-up commentary
6 months after original review
Eh... While this lube was new and exciting at first, the novelty quickly wore off. The scent and flavor were so strong that it was bordering on overwhelming. I gave the tube to my mother, since she loves hazelnut (and needed some help with a dull relationship), but the darn tube leaked all over the inside of her bag!
Needless to say, we were very disappointed.
This product was provided free of charge to the reviewer. This review is in compliance with the FTC guidelines.

Thank you for viewing
Hathor Aphrodisia lubricant lickeurs
review page!