I just threw away every lube in my drawer.
I had, for the most part, always stuck with water-based lubricants because I had a few silicone toys, and I didn't want to damage them, and it was easier to keep one lube in the drawer than have to use certain ones with specific toys. I have come to the conclusion that my only choice is to throw away my silicone toys, because this is a keeper!
Published:
Pros:
Provides exceptional lubrication.
Allergen-free.
Silky-smooth.
Easy clean-up.
Cons:
Cannot be used with other silicone toys.
I'm not kidding, either. I used to be a big fan of
System JO H2O
. I still enjoy it, but what I used to think was amazing lubrication now leaves me feeling very disappointed. After using Pjur, I will never again be able to go back to anything else. I have been lubricantly ruined. And yes, I just made up that word!
This little baby came in a very small, simple black bottle, with a plastic seal around it. It was tossed in with my box of other goodies that I had ordered, and when I saw it I was a little disappointed at it's size. I knew it would be small, I just have no concept of size in terms of liquid volume. I tossed it off to the side and went pawing through the rest of my shiney things like a raccoon, and it wasn't until later, when I was experimenting with my
Sexy Spades
plug, that I grabbed for this baby.
Pjur Eros has a silky-smooth texture, without the same difficulty in cleaning that I found with other silicone lubes in the past. It's fairly runny, so when it's poured into my fingertips or my toy, if I let it sit in one spot for too long it will run down the toy or my hands. If I want to put a large amount into my hands, I have to keep my fingers together, else it can make a mess. While it is a bit thinner than I expected to be, it does a phenomenal job lubricating anything I put it on. This works amazing paired with toys or in use during sex or masturbation. I have actually gone as far as to use this for taking my daughter's rectal temperature, it's got that much versatility in it.
I have found Pjur has nearly no scent at all to it. It isn't at all unpleasant, and the taste is nearly nonexistent as well. That being said, I wouldn't recommend using it in heavy doses if you're going to be partaking in oral sex, simply because it did leave a slight residue in my mouth after only a small bit of application.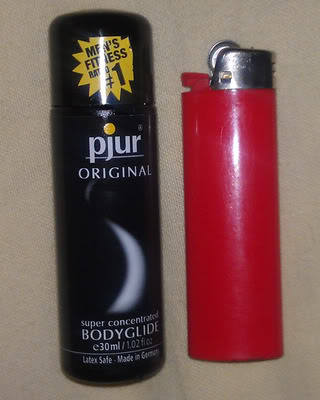 I initially came across Pjur during my searches for something to help my husband and I achieve comfortable anal sex. I had tried ID, Systems JO, and a few other water-based lubricants. I decided I had to move on to something that provided thicker lubrication, and a lot more slickness, without making my bum into soup. This, and my spade proved my searches successful. I won't lie -- it did take a good amount of lubrication, but it didn't make a mess, and it wasn't uncomfortable. Pjur also provided a good bit of moisturizer, without being greasy or oily. A single baby-wipe was all we needed, and then my hiney was left nice and moisturized, without being lubricated any longer. Clean-up was a cinch, and that made the experience even more pleasurable. Who wants to finish a great session with 20 minutes of showering and clean-up? Boo, I say!
Overall, I don't have a single complaint with Pjur, and as I said, this will permanently be in my drawer. It doesn't take much to provide enough lubrication for a 15-20 minute session without any further applications. Longer than that, and you may need to add a touch more. That's a good thing, because this is on the expensive side, but worth every penny.
For those with allergies, you're in luck, it doesn't provide glycerin or parabens.
Ingredients:
Cyclopentasiloxane, Dimethicore, Dimethiconol.
Follow-up commentary
4 months after original review
I have, to this day, still not purchased a different lube. I do not plan on it, either. Instead, I've just discarded all of my non-compatible silicone toys. I would rather have a lubrication that works wonders, than have a sub-par lube to use on a different toy. And besides, the pure wand is metal, so I'm all good!
This product was provided at a discounted price in exchange for an unbiased review. This review is in compliance with the FTC guidelines.

Thank you for viewing
Original
– lubricant review page!