I like it HOT!
For a delicious change in scenery, try this amazing lube that actually heats up when you rub it in, gets even warmer as you lick it, and becomes hot when you blow on it! With 5 great flavors and several ways to use it, this product can keep a couple entertained and add something to their love-life! Both fun and tasty, this product is 100% awesome!
Published:
Pros:
~Tastes delicious
~Easy to use
~Great for oral
Cons:
~Contains Glycerin
~May be too sweet for some
Hot Motion Lotion
is a warming lubricant kit by
Doc Johnson
. Each kit contains 5 lubes, each with different flavors but all to perform the same functions. Warming lubricants like these are made to be applied to the skin as you would any other lube, but then as you rub them in they heat up to the touch! Lick them off, and they warm even more, but blow on them and they are hot! You can appreciate the fact that they are flavored even more, because chances are you will be using these often for oral, as it feels oh so good!
It was too difficult to pick a "favorite" when it came to these flavors, so I am just listing them off in no particular order: mango, cherry, passion fruit, tropical fruit and strawberry. Each of these flavors tastes like you would expect if you were to purchase a candy with each of the aforementioned flavor names. Point is they taste good, but they are also very sweet! They smell a lot like sugar water with a hint of an artificial fruity scent added on.
Each lube comes in its own 1oz bottle (that's 5 oz of product total!) with a snap-top lid that can be screwed off of the tube if you so desire. The bottles are easy to open with one hand and don't get sticky unless you use your lube-coated hand to handle it. The product does not leak or spill easily - in other words, you have to actually try to open it to get the product to come out! This means they should be safe for traveling, but of course I would keep them in a plastic bag just in case! The bottles came inside of clear plastic packaging with an insert covering the back, listing ingredients, flavors, and instruction on how to make it heat up. The package isn't very discreet, but you could
possibly
get away with the bottles if you lied and called it candy? If someone were to taste it, they might not be the wiser on it! You could also always remove the labels if you have this concern, though lube is usually easy to store! I have a special box that I keep mine in, so I just store it in there!
Hot Motion Lotion is water-based, which means that you can use this product if you choose to with any type of toy. The only negative to a water-based lube is that it doesn't work well in the bath or shower because it washes away so easily. During regular use the product lasts about 15 minutes for oral if you've applied enough, 10 minutes for vaginal intercourse, but less than that for anal so reapplication is necessary. For PIV (penis in vagina) intercourse, though, spit can reactivate the product to a certain extent, and I didn't mind giving him oral in between for that! For massage, I noticed that it rubs into the skin very quickly and so reapplication was necessary every couple of minutes.
During use, the product doesn't really become sticky but it can get messy if used during any type of intercourse (this excludes oral). This lube can also be used for hand-jobs, anal, and vaginal intercourse. Because of its consistency, you will not want to pour too much product at once or it will start to run and drip. If that happens, things could get messy! If this
does
make a mess, simply wash it off in the shower or with a washcloth when you are done! If this gets on clothing or sheets, just throw them in the washing machine and they do come right out! Unless you are using way too much of the product, it doesn't get sticky, which had surprised me given how sweet it is!
Now, I would note that although we chose to use this product internally and enjoyed it fully, this may not be good for everyone. The product does
contain glycerin
which some are sensitive to and many women get infections from it! It also contains
alcohol denatured
which some are sensitive to. Overall though, unless one of those two products is something you watch out for, it is fun, safe and tasty!
INGREDIENTS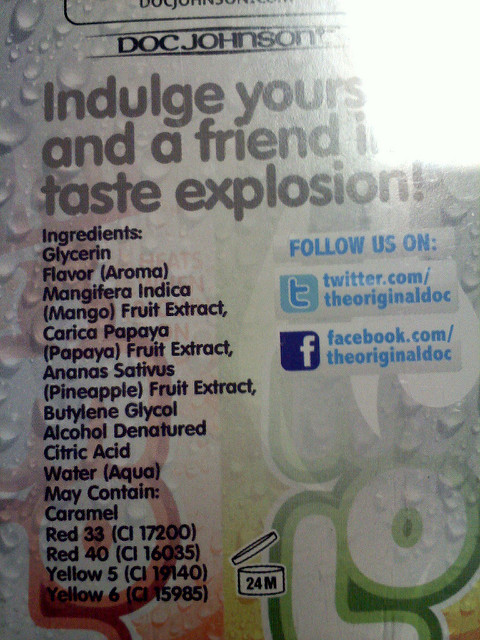 Front and back of package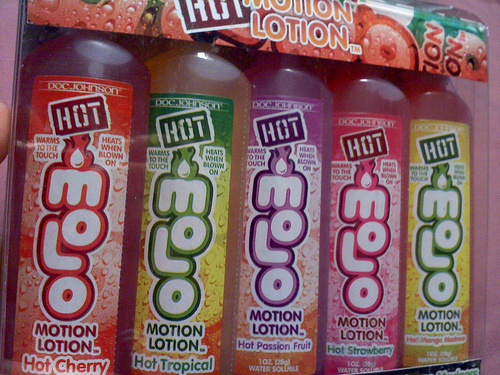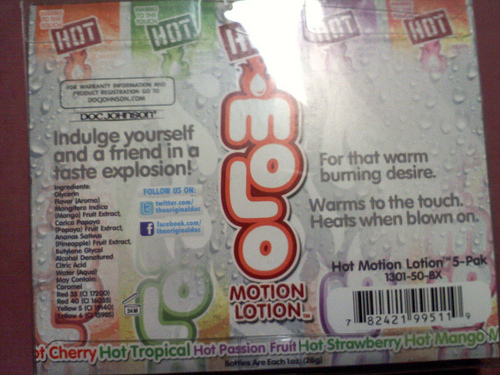 Experience
My partner and I enjoyed using this the most for oral. I loved the way that it felt having this on my skin, heating up as he'd blow on it! For use on him, I would take a few drops and spread them along the shaft of his penis, rub it in and then give a few blows on the area followed by kisses and licks. Because it can really heat up and he is sensitive in some areas down there, I had to be careful to avoid directly placing the lube on those areas. The head of the penis is one example, as he is terribly sensitive so I couldn't directly place the drops there nor could I blow on it if any traveled to that area. This product does heat up, not to the point of burning, but it can feel uncomfortable if you use it on too sensitive an area!

Also, I played around with the product a lot, putting drops on my hand and going through the above motions of rubbing in, blowing and licking! Mmm tasty!

5 out of 5 stars because this works great as a lube, tastes delicious for oral, and I just love it! I want to get more when I run out!
Follow-up commentary
4 months after original review
This has been my favorite heating flavored lube kit so far. My partner and I both enjoy using this for oral on occasion, and I love the way they taste! I think I probably enjoy using them more than he does, but he likes most of the flavors as well.
This content is the opinion of the submitting contributor and is not endorsed by EdenFantasys.com

Thank you for viewing
Hot motion lotion kit
– lubricant review page!