If you Enjoy the Taste Of Those Wax Straw Candy Juices, You'll Love This Kit!
Remember those wax straws that were filled with a thick fruit flavoured juice that were sold as candy? Well these taste exactly like them. The price for the kit is good, the flavours are not terrible (depends on your preferences), and you are given a variety. It all comes down to whether or not you like those waxy straw candies.
Published:
Pros:
price, variety, does not leak, easy to clean
Cons:
has a waxy flavour that some may not enjoy
I decided to buy the Lick Me Licker Tasty Gel Kit because me and my partner love trying different edible products in the bedroom. We had never tried these before, so the sample kit was perfect for us to try each flavour and see which ones we enjoyed/which ones we did not.
The product packaging is cute. The front of the package is transparent, so you can see each of the bottles that are packed neatly inside. You can see both the front and back of the package in the pictures below. There are no ingredients listed on the back of the packaging, but they are instead placed on the back of each tube. I appreciate this as I do not like having to save the packaging the product comes in.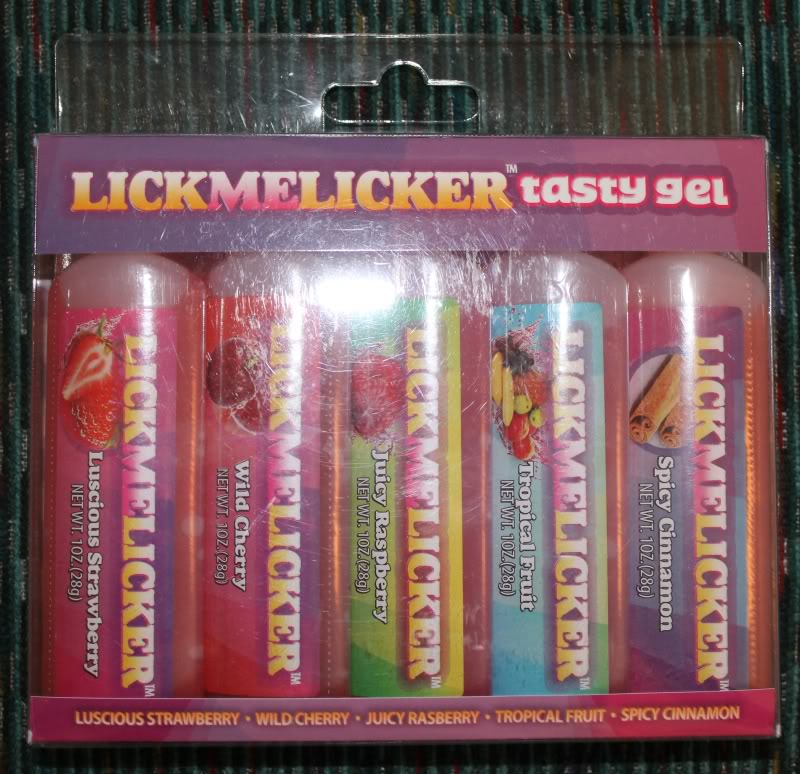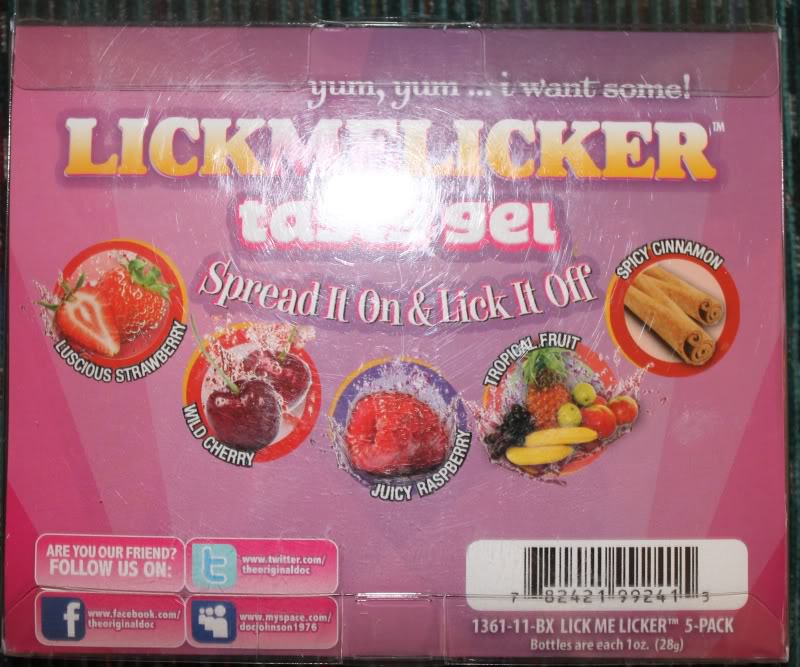 When you open the package, you will notice that each tube is individually sealed in plastic. Each tube in this kit is 1oz. (28g). The lids on the tubes can be twisted off, but also have a tab on the top you can open for when you apply the product. As long as the lid is properly closed tight, and the cap is tightly sealed, you should not have any problems with the gel leaking.
As you can see in the photo below, the front of each tube has a sticker label that reads "LickMeLicker" and has the flavour and net wt. noted. The back of the tube has the ingredient list as well as the company information. The bottom of the tubes have their expiry dates listed. Be sure to look at each individual expiry date because they are not all the same. Some of the ones I have expire early next year, while others expire in 2013.. Odd.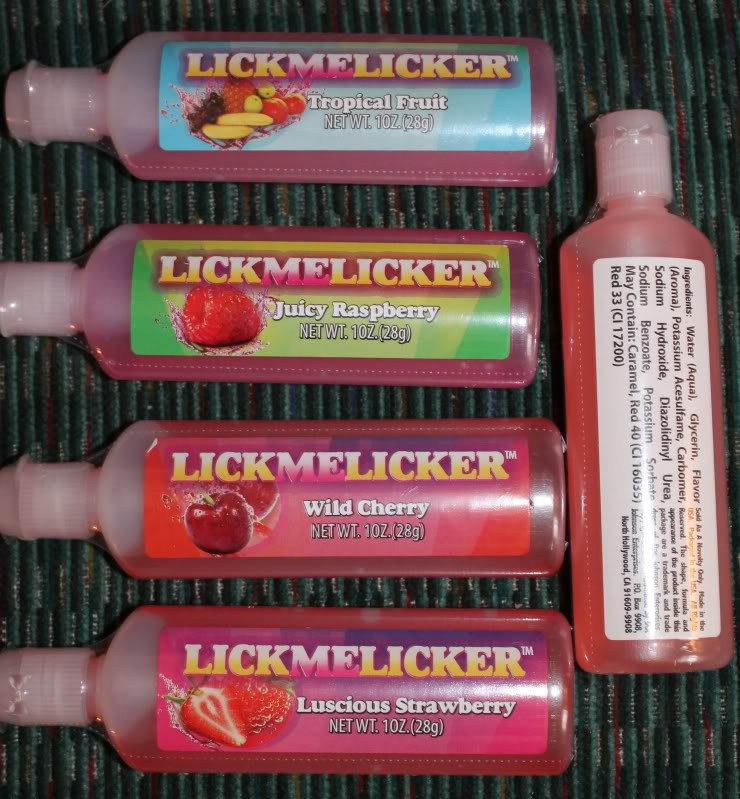 Despite all of the tubes having different flavours, the ingredients on each tube is the same. They are as follows:
Water (Aqua), Glycerin,Flavor (Aroma), Potassium Acesulfame, Carbomer, Sodium Hydroxide, Diazolidinyl rea, Sodium Benzoate, Potassium Sorbate, May Contain Caramel, Red 40 (CI 16035) Red 33 (CI 17200)
The gel does not feel sticky. I rubbed a bit of the gel on my arm and continued to do so until it absorbed into my skin. It does not take very long to absorb, but then again, that really wouldn't matter to us since we would be liking it off each other anyway. The gels should NOT be used internally because of the ingredients. If for some reason you do feel some residue, the product can be cleaned off the skin with water and soap.
The flavours in the kit are: Spicy Cinnamon, Juicy Raspberry, Luscious Strawberry, Tropical Fruit, and Wild Cherry. All of the flavours had a subtle taste of the flavour they claimed to be. I did not find them to taste bad, other than the Tropical Fruit. I LOVE real tropical fruits, but this did not taste like any of the tropical fruits I've ever had. The rest of the flavoured gels were "okay" in taste, but nothing that blew my mind.
All of the flavours do taste waxy. If you have ever tried the candy straws that are made of wax, and filled with a gel liquid, then you'll know exactly what they taste like. I personally do not mind the waxy taste, especially when comparing it to that nasty dentist-gel flavour that is in other edible gels I have tried. I choose waxy over dentist-gel, but I'd prefer neither.
As for the price, each tube is 1oz (28g) and the pack of five is $11.99. What this means is you will be paying $2.40/1oz. tube. To quickly compare the price to the ID juicy lube 10 pack that I recently reviewed;
The cost information for the ID Juicy Lube Sample Pack is:
Each tube is .42oz, with a combined total of 4.2oz. So for $14.99, you are basically paying $1.49/tube.
So at first, the alternative product would seem to be a better price. In actuality, the Lick Me Licker Kit is the better value in terms of cost. How do I know this?
Lick Me Licker Kit= total of 5oz @ $11.99
ID Juicy Lube Sample Pack= total of 4.2oz @ $14.99
So not only do you get less of the product, but you're also going to be paying $3.00 more for the alternative. Of course, you should not just base your purchase on cost, but for those who are on a budget, or consider price when determining a puchase, I hope it has helped.
Experience
I have yet to try the product in the bedroom, but after testing each of the flavours, I know that it will be good. We will use these as we do our other edible products: EXTERNALLY ONLY. We also use these products as an enhancer, rather than to mask a natural taste of our body. This means that we do not need to use much of the product, therefore it will last us for MANY applications.

Would I buy this product again? Maybe. I really do not mind the flavours and I think the price is great, so it's definitely possible.

I've given this product a 3 out of 5 because it is mediocre. There are definitely worse edible products, but there are also definitely better.
Follow-up commentary
2 months after original review
My partner and I have used these maybe once since my review was written. We have so many flavoured products that we tend to grab our favourites when we are in the mood. These are not our favourite, but we do still like them. We have not had any problems with them leaking when stored.
This content is the opinion of the submitting contributor and is not endorsed by EdenFantasys.com

Thank you for viewing
Lick me licker tasty gel kit
– lubricant review page!