Liquid fire?
This isn't a terrible go-to in a pinch, but those looking for more natural ingredients should skip this one, as should those with sensitivities.
Published:
Pros:
Not too expensive
Cons:
Not the most body friendly ingredients
Sticky
Doesn't last long
I'm always on the lookout for a good lubricant. My favorite water-based lubricant thus far has been Sliquid, and I'm sorry to say that Wet isn't going to replace it. I gave it a good try with my Comet G, but it's just not for me.
Let's talk about the ingredients: Deionized water, glycerin, carbomer, PEG, propylene glycol, aloe vera extract, tocopherol acetate (vitamin E), cellulose gum, sodium benzoate, methylparaben, carbomer 941, hydroxyethylcellulose, polysorbate 60, diazolidinyl urea.
Do you see what I see? The first thing that jumps out at me is glycerin. The next? Paraben. These aren't really body friendly ingredients, and I wish I had taken a closer look before I used it.
In use, I'm not impressed. For a "gel," Wet is very, very runny. I didn't expect it to be nearly as runny as it is, and this caused me to accidentally spill a little. I muscled through and tried to spread it on my Comet G. When I used it, though, I was startled by just how watery and hard to spread it was. Then when I inserted my toy, I found that the lubricant didn't last very long. I started feeling drag after a minute or two. Eventually I gave up, but then I encountered another problem: burning. I started having a mild itching and burning that lasted for about half an hour afterward. I had not, up until this point, had any sort of reaction to a lubricant, and I'm not really sure which ingredient caused it.
Now, as I often do with lubricants, I'm going to compare and see how Wet Gel compares to other "gel" lubricants. I took Wet, KY, and Sliquid and rubbed a little in my hand to see how long it would last and if there was any residue left over.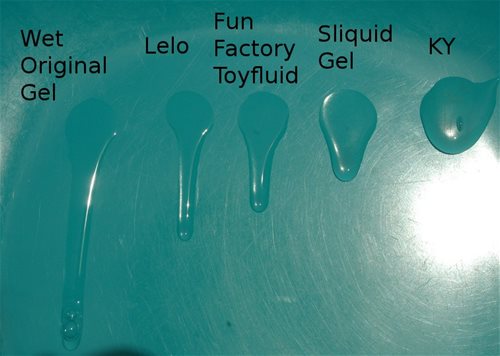 Wet Gel
: After 30 seconds of rubbing, the amount seemed much reduced and the texture was very soapy (like I rubbed liquid soap on my hands). At one minute, there was a lot of friction. At 1:30, it was pretty much gone but left a sticky residue.
Sliquid
: Slightly soapy as I rubbed, but at 2 minutes it was gone with no residue and left no trace..
KY
: Starts to lose some slickness after 1 minute, very sticky at 3 minutes, and reapplication would have been needed at 4.
As you can see, it wasn't too much better than it's competitors. Because I had a reaction to it but can't figure out which ingredient did it, I'll likely steer clear of Wet products in the future, at least until they have more natural ingredients.
This content is the opinion of the submitting contributor and is not endorsed by EdenFantasys.com

Thank you for viewing
Original gel lubricant
review page!