Love this lube
ID Moments silicone-based lubricant is a great long lasting lubricant that is great for those who have had problems with irritation from other lubes. It's hypoallergenic, paraben and glycerine-free. It's very gentle and easy to use. Comes in great packaging and ideal for travel. It's nice for vaginal and anal penetration. This lube comes highly recommended.
Published:
Pros:
Long lasting, easy to use, easy to clean
Cons:
None
ID Moments is a silicone-lubricant. This lube is brilliant for people that have had sensitivities to lubricants as it is developed with no harsh ingredients. It's gentle enough for people every day use because it does not contain glycerine or parabens. Some people believe that glycerine is a cause of yeast infections. Here's an interesting article about
glycerine
and how it is NOT a sugar. It's also paraben-free; there's been no direct link between parabens and cancer, but some scientists conclude that they may be linked. So, better safe than sorry. It is a hypoallergenic formula that only contains three ingredients; Cyclopentasiloxane, Dimethicone, Dimethiconol.
Cyclopentasiloxane - silicone fluid
Dimethicone - silicone oil
Dimethiconol - silicone oil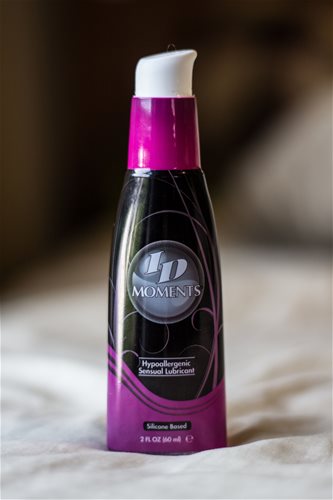 Silicone lube is a great alternative to water-based because it evaporates during friction and multiple applications are usually required. Silicone lubes are longer lasting and water resistant, so it's idea for a situation like a shower encounter or a fun romp in the pool. A downside to silicone is that it can stain fabrics. I've gotten this on my ecru colored sheets and it washed out easily and left no trace of a stain. but this may not always be the case with other materials.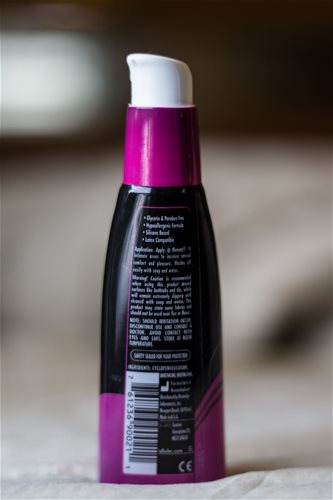 This lubricant can be used during a solo session for ladies and gents or to add a little moisture during penetration. Might I add, it's excellent for anal play. It's my go-to lube. This is actually the silicone lubricant that I do patch tests on my silicone toys with and it hasn't affected any of the high quality silicone yet. However, I still do recommend using water-based lubes with most silicone toys because all silicone formulas for toys are different and it can degrade and discolor lower quality silicone. It's latex compatible, so it's safe to use with condoms. It will not weaken them during use. How awesome is this stuff?
ID Moments is a very thin lubricant. It's of average viscosity. It will run quickly, so it's best to rub it in or utilize it quickly to avoid creating any messes. It feels different than water-based lubes. It has a velvety feeling once rubbed in to the skin. It becomes very smooth, creating minimal drag with penetration. It's completely clear. There's no taste and it is odorless. I can get a good 30 minutes out of this with just one pump during penetrative sex. I almost never have to reapply. For anal, I'll use 2-3 pumps, to make sure everything is nice and slick. Again, I usually don't have to reapply for that either.
Experience
It comes in a pump top bottle, which is what I prefer. It can twist to lock. I have the 2oz bottle and it's lasted me quite a long time. I've had it for roughly 3 months and there's about 2/3 of the fluid left. The bottle measures 5 inches in height with with a tapered diameter of 1.5 inches at it's widest point. It's easy to store or hide. I would definitely travel with this because of the size and it's definitely my favorite lube. The bottle is fairly discreet since there's no obscene imagery on it like some other unmentionable lubes.

While this lube is gentle, it's very long lasting. After use, it can either eventually absorb into the skin. If it's still slick, it can easily be removed with soap and water. Sometimes the bottle can become slick from it getting on my hands. When this happens, I just wipe it down with my Eden wipes and it takes care of the problem.

I really love this lube and I highly recommend it. Like mentioned above, it's hypoallergenic and very gentle on the skin. So, if you've had problems with previous lubes, this might be your answer.
This content is the opinion of the submitting contributor and is not endorsed by EdenFantasys.com

Thank you for viewing
ID moments silicone
– lubricant review page!