LoveGel?
This one can has everything you need to go from massage to hot, steamy lovemaking. As a massage oil it is top notch and as a silicone lube it ranks up with the best of the best. It looks great sitting out on a dresser or bed side table.
Published:
Pros:
Long lasting, good massage substitute, washes away clean
Cons:
None
Ok So I know I love pretty much all things Fun Factory but the claims they made directly on the container had me wondering. "BodyFluid is an ultra rich silicone-oil-based love gel. It is ideal for sensual body massages and for love. Latex-condom safe"
Quite a few claims to prove or disprove, so let's get started! First of all BodyFluid is, of course, made by Fun Factory. It arrives in a red metal container that is very discreet. It has a pump top dispenser that also has a removable plastic piece that prevents the pump from being activated while traveling or rolling around in a drawer. Unfortunately, mine got lost one night after play. For the price you get 3.4 fl. oz of product in a container you won't mind sitting out on your dresser or beside the bed.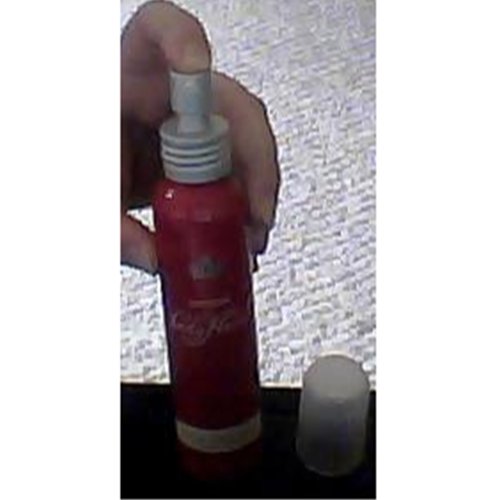 Now, on to the claims: Toy Factory says this is a silicone-oil based love gel. The ingredients listed are: Dimethicone and Dimethiconol Cyclomethicone. I don't see a whole bunch of oil here but I'm not gonna hold that against Toy Factory because oil based lube is not so good for the Lady Bits! All in all the ingredients say this is a really good silicone lube.
Judging by the ingredients this silicone lube is definitely condom safe.
So far so good but is it REALLY a good massage product? When we tried it out it was as a lark one night when Sigel was in really bad pain from his ankles to his knees. I uncapped the product and couldn't get the plunger down! I took a closer look and realized I had to remove the plastic spacer. What an amazing idea! No longer would losing the top of the bottle mean lube being squirted all over everything! Unfortunately, as I mentioned, the plastic piece went; missing but we have managed to keep the plastic lid. With either spacer or lid the bottle is spill proof.
Anyhow, back to the massage, I squirted a good couple of pumps into my hand and the silicone began to melt into a lovely medium thick gel.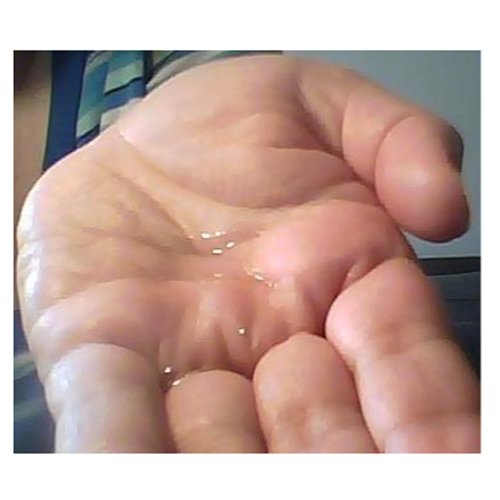 In the picture that is two pumps worth of product and a few minutes of melting. This is roughly enough product to cover evenly a whole leg of a person of medium build and approximately 5'8" tall. This amount, evenly spread, will provide all the surface you will need for hours of deep tissue massage. I am not joking or exaggerating! This was all the product I used per leg and I did not need anymore for the entire night or at least two hours per leg. The average bedroom massage is going to go on all night with very little product used. Now on surfaces that tend to draw in massage oil, such as the back, belly or buttocks it will soak in a bit further than the skin on the legs but I found that it was a minimal difference and just a bit of product goes a long way. This is an excellent massage oil substitute!
The product will wash away with a hot shower and some soap and the user might feel like it's necessary as the product stays viable for such a very long time. It will stain cotton sheets but the stains are gone after washing. Still, the user might want to put down a fluffy towel or a
throe
. After a nice hot shower you will have soft skin and a lovely glow.
Now to test whether this is good for love! Generally I use water based lube for vaginal use and silicone for anal play. One night due to some hormonal problems I noticed I had some trouble maintaining lubrication so I suggested Sigel break out the BodyFluid. We used a double pump and quickly realized that was the perfect amount. After we were through he gave me his assesment by gasping, "That was AMAZING!" I didn't notice any drying, caking, or worse bacterial infection which I, personally, am prone to. It washed away easily, though admittedly, not as easily as water based lube, but not terrible either! My skin down there was smooth and silky and I started to wonder if I had been a bit silly not using silicone all along.
Then a few days later I decided to try the BodyFluid for anal play. As I figured it worked just fine though it wasn't as thick as some products actually made for anal play. I didn't need to reapply often and it really smoothed things along.
SO, after trying out all the claims made by Fun Factory I have to say they either met or exceeded my expectations. This demanding customer was very impressed and will be ordering more in the future!
Experience
The user should take care when using this in the shower as it doesn't lose it's slipperyness easily and on ceramic it can be deadly. Most accidents happen in the bathroom so be very careful. Also if you use the product on the soles of the feet, which it is fabulous for, by the way, be sure you put socks on the feet if you have non-carpeted floors. This stuff will make the soles of the feet slick as all get out.
Follow-up commentary
9 months after original review
Bodyfluid continues to be my favorite silicone lube and unscented massage oil. It is soothing to keloid scars and vagina/anal tissues. A little goes a very long way and this product gives amazing value for money.
This content is the opinion of the submitting contributor and is not endorsed by EdenFantasys.com

Thank you for viewing
Bodyfluid
– lubricant review page!