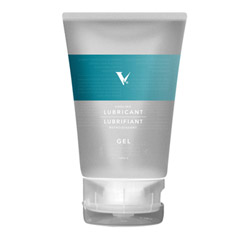 V Cooling Gel
Lubricant
by Icon Brands
My "V" is Quite Content
What a wonderful, covers-all-the-bases lubricant! It's water-based, good for the most sensitive of skin, has a light and refreshing cooling sensation, and lasts plenty long for your lovemaking. This luxurious lubricant has brought contentment to my "V".
Published:
Pros:
Paraben-free
Water-based
Good for sensitive skin
Packaging information
Cons:
Messy bottle
Not the strongest sensation
The Basics
This is a water-based lubricant with added sensation to cool and tingle. And while the best anal and oral lubricants are also water-based, I certainly do not recommend any sensation-causing lubricants for either. It could burn your bum or numb your mouth, neither very sexy and run the risk to end your love session early. So I would stick to genital sex, stimulation, or masturbation.
Throughout this review I want to compare this product with others that I have used as I see this as a mix of multiple types I already own. The strength of the cooling sensation is greater than
System JO Clitoral Gel Mild
but it's less than
Cleopatra's Secret in Mentol
. But how it differs from both of those is that this can function as a very good quality lubricant. Those two are merely for sensation (and flavor for the Cleopatra product) and can't function at all as something to reduce friction. So the cooling sensation strength may not be all-powerful but it's definitely there and feels lovely for the rest of the play session.
The Details
The viscosity of the liquid is middle of the range, for me. It's not near as thick as
Maximus
, another water-based lube, and it's not as runny as, say, a massage oil. It does tend to drip, run, and slightly melt with body heat. But unless you use a whole lot, it's not likely to create a huge mess on your bed (carpet, couch, blanket, etc.). Just make sure you don't pour out a whole bunch, thinking you'll need it, and end up with a big, squishy mess. (And I have the gel, not the 'liquid' consistency of the lubricant.)
The smell, thankfully, is virtually non-existent unless you put your nose in it. And even then, it's merely a light lubricant smell. It's not not like getting a whiff of a chemical plant at all, like some cheaper lubricants are. And the taste is surprisingly the same. Not that I swallowed a spoonful of it or anything.
(And as chemical-free as this stuff is, it's not specifically designed or consumption so don't go out of your way to ingest it!)
I did taste just a bit of it for everyone and it wasn't at all unpleasant.
And though I do appreciate both the smell and taste (or lack thereof), I do argue with them that there's anything wrong with menthol. I happen to like it...
Performance
So now we get down to the stuff you really want to know. How long does this stuff last on your skin? For me, it outlasted my average play session. Granted, I didn't have a marathon session but I still never had to reapply in an hour. It never got gooey or sticky, which feels superbly nasty if it's ever happened to you. It warmed up to my body temperature very nicely and got silky, slippery, smooth.
I did fall asleep without washing it off a few times. And as much as I was wanting to get rid of the wet, squishy sensation I was experiencing, I was too tired to do it. But thankfully it does set into the skin quite nicely. I wasn't gross feeling in the morning and it was a snap to wash off what tiny bit remained on me by morning merely with running water (which is also why this is not the lube for water sports).
Experience
The Ingredients

Purified Water, Propylene Glycol, Vegetable Glycerin, Hydroxyethylcellulose, Polysorbate 80, Honeysuckle Extract, Menthyl Lactate, Menthol.

And why it matters: This lubricant is paraben-free, non-staining, colorless, fragrance-free, dermatologically tested, safe for sensitive skin, and hypoallergenic. And yes, those things matter when this stuff may be going into your body on a regular basis. Any area of your body protected by a mucus lining also has pathway into your insides so you should take care of them.

The Packaging

It actually comes with a large paper book of information! A+ for being informative and having attractive advertising for their other products! Honestly, companies don't go through enough effort for their lubricants considering it's second to condoms in how often it's purchased (as far as sexual aids). And as tempted as I am to quote the whole thing, you'll just have to get the lube yourself. (Oh and it's made in the U.S.A. as well!)

The bottle (or squeeze tube, rather) on the other hand needs a little re-modeling for me. Unless you plan on being completely naked so that you don't have to angle around clothes and unless you only want to use a single drop or two, things will most certainly get messy. The first time I used it, it was pitch black in my room and I didn't know until it was too late that I poured a whole handful out. Yikes. It's an absolutely beautiful design and looks as high-class as fancy hair gel or face cream but it sure is messy.

The Bottom Line

In conclusion - I really like this gel. It may not be the thickest, the strongest, or the easiest to pour but it feels totally magnificent, it's completely body-safe, it covers multiple categories of lubricants, and I feel pampered to have gotten so much information and care from this company.
This product was provided free of charge to the reviewer. This review is in compliance with the FTC guidelines.

Thank you for viewing
V Cooling Gel
– lubricant review page!