Pjur happiness in a bottle
A luxurious lubricant great for intercourse, masturbation and massage. The spill-resistant cap makes this perfect for those romantic holidays and the discreet and unremarkable design will keep prying eyes away and your sex life private.
Published:
Pros:
Luxuriously silky lubricant. Hydrates and softens the skin. Spill-resistant bottle. Very discreet.
Cons:
Screw cap can easily be misplaced. Lid offers less control than a pump dispenser would.
Like many other sexual lubricants, my Pjur Basic Silicone arrived covered in clear plastic which had a thin corrugated tear strip down the side to enable easy removal.
The bottle employs a simplistic colour scheme (black, white, gray and yellow) and there are no images on the label, only font, and such an inconspicuous design helps make this a very discreet product. If I glanced at this in the bathroom at a friend's house I would probably assume it was a small can of hairspray or men's shaving gel, not a sexual enhancer. The writing on the label, which is translated in 5 different languages, is also quite careful to avoid revealing the sexual nature of the product and describes it as being 'for massage and moisturizing'.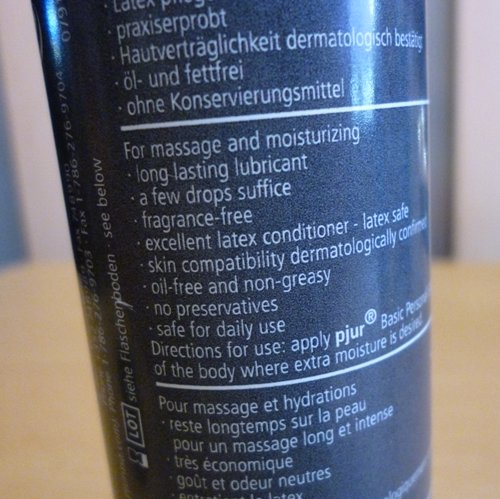 This bottle of lubricant is travel friendly and fits quite nicely in your hand. It measures 5.5 inches tall, has a circumference of 4.5 inches and a diameter of 1.25 inches. This is a fairly small size for a 100 mL container and to show you what I mean here is a comparison picture which features the Pjur Basic Silicone between a 100ml bottle of Durex Tingle and a 50ml bottle of Durex Feel lubricant. As you can see there is not much of a difference in size between the Pjur Basic Silicone and Durex Feel, even though the Pjur holds twice as much volume.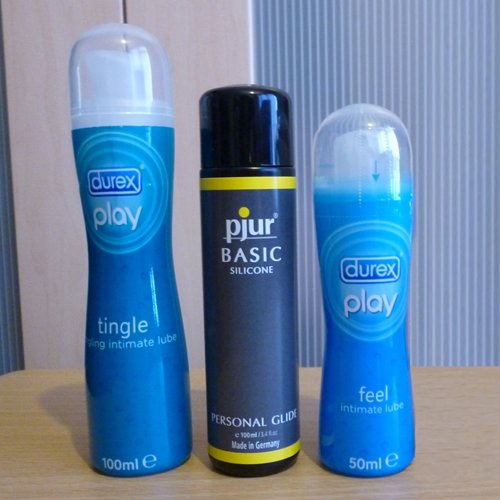 The bottle opens via a screw cap. It has an orifice reducer built into the lid similar to those found on some bottles of essential oils which slows the flow rate of the liquid. This helps minimise the risk of accidental spillage which makes this an ideal lubricant to opt for when travelling as it is unlikely to leak in your suitcase. To pour the lubricant, turn the bottle upside down and let it slowly drip out of the opening or carefully give the bottle a slight squeeze to increase the speed of the flow.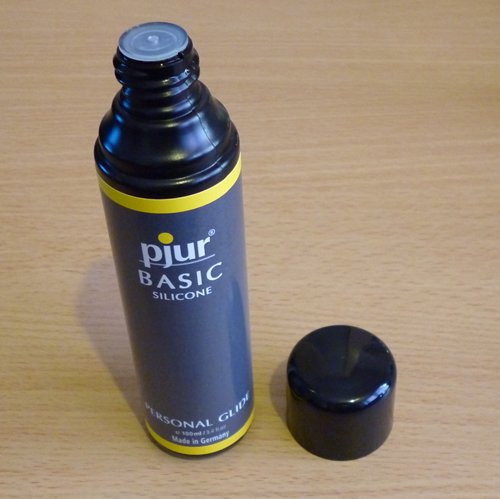 Pjur Basic Silicone is a very thin, light lubricant which has a smooth consistency and is completely odourless so no nasty smells to worry about spoiling your mood. It's also safe to use with latex condoms but not silicone condoms or silicone toys. Unlike water-based lubricant which is ineffective in water, this can be safely used in the bath or jacuzzi.
Experience
This was sent to me by EdenFantasys as my first ever review assignment and I cannot express how glad I am to have been given the opportunity to test this product out. Silicone lubricant isn't something I normally bother with as it's much more convenient for me to purchase water-based lubricants since they are compatible with most sex toy materials. But as soon as I felt Pjur Basic Silicone drizzle onto my skin I knew this was a lubricant like no other. Rubbing it into my skin provided the softest, silkiest sensation I have ever known. It works wonderfully for massage; I find that massage oils often leave a greasy residue behind which makes me feel unclean but this lubricant absorbs into the skin really well and with no tackiness whatsoever and makes my skin feel almost like brushed velvet.

I haven't had any opportunity to use this during intercourse yet (the woes of long distance relationships) but whilst using it with my non-silicone sex toys, such as a glass dildo and a plastic bullet, it glides very smoothly and because only a small amount is required it feels natural and less artificial than some other lubricants.
Follow-up commentary
1 month after original review
I've now had an opportunity to use this lubricant during sex and I'm pleased to say it really met my expectations. I started by applying some to my boyfriend's penis and stimulating him with my hand. He was instantly impressed by how smooth and silky it felt. Then we made love and this lubricant certainly proved itself to be the best we have ever used. It felt very natural and clean as it absorbs so well into the skin. I will definitely be trying other products by Pjur in the future.
This product was provided free of charge to the reviewer. This review is in compliance with the FTC guidelines.

Thank you for viewing
Pjur basic personal glide
– lubricant review page!