Slippery When Wet, But No Tightening
This product didn't work, which was a bummer. This gel is 100% Vegan, and there were no animals harmed in testing. It can also be used a wonderful lubricant, since it is very slippery and can easily be applied. It also doesn't take but a real quick second to clean up. It was just disappointing that it doesn't tighten, but it is a great lubricant.
Published:
Pros:
100% Vegan, No Animal Testing, Slippery, Not Runny, Easy Cleanup Used As Lube
Cons:
Didn't Tighten, Needs A Fragrancy Smell
About
This vaginal tightening gel is made by California Exotics.
Somewhat interested in this gel, I was ready to use it when I came in from work. I was a little skeptical, looking at this and really believing it would tighten up the vaginal muscles. I do believe that kegel exercisers work, but a gel that could do this just gave me questions. Unlike the kegel exercisers, where you have to squeeze your vaginal muscles to tighten them, this gel is just supposed to be applied a few minutes ahead of time, and "Bam" your muscles are supposed to be tight. Now, does this really happen? Well, you'll just have to read a little further....oh the suspense. Who doesn't love the easier way to do things?
Before moving on, I have one more thing to point out and will explain this a little more in the ingredients section. This product does contains glycerin, aloe, and menthol. So if you have an allergy to any of those ingredients, I would advise not using this product.
Instructions
This bottle has some instructions on how to use it, but they're not specific on the amount of time you are supposed to wait after applying. The instructions are very simple to follow: "Apply to vaginal tissue and allow several minutes for sensation." So, what did we do? We applied and waited approximately five minutes before any testing (queue song from Jeopardy)...Now we are about to try it out, but first I have to give a little more explanation. Sorry folks, I know the suspense is killing everyone.
Smell? Taste? Viscosity?
I'm gonna wrap this section all into one, because I know everyone reading wants to know...did this work? Back to the this section, though. There is a slight smell to this; it reminded me of everyday-use hand sanitizer. The next question: is there a taste? I don't know - it smelled like hand sanitizer, and to me that is enough not to taste it. Moving on, this gel isn't too runny; it will stay in place until you are ready to spread it around. It isn't sticky. When applying, it's very simple. The bottle has a push top, like hand soap, that makes it very easy to control the amount you apply. It also spreads around very easily, and it doesn't leave a greasy feeling. After spreading this around, it does leave the wet hand sanitizer feel on your hands. It almost gave me at the impression of a lube, and that is a question we will answer in a second also, but let's get to the real question. Do I need my kegel exercisers anymore? Or did this really work?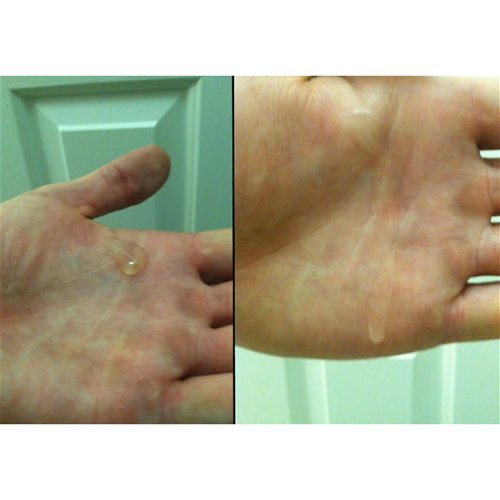 Did It Work?
Now, I know this is the question everyone has been dying to get the answer to. Did this work, or do I still need those somewhat expensive kegel exercisers? No! Unfortunately, this did not work at all to tighten the vaginal muscles, but I'm not counting this out yet. It is very slick and applies so easily that it could be a wonderful lube. When we started to have sex, after applying it, there was definitely no need to even get my wife wet. This made play time very slippery, which was fun, and it could easily be used with any type product. I am going to talk a little bit more about the experience in that section.
Clean Up
This gel is very easy to clean up; a little water and it goes right away. There is no big need to take a shower, except for just wanting a little cleanliness after sex. If you do decide to use this as a lube, it would take no more then water and soap or a wipe to clean the toy.
Packaging
This came straight from the shipping box and was dropped down inside. It didn't come out of any packaging box made from the company. There are some instructions on the bottle, but they are lacking in the area of how long the wait should be before trying. The bottle we received has 1.6 fl oz, or 47 ml, of gel. It also states that it is a fragrance-free, sugar-free, pH balanced, tighten-up gel that restores youthful tightness. Also it is 100% Vegan, and no animals were harmed in the testing of this product. It is discreet and has no real indications that would set off any suspicions.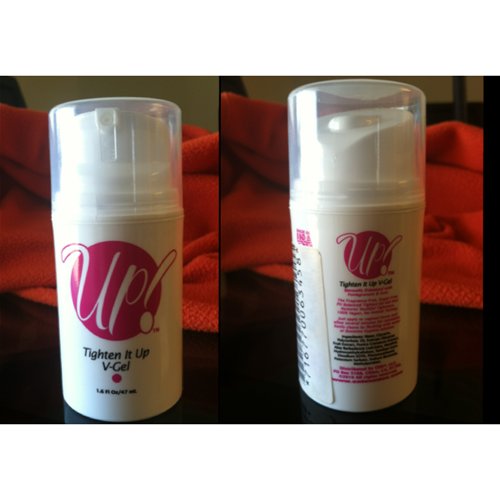 Ingredients
As I had said earlier, there a few things to watch out for in this gel. Aloe, Glycerin, and Menthol are few notable ingredients that can cause irritation or allergies.
List of Ingredients:
Water
Glycerin
Polysorbate 20
Euterpe Oleracea
Fruit Extract
Punica Granatum
Aloe Barbadensis
Menthol
Hydroxyethyl Cellulose
Xanthan Gum
Disodium EDTA
Phenoxyethanol
Potassium Sorbate
Sodium Benzoate
Methylparaben
Experience
So, for this gel, I'm going to give it a three out of five stars. The reason is, even if it doesn't tighten for you, it will make a great lubricant because it's very slippery. It worked very well as a lubricant, if you were completely dry around the vaginal area. If you were to apply a little of this gel, there would be no problem inserting the penis or a toy. Unfortunately, the tightening part of this gel just doesn't do anything. I don't know if maybe it requires a longer amount of time to soak in, or if it just doesn't work. I think they should just take out the ingredients that are supposed to tighten and replace them with ingredients that would make this an over the top lubricant. I don't recommend buying this for tightening of vaginal muscles, but as a lubricant I will continue to use it.

One other thing I would like to mention is when you get this, you pull the little plastic tab out that is in the hole where the gel comes out. Make sure you are ready. I think there is some built up pressure that forces a little gel out. After that first time, though, it hasn't happened again.
Follow-up commentary
4 months after original review
Makes a slippery lube, but doesn't provide any tightening. We haven't used this since the initial time. I do not recommend at all.
This product was provided free of charge to the reviewer. This review is in compliance with the FTC guidelines.

Thank you for viewing
Tighten it up v-gel
– clitoral gel review page!