Smells like peaches, tastes like strawberries...huh?
Wendy Williams Salad Tossing spray is an easy way to add some new flavor to your body licking enjoyment. Spray it on and let you tongue go wild; neck, nipples, belly, penis and of course ass, all can be licked to your hearts content. You even get a little bit of glimmer to add to the oral stimulation. Smells great and tastes even better.
Published:
Pros:
Easy to use, Good flavor, A little goes a long ways.
Cons:
May cause allergies, Glitter to small to see easily, Should not be use on lady bits.
For some folks, the taste of your partner's skin is an aphrodisiac, but sometimes a little sweet flavor is a nice way to change things up. This spray on, water based lotion by Doc Johnson, is a nice addition to your oral fun. It comes in two flavors, strawberry and candy. For use, simply spray it onto the body area of your choosing, let is dry/absorb into the skin and lick away. I would advise against using it on the face, due to the glitter, that might not feel good in the eyes. In addition, it is not a good idea to use on the vagina; the sugars (sucralose) are like fine dinning for the yeast-beasties.
You get 6 fl.oz (177.44ml) in a 7 1/2" tall plastic bottle (Recyclable #1).It has a thin plastic wrapper that has a gal (Wendy?) dressed in lingerie holding a few strawberries above the name. The sides have some info on use, the list of ingredients and copyright information. In side the bottle you will find these ingredients; Water (aqua), Glycerin, Flavor (aroma), Sucralose, Benzophenone-4, Mica, Titanim, Dioxide, Diazolidinyl Urea, Sodium Benzoate, Potassium Sorbate and Red 40 (ci 16035). The pump action spray top is just like you would find on a hairspray bottle, it also has a cap for storage and to guard against accidental spray when stored in a bag.
While it does indeed taste like strawberry, both the wife and I think it smells like peaches. Either way it has a nice fruity smell and the taste is not overpowering. When applied it is very thin, just like water, so it will run all over the place. Good thing we have a
Liberator Throe,
due to the color it may stain the sheets. We found the best way to use it is to apply after a shower, dry off and spray while you are still in the shower. It takes a few minutes to dry and then we are all set.
It has a fine glitter (Mica) added to it that adds a bit of glimmer to the area it is applied. When I say fine, I mean FINE! The glitter is smaller that sugar grains, almost like a powder. You can see it floating around in the bottle but not so much on the skin. It takes just the right angle and light to see it. Really though, while that adds some allure to the product, your tongue does not care about glitter. The glitter will settle down to the bottom during storage, you can use it like this and possibly get some more glitter to come out or shake it up. For best long term/consistent results shake before use.
A pic showing the glitter on the bottom of the bottle, see how fine it is?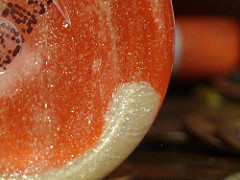 We did not feel any need to wash it off after use; it dries completely and does not leave the skin sticky. It could very well be we licked it clean off, but while writing this review I sprayed some on the back of my hand to test this. Nope, not sticky. :)
Experience
I will start this section off by saying that there is no "Tossing salad" in our house. The wife's ass is a "No trespassing" area and it is only a fantasy for me to have her tongue anywhere near mine. Sad, but true.

We did use it for all other areas, with pleasurable results. Using our Throe, we like to spray it on whoever is on the bottom on the chest/stomach area heavily and then rub our bodies together to spread it around. We then take turns licking and suckling until it is gone. I have even placed the bottle in the refrigerator to cool it down; this feels really good on hot days. I am thinking it could be warmed in a bowl of warm water for the winter months as well.

We found it good for oral; the wife does not really like flavored lubes due to the strong taste of most of them. She said this spray was light in enough in taste not to bother her much. For her I just sprayed a bit above her pubic hair and then used my fingers to rub a bit on her clit as needed. She has never had a problem with yeast infections using chocolate, whip cream etc. so we were not too worried. Still, I was careful not to get too much around the vagina.

So, should you try it? Well, why the hell not? There is nothing wrong with adding flavor to an already pleasurable bit of foreplay. The aroma is nice, and the taste is just great.
This product was provided free of charge to the reviewer. This review is in compliance with the FTC guidelines.

Thank you for viewing
Wendy Williams salad tossing spray
– lubricant review page!