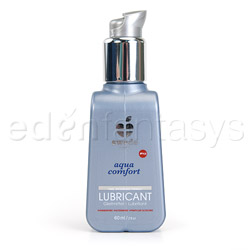 Swede aqua comfort
Lubricant by Swede Global
Swedish For Common Sense
Swede Aqua Comfort is a sophisticated, quality, water based lube. It's pH balanced to match the vagina, and its ingredients are top quality and body safe.
Published:
Pros:
AN excellent lube that is very slippery, decently thick, and is made of body friendly ingredients.
Cons:
Does not "recharge" with added water.
The world of lubricants can be an intimidating and scary place. With literally thousands of different formulations out there, all promising to be the best at something, it's really hard to decipher what's really a winner product. Water based lubricants are "universal", in that they are compatible with all materials and sex acts. But not all water based lubes are the same, and formulations vary immensely.

Swede Aqua Lube is a wonderful example of a water based lube done right. Examination of the ingredient list reveals that the makers have avoided any irritating or yeast infection causing ingredients – going as far as using food safe preservatives, not just standard cosmetic ones. This lubricant should be compatible with even the most sensitive of pink bits. It is pH balanced to the natural pH of the vagina – 4.5 – so it is supposedly extremely respectful of the natural balance, striving to keep everything happy and natural while providing a shot of slippery. Additionally, Swede Aqua Lube dries down to a soft finish, leaving no sticky residue behind – meaning it won't cause chafing if things get a little too hot and heavy.

As water based lubes go, this one is quite slick, lasting longer than average. It does not, however, revive all that well with a shot of water – it tends to simply absorb into the skin, leaving a moisturized, soft surface behind. Thus, this lube is not a great choice for anal sex, and those who need a fair amount of lube thrown into the mix to keep things slick may prefer a different lube with better revive-ability. The lube is thick enough to stay where placed, but still is thin enough to drizzle. It comes in a tidy little pump-top bottle, with a sturdy cap that prevents lube accidents in your toy bag. It has no flavor at all, not even a funny residual je-ne-sais-quoi lube-y flavor.

A quick run-down of the ingredients and their purpose:

Humectants (the slick and slippery stuff):

Deionized Purified Aqua – water, of course, and the basis for the lube
Hydroxyethyl urea – A moisturizer that is used instead of glycerin. It's not sugar like at all, so won't contribute to yeast infections, but it's as smooth and slippery as glycerin.

Thickeners:

Guar hydroxy propyltrimonium chloride – A gelling agent, affectionately known as guar gum.
Ceratonia siliqua – Otherwise known as "Carob". This too acts as a natural thickener.
Carboxymethyl cellulose – this is a plant starch, that also gels and thickens the product.
Galactoarabinan – This is another plant starch and thickener, but one with associated anti-wrinkle activity. It's also an excellent moisturizer

Preservatives:

Gluconolactone – reduces the pH of the lube, and acts as a mild antibacterial because of this.
Sodium benzoate – a food safe antibacterial preservative
Kalium sorbate – otherwise known as potassium sorbate. This is a food safe antifungal ingredient.
Follow-up commentary
7 months after original review
I adore this lube. It is one of my standard go to lubes for bedroom play. It is not really thick enough for fisting and it's certainly not my choice for anal sex - but for routine, day-to-day sex? Yes, please.

The pump, however, is a little funny and can be difficult to press with slippery fingers. While I am a fan of pump-top bottles, this one does leave a little to be desired.

Still, al- in-all? A fabulous lube, and my top go-to choice when playing with someone with chemical sensitivity issues.
This product was provided free of charge to the reviewer. This review is in compliance with the FTC guidelines.

Thank you for viewing
Swede aqua comfort
– lubricant review page!