When I'm hot for you and feeling sexy, I grab this lube!
Some lubricants give you a warming sensation, while others taste delicious! Hot + Sexy is wonderful, because it incorporates both! With 5 fantastic flavors in each set, at least one if not all are bound to be your "favorite"!
Published:
Pros:
~Tastes great
~5 wonderful flavors
~Made in the USA
~Not too sticky/easy to wash off
Cons:
~May be too sweet for some
~Contains Glycerin and Alcohol Denatured
I decided to purchase
Hot + Sexy Warming Lubricant
by
Doc Johnson
after my first experience with a similar lubricant at a Passion Party. This water-based lube can be used for several things. You can use it for sensual massage, hand-jobs, with toys, with your hands (solo), or for oral sex. There may be some uses out there that I didn't even think of!
The fun in using a lube like this is that you apply them, rub them in and they instantly heat up. If you continue to rub it in, it gets warmer and warmer. Lick it, and it leaves a warm and tingly sensation, blow on it and it gets hot! Primarily, I use this lube for oral, you know, when I'm not playing around and putting it on my arm to feel it heat up when I blow on it and then lick it off.
Each set contains 5 flavors, which I decided to list in order of which ones are my favorites!
1)Hot Watermelon
2)Hot Cherry
3)Hot Strawberry
4)Hot Vanilla
5)Hot Cinnamon
Each of the flavors minus #4 tasted like candy versions of their name! Personally, they reminded me of jolly ranchers candies! The vanilla, though, I can't quite explain how that one tasted. Maybe like diluted vanilla extract with a whole lot of sugar and an odd almost aspartame-like aftertaste. Nothing personal to the cinnamon, though, because to those who like that flavor be comfortable knowing that it tasted just like it which is why it was below the weird vanilla lube. I do not like the flavor of cinnamon unless it is is cinnamon sugar, and this tasted too much like those "red hots" candies for my liking.
Another note about the flavors is that they are very sweet, and may be too sweet for some! I love things sweet (I put 6 packs of sugar in a cup of coffee, to put it into perspective) so to me, these weren't even close to that level, but to those who put normal amounts of sugar in their coffee, you may not like the taste of these. The aftertastes from each, aside from the vanilla, are only of the initial flavor themselves, no aspartame taste or anything that will make you want to wash your mouth out. Also, they only stay in your mouth for a few minutes.
For oral, reapplication is of course not necessary but the flavor is there for a good while during use. If you have a 10 minute session and use a few large pea-sized drops of this stuff, you should be able to taste it the whole time. For vaginal intercourse, reapplication isn't really necessary unless you plan to go for a longer time than 15 minutes, though spit can reactivate it if it's dried up a bit. For anal, though, I noticed that you have to reapply this quite frequently. Every 5 minutes or so, which puts a damper in things! Hand-jobs and solo or with toys reapplication is going to vary, but I found that the product lasts me through the whole session.
Each lube comes out of the squeezable snap-top bottle as a clear fluid. It is a bit runny, but not sticky. It washes off easily with a washcloth or in the shower, so of course this is not meant for play in the water as it will wash away too easily. With each bottle you get 1 oz of lube, so that's 5oz for the price, and it works very well at that!
As for packaging, the plastic pack the bottles come in is far from discreet, just like the bottles themselves. Both sporting the Hot + Sexy, and the package displaying the company information and description of what the product actually is. Personally, I keep these in my pouch along with my other lubes. When you are finished with the bottles, you can toss them in the recycling bin if you are an avid recycler! The bottles shouldn't really leak, but if you plan to travel with them, you may want to consider a plastic bag just to be safe!
Before I share some photos of the product with you, I will mention that this
does contain glycerin, so those of you with sensitivities or lady parts which do not agree with that ingredient, beware
! This product contains the following ingredients:
Glycerin
, Flavor (Aroma), Mangifera Indica (Mango) Fruit Extract, Carica Papaya (Papaya) Fruit Extract, Ananas Sativus (Pineapple) Fruit Extract, Butylene Glycol,
Alcohol Denatured
, Citric Acid, and Water (Aqua).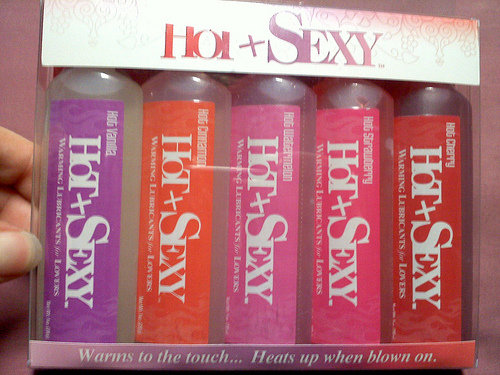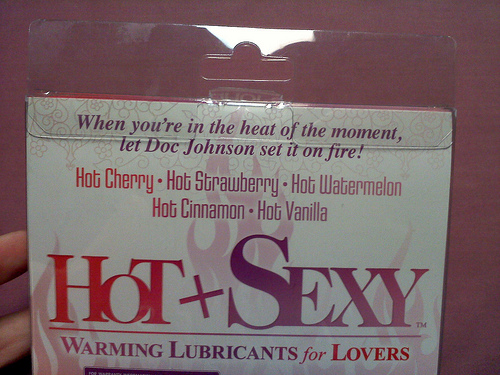 Experience
I think I spent an equal amount of time playing with this lube in general as I did playing with it the way it was meant to be played with. For its intended purpose, my favorite use was placing a few drops on my partner's penis and then rubbing it in, gently blowing on the area and letting him enjoy the sensation before sucking it all off! He joked that because I liked the product so much I might accidentally give him "penis hickeys" with this, and another warming lube I love so much! I also tried combining a few flavors like the cherry and strawberry.

I also spent a great deal of time putting drops on my arm and doing the same as above. Curse you, Doc Johnson for making such a yummy product! 5 out of 5 stars for excellence!
Follow-up commentary
4 months after original review
I ended up liking the Hot Motion Lotion kit more than this, because of the taste of the lubes, but I did finish quite a few of these off with my partner. He doesn't really like the numbing feeling that this product gives him from the warming effect. That doesn't seem to happen with the Hot Motion Lotion as often as it does with this set.
This content is the opinion of the submitting contributor and is not endorsed by EdenFantasys.com

Thank you for viewing
Hot + Sexy warming lubricant
review page!