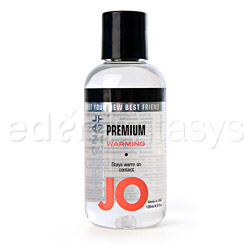 System JO silicone warming lubricant
Lubricant by System JO
You call yourself a warming lube!
I want to agree with the other reviews, but we bought this for the warming element. Overall, JO silicone is a great lubricant, but we doubt its warming abilities. The Mrs. is a chemist, so she has access to chemicals including Capsicum. We may try to add some spice!
Published:
Pros:
Good silicone lube, cleans up well, relatively slippery.
Cons:
Just not spicy enough for us, not the slipperiest.
We love our lubricants, in general we use them for both masturbation and penetrative play. Our sex life has included lubricants for the past 15 years together, so we have come a long way since our first bottle of K-Y. Warming lubes, as well as creams, have been a big help to us over the years, as the Mrs. has had some issues with arousal. In the past, arousal creams added a lot to our sex lives, and since beginning our alternative lifestyle we have needed a lot less of the arousal creams and lubes. We love new sensations, so when we read some of the positive reviews on this warming lubricant we were psyched!

In our experience, we have enjoyed warming products with Capsicum. As you may have read, it's a natural ingredient derived from spicy peppers. We prefer the overall warming vs the cooling effect peppermint has. JO contains both, but Capsicum is listed first; which tells us there is more of it in JO Silicone Warming. Good for us, or so you would think.

In evaluating JO Silicone Warming, one has to first speak about the actual lube. This was our first JO silicone product, we had tried water based JO and found it to be inferior to our favorite water based lube, K-Y mine(of Yours and Mine). The H2O JO felt great but did not get along with the Mrs. internal chemistry. Add that it contains parabens and that puts water based K-Y on top. As far as a comparing Silicone JO, our standing favorite silicone product is Wet Platinum; it goes on smooth and even, it doesn't run too much (staying mainly where you put it), it maintains its wetness for long periods and it's oh-so slippery. When we are finished, it wipes off with a slight residue (normal with silicone). JO, in comparison, is quite slippery but still has that water based feeling when it comes to the slippery factor. It does stay wet for a long time (no difference in between the two products). Contrary to some of what I have read, JO Silicone Warming was really easy to wash and wipe off. It leaves little to no residue when wiped off. It's much easier than that the Platinum Wet, which seems next to impossible to get off your skin even in the shower.

The container that JO Warming came in was a functional short and round bottle with a flip top. It was easy to operate and did not drip when closed. It's a clear bottle, allowing a better idea when it's all gone.
Experience
He says: I have used this product mainly solo, and I am still looking for the warming sensation. I read it was motion activated, so I used quicker motions. I thought it may be activated with water or outside moisture, so I tried that as well. I tried it in the shower (outside of the water) but found it washed off even with indirect water contact. The only thing I didn't try was to add my own Capsicum (and I just may try that). In the end, I just couldn't find the warming sensation. It is possible that after years of using warming lotions and potions that I am desensitized, but I use them sparingly, so I doubt it.

She says: The lube in itself is decent, great for vaginal intercourse (if you're not looking for the warming). As previously stated, it cleans up great, lasts long, and is paraben and glycerin free. In my opinio,n the best warming product would be a cross between K-Y Mine mixed with Wet Platinum, but that's just me. We didn't try it with anal, as we usually use a thicker lube for that kind of activity.
Follow-up commentary
1 month after original review
we have decided to use this product until its finished but we still have very little or no warming sensation. In solo male play it tends to dry quickly and get tacky, it is easily reactivated. For female play a little is all you need, drying is not an issue due to natural enhancement. We are very particular about our lubes, this one is just OK.
This product was provided at a discounted price in exchange for an unbiased review. This review is in compliance with the FTC guidelines.

Thank you for viewing
System JO silicone warming lubricant
review page!