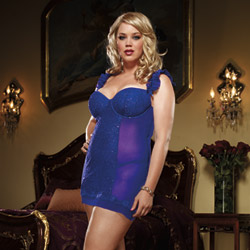 Sequin chemise and thong
Chemise
by DreamGirl
(3x/4x) Boobies Galore!
This is a very comfortable piece that could be elegant on a smaller woman. I love the way it feels and I love the color and the sequins and its even worth the extra work of washing it by hand.

But it almost feels "too elegant" for simply the bedroom. For a larger woman, I'm not sure we can use it to its full potential. I think a smaller gal could wear it clubbing and get more use out of it.

I have mixed feelings so I'm giving it 4 stars because I love it - but have no place to wear it.
Published:
Pros:
Very stretchy, comfortable and feminine
Cons:
Must be hand washed
Delicate due to sequins
What many of you don't know is the "behind the scenes" that goes into these reviews and pictures. When I get ready to take a picture, I'll put on an item (or have help putting it on if it is a corset) and then turn around and have my daughter "help" me get it lined up straight. She's been in several plays and from her experience in the green room helping other actors do costume changes, etc. she feels totally comfortable just reaching around and fiddling with the cups of an item or straightening the hem, etc. If it weren't for her - my pictures would show items crooked and well - anyway. Enough said.
I put this one on for the first time to wear it and play with it and she started messing with the back to straighten it out. As I turned around to face her she cried out "Boobies!" because this outfit really made them stand out.
I have to agree with her. I'm not comfortable with my breast size and feel like they're too large (44D). However, if you like to show off your boobs - this just might be the item for you!
What it is … how to wear it
I'm really new to lingerie and the more I looked at this item, the more I found myself wondering, "How and where do you wear it?" I did a bit of research and found an answer
here
. Basically, it states that a chemise is an undergarment and gives a lot of history about it. I also read a few other sites too.
With that said, I'm not really sure I would call this a chemise. Yes, it is soft like a slip but this is almost like something you'd expect to wear out and be seen in.
I mean - look at those ruffles on the front strap? Could you see yourself wearing them UNDER something else?
I consider this to be more of a sexy short nightgown than a "chemise" based on what I read. But look at the pictures - think about what you'd wear it with and you decide. I suppose that those who are young, brave or live in the city where more is often "exposed" could wear it with some dressy leggings and go clubbing. I mean - why waste all that elegance just for him?
This item is currently sold at Eden Fantasys in: S,M,L, 1x/2x and 3x/4x.
Packaging
This arrived wrapped in pink tissue paper. There was no additional packaging or plastic bag.
Material & Care
This is 90% polyester and 10% spandex and needs to be hand washed in cold water and line dried. This is one lingerie piece where I will not put it in the washer even in a lingerie bag.
Design, Sizing & Fit
According to DreamGirl, I should wear size 18/20, have a 48-54DD breast size, have a waist that is 40"-44" and hips that are 50"-56". I also should weigh between 225 and 275 pounds.
I've recently discovered that I should be wearing tops size 18/20 (as a plus size gal I was hiding in larger clothes). I wear a 44D bra, have a 49" waist and 57" hips. I currently weigh 265 pounds.
This means that this item is going to be a bit tight on me and might ride up a bit (just based on the measurements).
As you look at the pictures at the end, please remember that my torso is 18-19" and if you have a longer torso, this will be shorter on you.
Specific Measurements
center top of front to hem
23"
top of cup to hem
26.5"
width of front
almost 18" under cups and almost 25" at hem
cup width & length
10" across & 7" long in middle of cup and 10" long at the longest part
strap length
unadjustable ruffled 9" in front and adjustable 4-8" in back
G-string/thong description
thong is 19" long by 5" wide at widest part - 5" long soft lining in crotch
Close-up photos
Close-up of cups: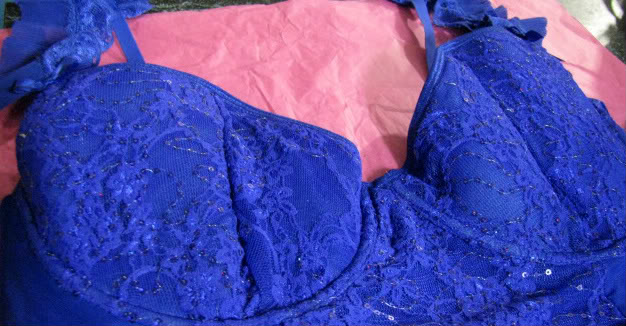 Ruffled strap: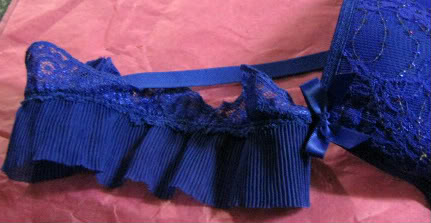 Ruffled bottom of front (which is not hemmed due to the lace) - about 2.5" long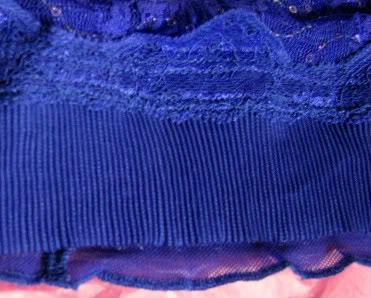 Hem on the back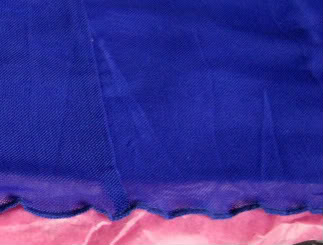 Thong: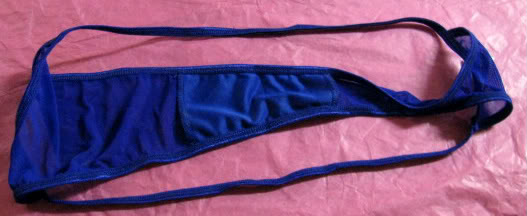 Modeling the Garment
Front: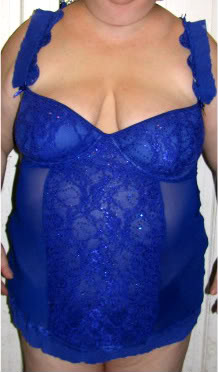 Side: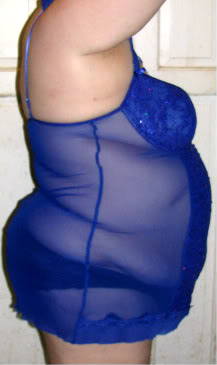 Back: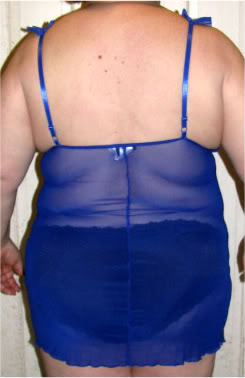 Breast Support: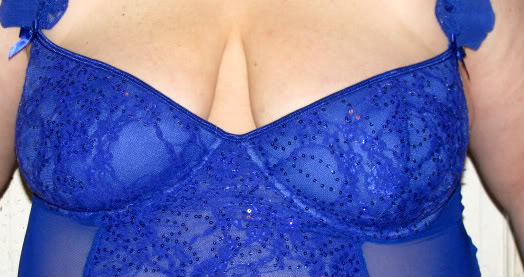 Experience
Comfort

I really struggle with how to describe this piece. I love the way it feels on my body and it makes me feel sexy. I love the blue color because its hard to find something for a larger size woman that isn't black or red.

I love the quality of the item and even the sequins.

But somehow, I feel cheated. It almost feels like DreamGirl wanted to design something that would be dressy enough that a gal could wear out clubbing and then come home and have sex in and still look great. The only thing is - for a plus size gal like me - its "too" dressy.

There's no place I could wear it other than the bedroom and its almost too pretty to just wear there.

I guess what I'm trying to say is - if you're a younger woman and you go out and would wear stuff like this with leggings or under a shrug or something - then this piece is great. If you're looking for a special something to wear in the bedroom for New Year's Eve or a special date (maybe the first time with someone) - then this is great.

But for the everyday "I want to feel sexy here at home" and "I want to have sex with him" - this is just a bit too much for me.

Maybe when I lose another 25 pounds, I'll feel differently.
This product was provided at a discounted price in exchange for an unbiased review. This review is in compliance with the FTC guidelines.

Thank you for viewing
Sequin chemise and thong
review page!