I Feel Pretty (in Bright Blue)
A super sexy, bright bedroom piece that can pretty easily transition to night-on-the-town attire, this chemise set is pretty amazing. The color is shocking, the details stunning, and the fit divine. It's comfortable and pretty all in one! I adore this unique piece.
Published:
Pros:
Comfortable
Plenty of breast support
Stretchy
Cons:
Transparent panels
Lace and details can be delicate
Hugs curves - can be unflattering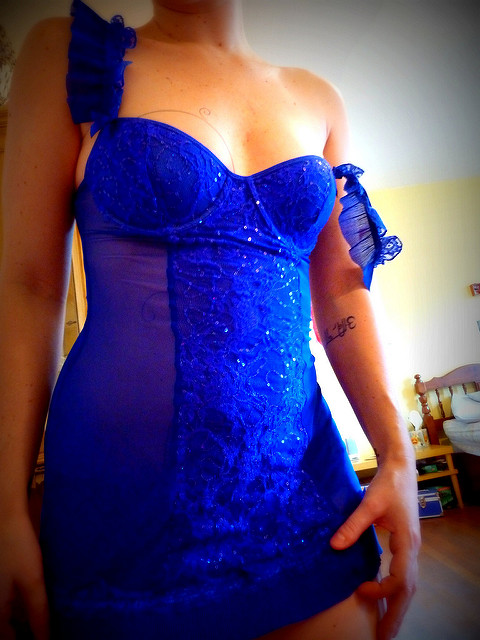 DreamGirl, come rescue me. Take me up, take me down, take me anywhere you want to baby. I need you so desperately, won't you please come around? 'Cause I wanna share forever with you baby...
(Thank you for indulging me in that.)
So I really love this chemise by DreamGirl. And Mariah Carey. Even if she did fuck Eminem and lie about it.
Sequins, tits to the sky, deep royal blue, a little peeky cheeky, delicate sleeves, and I'm in heaven. I have very few qualms with this chemise, and that's saying something.
Running in sizes small through 3X/4X, this chemise and thong set has something for everyone. It's going to highlight any bulges in the stomach area, and your thighs and arms will show, so be sure you're confident with those body parts before purchasing this. Your chest will be supported, however, so there's that.
This set came wrapped in pink tissue paper, courtesy of EF staff, with a simple tag attached, and that was all. Don't rip the tag off now, because you'll tear the somewhat delicate mesh material. Just use some scissors, Miss Impatient.
The first thing I noticed when this arrived was how off the color was! It's listed as 'sapphire,' and shows up as purple, purple, purple. But as you can see from my photos, it is blue as blue can be. Ain't a trace of purple in this set! No sirree.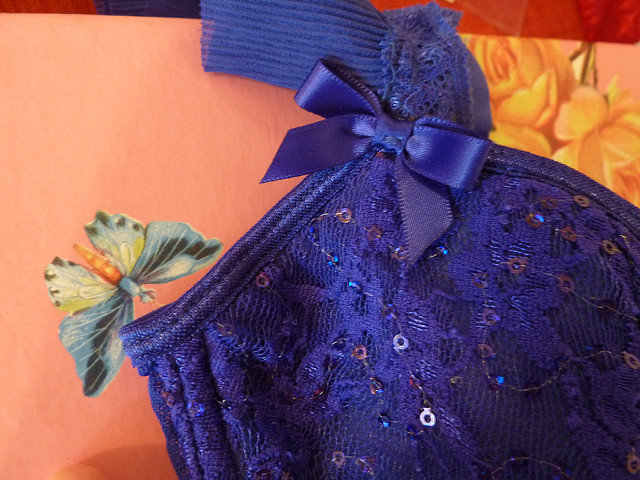 After noting the major color difference, I began admiring the details. Round sequins create a snake-like trail, swirling across the flower-lace pattern that adorns the cups, front of the sleeves and front panel of the garment. Tiny satin bows dress up the straps and add a little flare. The front is hemmed in lace and a length of almost fringe-like material. The back is hemmed in a way that makes it ruffle slightly, but lacks the elegance of the lace applied to the front. The rest of the piece is rather transparent blue mesh.
The sleeves are only half-sleeves; the backs of them are adjustable standard bra straps. This was disappointing to me. Though it was nice to have the versatility of adjustable straps, I really wanted the visual allure of the ruffly sleeves to carry through to the back of the garment. Too many lingerie pieces are elegant in the front and completely plain in the back. This is another case of the same.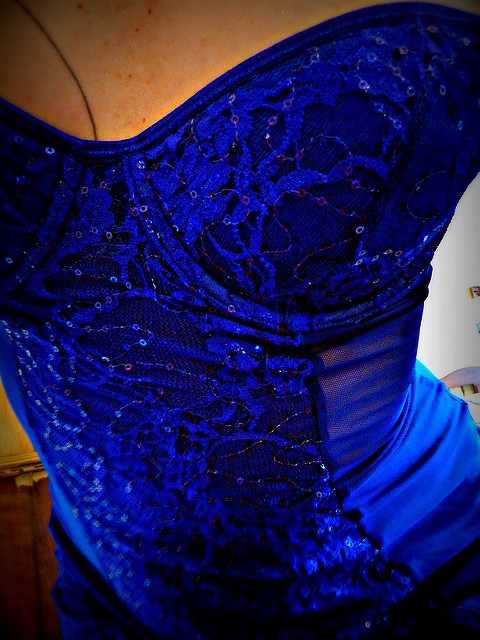 The cups are lightly padded and feature a soft sort of underwire, which is great for breast support, and surprisingly was rather comfortable. My 34B breasts did just fine in these, and were quite flattered by the lift the top provided.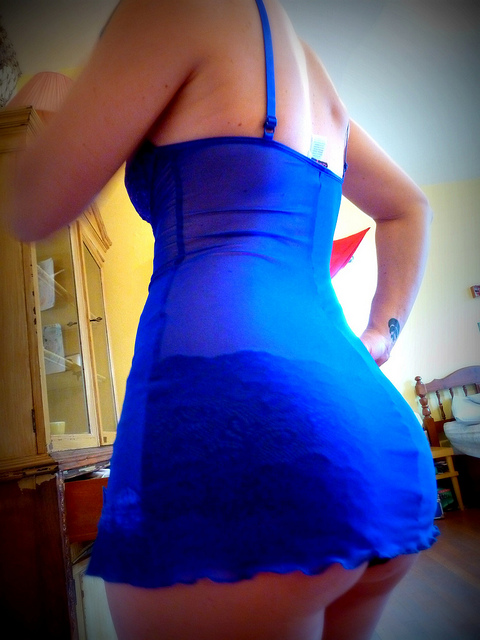 The hem
mostly
covered my ass cheeks, which was great. So many pieces intended to cover the ass are way too short, and I just despise it. It's much more appealing to tantalize by hinting at one's sensuality instead of baring it outright, if you ask me.
Experience
Comfy, comfy! The mesh on the side-panels feels silky and sensual to touch. Comfort is so important to me in my lingerie. I could just about wear this to bed with no worries, except the underwire in the bra might bother me. But that's only because I'm so sensitive to such things. I almost never wear a bra.

My size 5-7 dress torso did just fine in the chemise as well. In fact, I'd like to admit that I think I look pretty damn hot in this. It flattered my curves, though my tummy was a little highlighted by the tight, stretchy nature of the polyester/spandex blend.

I ordered a small, and it fit just fine, which is surprising. Lately I've been wearing a medium more often. I've gained ten pounds... oops. But the piece is plenty long enough, features adjustable bra straps, and is of a stretchy material. I recommend ordering your normal size with this one.

The thong that came with this is the same blue as the lace panels here, but plain mesh. It does feature a cotton liner - go DreamGirl! I despise thongs, however, and therefore won't be modeling it. Sorry!

The tag at the back states that this is 90% polyester/10% spandex. It really needs to be handwashed in cold water and line-dried, due to the delicate nature of the embellishments used to brighten up the piece. Sequins are pretty, but fragile.
This content is the opinion of the submitting contributor and is not endorsed by EdenFantasys.com

Thank you for viewing
Sequin chemise and thong
review page!