(3x/4X) Love the Robe - babydoll sucks!
While I don't care for the babydoll at all, at my size it is hard to find a sexy robe in bright colors. I have searched online to see if I can find another robe at the same price ($22.99). I can't find anything for this price. So if you're looking for a robe and willing to pay this price and won't be upset at tossing the babydoll then this is a nice set. However, if your heart is set on a 2 piece outfit that will go together, continue looking.

The 4 stars are for the robe alone.
Published:
Pros:
Gorgeous colors
Robe is very comfortable and pretty
Cons:
Cheap fabric
Wrinkles easily
Babydoll design not great
My husband likes to tell the story of how one couple worked out when they would have sex. It seems as though the man had a hat and every night he'd throw it on the woman's bed (this was back during the "two beds in the bedroom" era). If she threw it back - then there would be no sex that night. If she brought it back - woo hoo! The man knew it was playtime and she was interested.

He would share this story with me and say, "I wish there was some way to know when you're interested in sex because I hate wondering." Thanks to these robes, now my husband can know as soon as he walks in the door if I'm interested because the red and purple colors of my two sets scream out "sex tonight" even from across the room. Needless to say, my husband not only loves these robes but he especially loves it when he sees me IN them. That's right - he's figured out how to "get the message" that I'd love to play.

I ordered these sets because I wanted something that would be bright and shiny since I have mostly darker colored lingerie. According to DreamGirl's chart, the 3x/4x size seemed like it would be a perfect fit. Its designed for gals in sizes 18-20 with 48"-54" DD cups. The recommended waist is 40"-44" and hips should be 50"-56". I knew I was a bit large in the waist in hip size since I have a 49" waist and 57" hips, but I often find that does not matter with gowns since they just hang down and often aren't too tight.

Both sets arrived folded up in pink tissue paper. The red set actually had a padded red hanger but the purple set did not. I must admit I was a bit disappointed with that because I love the purple color and would have loved a hanger to match the set. Made in China, these sets are crafted of 100% polyester. However, this is not a soft polyester that is soft and drapes nicely like the two black gowns I'm linking to at the end of this review. Instead it is a cheap polyester that is shiny and wrinkles easily. This set needs to be hand washed in cold water and line dried. Personally, I will probably use my lingerie bags and try to wash the set in my machine on delicate setting with cold water and then hang it to dry.

My daughter and I are both modeling them for you because she is within the target size when it comes to waist and hips and the babydoll comes up on me due to my larger hips and waist. She will be modeling both the babydoll and the robe and I will be modeling the robe to show you how they look on a larger size woman.

Let me close this portion by sharing a few measurements with you. The chemise is approximately 31" long and has a hem circumference of 60". The strap for the back is only 1/4" wide but a generous 38.5" long and can be crisscrossed if you desire. The robe is 36" long with sleeves that are 14" long and 12" wide. The belt is 1 1/2" wide and 82" long.
Experience
It is so hard to write a review when you have mixed feelings about the product. I bought this set (in two different colors) knowing that it didn't have great reviews but I wanted to have some pretty robes even if the babydoll wouldn't fit. With that in mind - I'm very satisfied with the robe. I find both robes to be comfortable to wear and other than the fact that they wrinkle easily, I'm very pleased with them. They look good when I wear them with a sexy underwear and bra and both colors look great with black which means I can wear them with a different gown underneath. My only problem? To be fair to my husband, I have to be careful to wear the robes only when I'm interested in playing - otherwise I'm simply teasing him by sending a mixed message. However,my husband LOVES them on me and his face lights up when he sees me in them, partly because he knows it means "yes" but also because he knows it means I'm feeling pretty.
If I were smaller and had a larger selection of lingerie to choose from - would I choose these? I keep thinking about this over and over and I think my answer is still a "yes" but with a bit of hesitation. As my husband pointed out to me when I was thinking about sending them back, I bought them at a discount (I actually was able to get 20% off) which made them $18.39. We can always find affiliate codes here on this site to get it at 15% off (just check reviewers' profiles to find a code) which would really make it closer to $19.54 ~ and to be honest with you I got at least one of them for free due to Eden's generous program which allows us to earn points and gift cards.
I can't beat those prices - at least not here in the small town where I live. My only options are Walmart, JC Penneys, Bealls or Ross Dress for Less or shopping online. The only sites I can think of that sell attractive sexy lingerie for plus size women are often $40 and up for simply a gown.
So with that in mind, I'm very pleased with both of these sets and will make good use of at least the robes if not the babydoll.
PHOTO TIME:
Let's start out with the red set - shall we? The first two photos show me wearing the robe only and the last four photos have my daughter modeling the set. As a comparison, her waist is 43" while mine is 49" and her hips are 49" while mine are 57". She is a size 18 while I am size 22/24.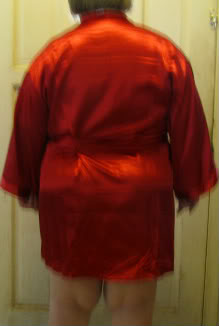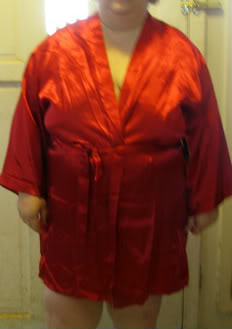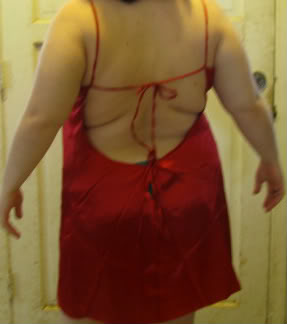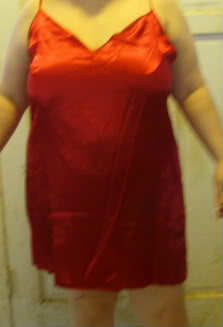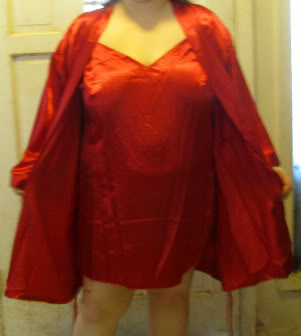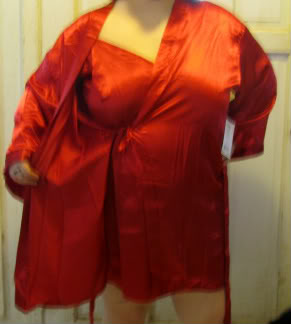 Now let's look at the purple set. Unfortunately, the light in the hallway where I took these pictures makes the purple look washed out. However, it is truly a gorgeous deep purple and although I wear warm colors and my daughter wears cool colors, this color looked great on both of us.
Once again, I am wearing the robe only while my daughter is modeling both pieces.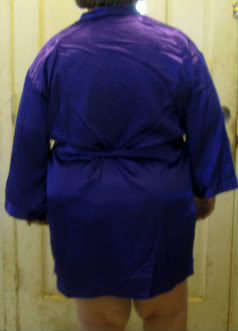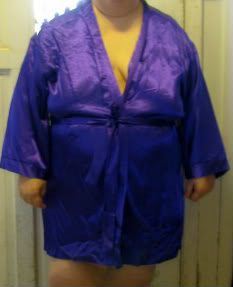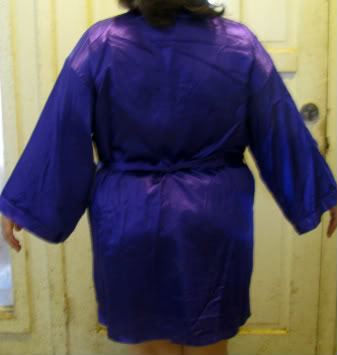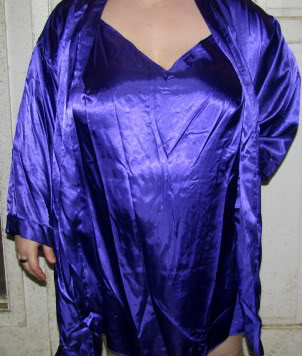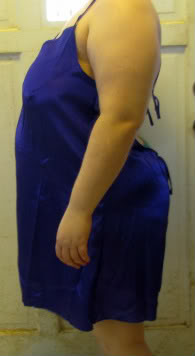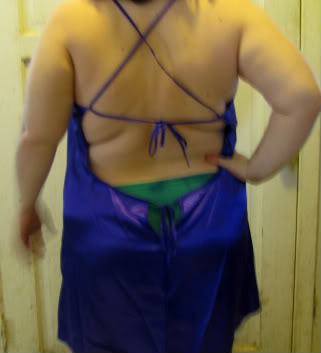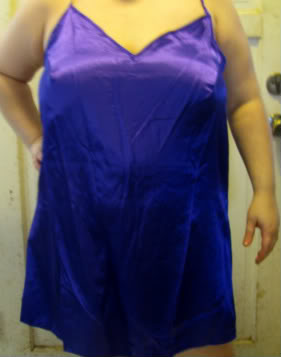 This content is the opinion of the submitting contributor and is not endorsed by EdenFantasys.com

Thank you for viewing
Purple robe and babydoll
– bed jacket review page!