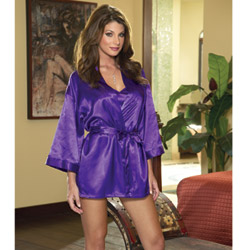 Purple robe and babydoll
Bed jacket by DreamGirl
Awful - But I Love the Robe!
Overall, I would have to say that as a set, this wasn't a good choice. A different gown should be offered, as this one has a dreadful design and cut. Sure, the material is comfortable, but if it doesn't look good then it has no place in my closet! At least the robe is great! I would just recommend selling the robe on it's own!
Published:
Pros:
Deep color, Silky material, High quality
Cons:
Gown fits and looks awful.
Overall, I can't say I LOVED this set, as a SET. If it had come in two pieces, my opinion may be completely different. I ended up keeping the robe, but as far as the little night gown... I was very displeased.


It all arrived wrapped up in EdenFantasys pink wrapping paper. The tags were easy to cut loose and had no sexual references. The piece itself is decent enough to open around children, family members, friends, etc. However, sometimes I wish EF didn't have to send catalogs with all my packages! Oh well!


Anyhow, I removed the tags and tried it on... didn't fit! I even got my size! XL! The gown ties in the back in such a weird way that it didn't fit solely because my breasts are too large. (I snicker at this because I am only a C cup!) The gown is open back (quite low actually, just above the butt. The way the gown ties is a little odd, though. Somewhat like one of those tops you see biker women wearing, or a corset. It's very hard to explain and I wish I had a camera on hand to take a picture of it. Back to my point... However instead of criss-crossing over and over like a corset, it only ties twice. I find this to be nothing but a hassle, and totally pointless. I wish this was shown online so I could have expected it.


Anyhow, the gown itself has a cut in the front that makes any figure look weird. I tried giving it to my sister - and it looked odd, even with her B cup breasts. I tried giving it to a friend, about 20 lbs smaller than me with A cup breasts - and it still just looked awful! In the end, it ended up in the garbage. I think that if it was a plain camisole or something with no open back and ties, it would be more attractive. A lower cut (the "V" shape part near the breasts) would have been nice as well to help with the "big boob" problem.


The robe on the other hand is wonderful. It ties comfortably and is made to last. No snags, loose threads, etc. It fits just right and is absolutely sexy when you wear it alone with nothing underneath or just a G-String. If you really want to make your man say "Wow!" then I recommend this set, just for the robe in spite of the 3 star rating!


It could almost be mistaken for silk, although it is Polyester. It does need to be hand-washed or washed on a delicate cycle with a detergent that is gentle enough for lingerie and colors. I prefer to simply take items like this to the dry-cleaners as it is only 20 cents an item! The water should be cold when it is washed so it does not shrink, lose color, etc. So keep that in mind if you prefer to do this at home, the old-fashioned way! When drying, let it hang on a line or on a hanger in a room that gets a lot of air flow. I just crack the window in the master bathroom and let items like this hang on the shower pole for half an hour. This material dries very, very quickly so it's not a huge deal. But like I said, I'd rather just drop it off at the cleaners.


The robe could double as just something to sleep in or throw on so you don't look entirely naked when someone knocks on your door at 6:00am. The postman comes a little early from time to time, and I usually sleep in nothing at all or just a pair of sleep shorts. I can't stand to sleep with a shirt/bra on. This robe comes in handy, as it hangs right next to my bed. I can throw it on, run to the door, get my packages and return to bed. No more "We missed you!" tickets from the post man!
Follow-up commentary
17 days after original review
I don't exactly "not like it anymore" but I don't like it any more than I did before. The robe is cute. Noticing a bit of fraying on the insides, but nothing major to worry me. It's a cute piece to have around to throw on when the mail man is coming or when you just want to lounge in a sexy way.
This product was provided free of charge to the reviewer. This review is in compliance with the FTC guidelines.

Thank you for viewing
Purple robe and babydoll
– bed jacket review page!