(3x/4x) Zebras aren't always just for zoos!
If I was rating this for my use only, I'd give this about 2 stars. But I am not the typical consumer on this site - if I was in my 20's and thinner and could wear pink - this would get 4 stars...so that is what I am giving it.

I am deducting one star only because the breast area is not lined. Otherwise, I do like this piece a lot.
Published:
Pros:
Sort of stretchy, Cute and colorful design
Cons:
No lining in breast area
I am writing this review based upon the 3x/4x size that I ordered. However, I will be returning this to Eden Fantasys this week and requesting a refund. This is a hard decision to make and I am not making it because it is an inferior product. However, the 3x/4x doesn't fit me right as it is too big and I believe the 1x/2x will be too small. In addition, my husband is not a big fan of pink and where he normally suggests I go ahead and keep stuff, he is recommending that I return it for a refund too. However, I have "warm" coloring and don't really wear pink or pastels because they don't look good on me and I'm sure that has a lot to do with influencing his decision. If the ribbon was dark blue or purple or red, I would be keeping this piece. I hoped that I would be able to pull this off and chose to try it in spite of the pink. If it wasn't obviously too big, I would keep it in spite of the pink.
What it is … how to wear it
This bustier can be worn in the bedroom or dressed up and worn outside with a shrug or something else. It's a very cute piece and is very colorful and I am fairly certain you will get noticed when you wear it!
This item is currently available at Eden Fantasys in S,M,L,XL, 1x/2x and 3x/4x.
Packaging
The bustier and thong come packaged in a clear plastic bag that has a hanger on it. It would be fine for storage if you wanted to use it that way.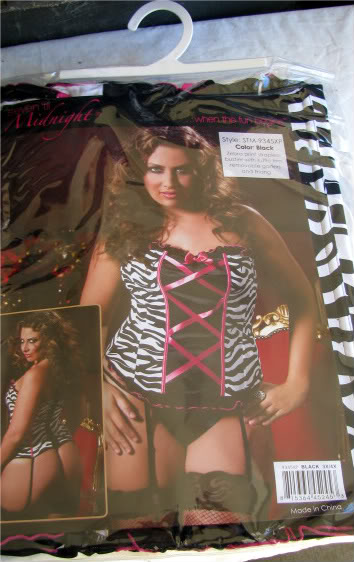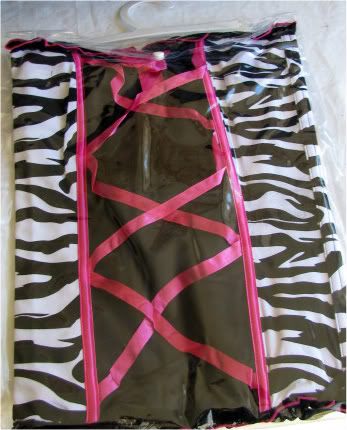 Material & Care
The tag states that this is made of 95% cotton and 5% spandex. This surprises me a bit because even with this on the smallest setting for hook and eye closures on the back, I was able to slip it on over my head.
The tag states that you should hand wash this in cold water and hang it to dry. Do not bleach it or iron it.
Design, Sizing & Fit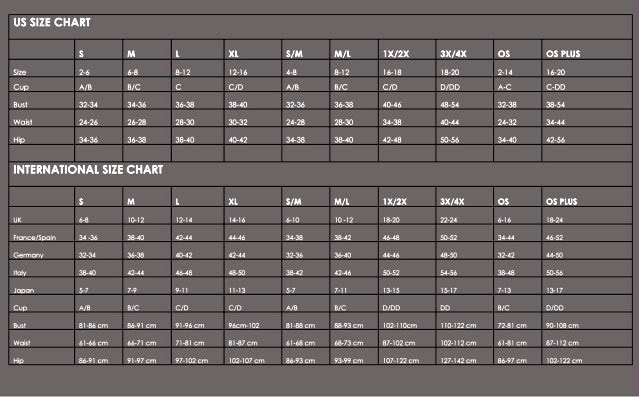 According to the sizing chart, my bra should be 48-54D or DD, my waist 40-44" and my hips 50"-56". I am currently 265 pounds, wear 18-24 tops, wear 44D bra, with a waist of 49", hips of 57" and a torso of 18-19" long.
Based on these measurements this item should be tight in the waist and fit about ok in the hips and be loose in the bust. However, that is not the case with this piece. It's loose both in the bust and in the hips and the waist fits fine.
Specific Measurements
center top of front to hem
17" (bottom 1" is hem)
top of cup to hem
18"
width of front
18" - 20" unstretched
cup width & length
There are no defined cups
garter length
up to 8" plus 5" ribbon on end
There are 18 hook and eye closures down the back and three different sets of eyes. I did all of my measurements on the smallest setting. Therefore, you can adjust the measurements by 1" if you choose to use the last setting of eyes for the hooks.
G-string/thong description
The thong is 6" wide at the top and 8" long with the bottom 3" having a crotch liner in it. The band is 17.5" unstretched and stretches to about 24.5".
Close-up photos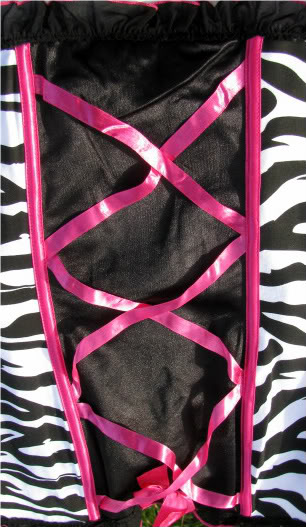 Close-up of the front hem and the lace panel: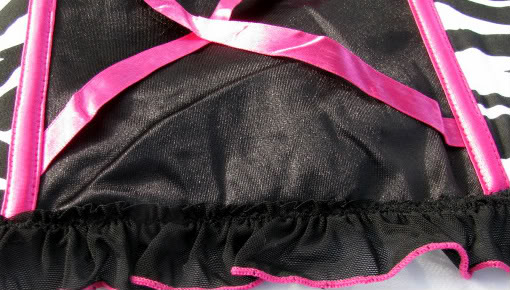 Showing how the front has the mesh/lace hem and the back does not have that hem: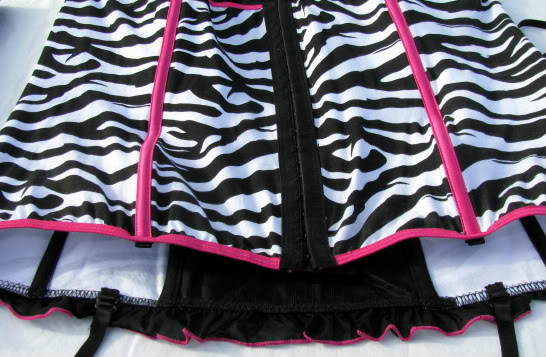 Close-up of the back: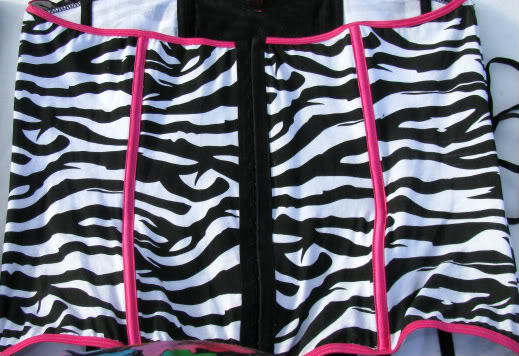 The black mesh-like portion is where the pink ribbon is on the front - your breasts however rest against the white fabric: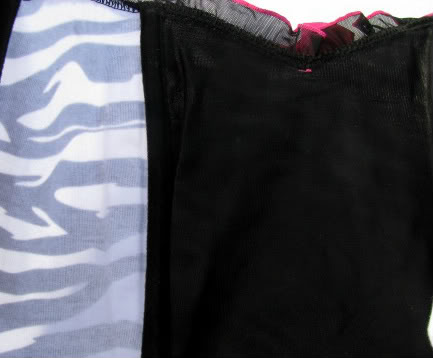 Showing you the white fabric as I'm wearing this piece: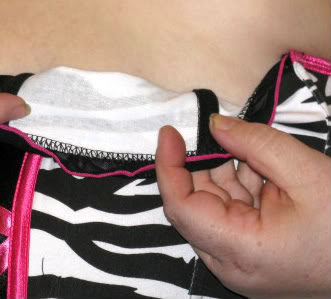 See how much I can pull it out from my breast?: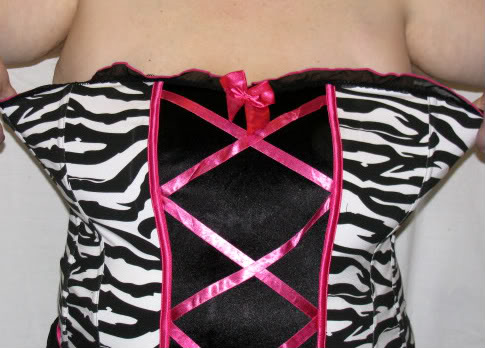 Pulling it forward from my breast: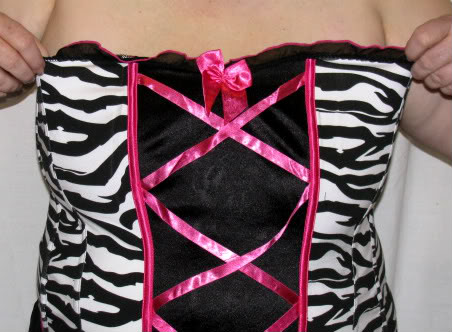 The thong: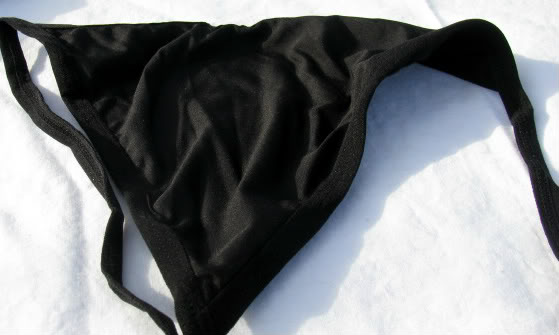 Modeling the Garment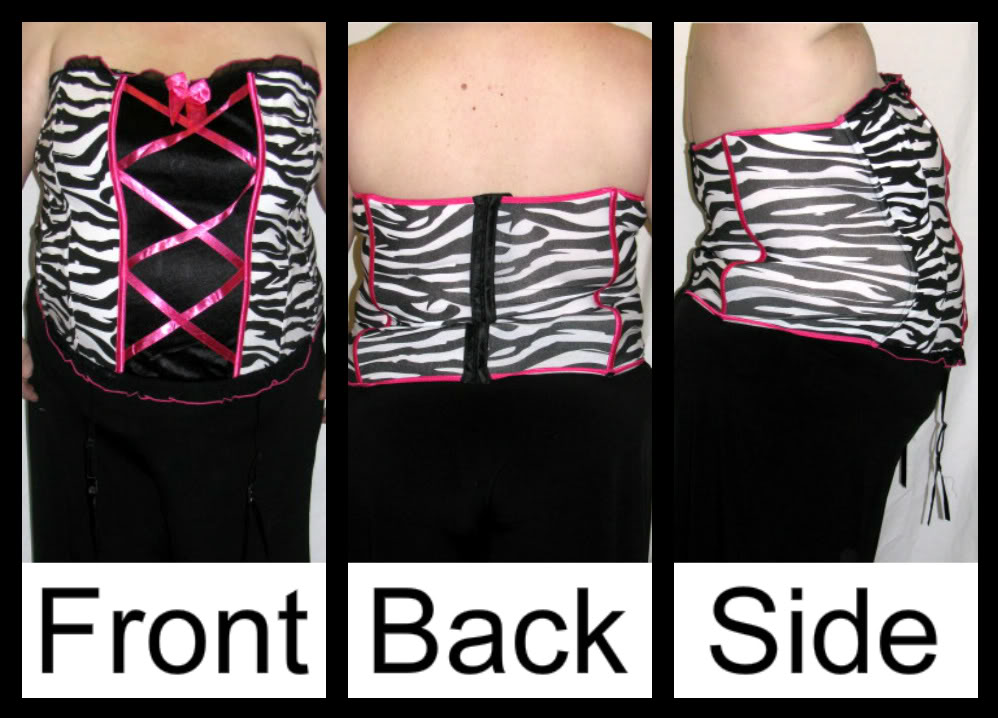 Experience
Comfort
From 1 to 5 with 5 being the most comfortable, I would probably give this between a 3.5 and a 4. It doesn't bother me that much and would be a 4 for me, but my breasts are not overly sensitive to fabric like this. For others, it might be closer to a 3.5.
Final Thoughts
I apologize in advance for the fact that this will be wordy. Please bear with me or just jump to the conclusion if you get bored.
Years ago, I read the book
Color Me Beautiful
which helped me learn a lot about color analysis and style and helped me figure out what colors and styles looked best on me. There are many books out there that you can read which talk about this sort of thing.
This piece would be best for someone who has "cool" coloring with blue undertones to their skin. I have warm coloring with more of a gold undertone to my skin and that is why I tend to stay away from pinks and a lot of the lighter colors. They make me look sick.
As I read that book though, the author discussed different "styles" of clothing and broke them into categories. I do not have my book handy right now but what I remember of the styles were that there was the natural style, the romantic/ingenue style, the classic style and the dramatic style. Liz Taylor would be an example of the romantic style of clothing because of what she would normally wear. At that point in time, Cher (from Sonny and Cher) was one example of how a person would dress with the dramatic style. I do not remember the others except to say that Audrey Hepburn would be the classic style (as I think was Jackie Kennedy).
In my opinion, this bustier is designed more for someone who wears the "dramatic" style of clothing and likes to get the attention directed on themselves. They're usually trend-setters and they're very bold in their fabric and style choices. If this describes the way you dress - you probably will like this piece and find a lot of use for it in your wardrobe.
If you'd like to read more about color analysis you can go
here.
Conclusion
This is a great piece for someone who is thin or for someone who can carry off dramatic colors and patterns in their clothing. It is mostly comfortable to wear and there is a lot you can do with it.
It just isn't the right fit color-wise or style-wise for this 50+ year old woman who needs different colors. If it was a perfect fit, I'd keep it and try to make it work somehow because I can be stubborn.
This content is the opinion of the submitting contributor and is not endorsed by EdenFantasys.com

Thank you for viewing
Zebra bustier set
review page!